Centre focuses on actual Covid load
Home isolation strategy has 'unburdened hospitals' says health ministry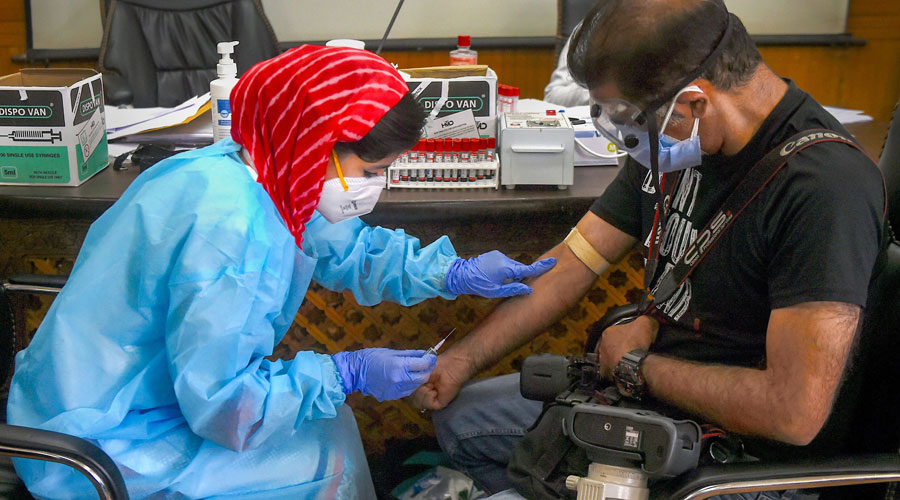 A doctor takes samples for Covid-19 immunoglobulin (Ig) Blood test at Government Medical College in Srinagar on Wednesday, July 15, 2020.
PTI
---
New Delhi
|
Published 18.07.20, 02:48 AM
|
---
As India's coronavirus counts crossed one million on Friday with another record overnight spike of 34,956 new cases, the Union health ministry said the "actual case load" was around 342,000 and its home isolation strategy had "unburdened hospitals".
The health ministry, updating figures, also said only around 5 per cent of the 342,473 coronavirus disease patients currently under medical supervision required special hospital care such as oxygen, intensive care or ventilator support.
The new cases recorded on Friday have raised the total number of lab-confirmed Covid-19 cases in India to 1,003,832, of whom 635,757 patients have recovered and 25,602 patients have died. India's case fatality rate is 2.6 per cent and among the lowest in the world, the ministry said.
The ministry said nearly 80 per cent of asymptomatic and mild Covid-19 patients "have been advised" home isolation. It did not say how many are actually under home isolation but 20 per cent would imply around 68,000 patients are either in Covid care centres or in hospitals.
Health officials have pointed out earlier that care centre isolation is offered to patients whose home circumstances do not lend themselves to appropriate isolation.
The home isolation strategy for mild or asymptomatic patients has "helped keep hospitals unburdened" and hospitals are focused on treatment of severe cases and reduction of fatalities, the ministry said.
It said around 2.81 per cent of patients were on oxygen support, less than 1.94 per cent patients were in intensive care units and 0.35 per cent were on ventilators. With current patient counts, this translates into 9,623 patients on oxygen support, 6,644 patients in ICU facilities and 1,199 patients on ventilators.
While Maharashtra, Tamil Nadu and Delhi remain the worst-affected states, making up around 52 per cent of the country's patients under medical supervision, the epidemic is growing elsewhere with surges in several states, including Bengal, Bihar, Karnataka and Kerala.
In Karnataka, new Covid-19 cases increased by 31 per cent between Thursday and Friday — 3,176 new cases on Thursday to 4,169 cases on Friday. Bihar has recorded 1,152 or greater numbers of new cases every day for the past five days after its previous high of 768 new cases on July 11.
The health ministry, citing the rising trend of Covid-19 cases in Bihar, on Friday deputed a three-member team of central experts to guide the state health authorities. The team members are Neeraj Nischal, associate professor of medicine at the All India Institute of Medical Sciences, S.K. Singh, director of the National Centre for Disease Control, and Lav Agarwal, joint secretary overseeing public health in the ministry.
Public health experts had earlier predicted that India's epidemic would be unevenly distributed across states and over time.
Oomen John, a public health specialist at The George Institute for Global Health, was among those who had expressed concern that the movement of people, including migratory workers, could over months take the infection from urban centres into India's hinterland.
"My question back then was: are our health systems ready to handle the surge as people move into rural areas and into states with relatively poor healthcare systems?" John said.