Centre extends validity of FCRA registration of NGOs till March 31
Friday's relief will not apply to the Missionaries of Charity as its application for renewal has already been rejected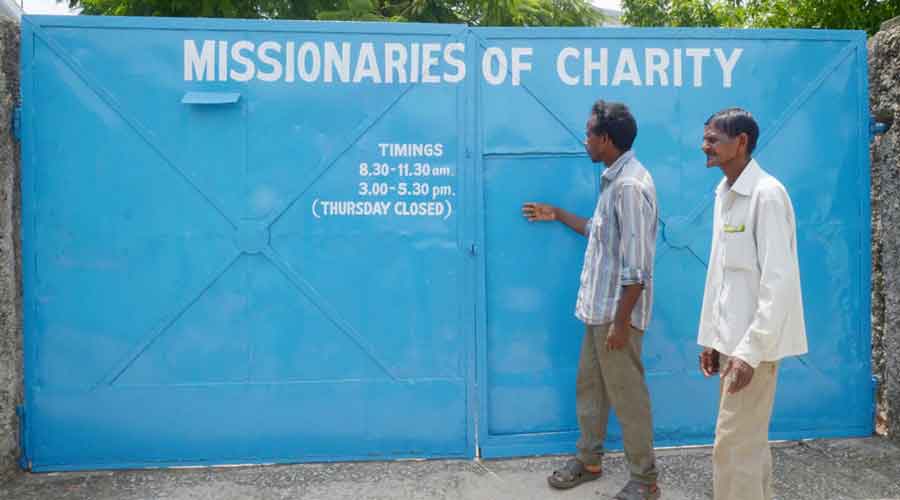 In Friday's notice, there is no mention of Mother Teresa's Calcutta-headquartered Missionaries of Charity.
File photo
---
New Delhi
|
Published 01.01.22, 12:41 AM
|
---
The Union home ministry on Friday extended by three months the validity of the Foreign Contribution (Regulation) Act registration certificates of organisations meeting two criteria.
The extension of the validity, which would otherwise have expired on Friday, till March 31, 2022, will apply to organisations whose certification lapses between September 29, 2021, and March 31, 2022, and which have applied for renewal in accordance with Rule 12. The rule requires the submission of renewal applications six months before the date of expiry of the certification.
Friday's relief will not apply to the Missionaries of Charity as its application for renewal has already been rejected.
In a public notice, the ministry said on Friday that the validity of the FCRA registration certificates of the entities meeting the two norms had been extended till the end of this financial year or till the date of disposal of the application (whichever is earlier).
This is the third time an extension is being granted. Registration of hundreds of NGOs and associations — up for renewal in October 2020 — has been pending because of the pandemic and the changes made in the FCRA in 2020. Part of the delay has been on the part of the home ministry.
The deadline was extended first to September 30, 2021, and then to December 31, 2021. Now, it has been extended to March 31, 2022. A total of 22,762 NGOs are registered under the FCRA and the renewal applications of about 6,500 have so far been processed.
In Friday's notice, there is no mention of Mother Teresa's Calcutta-headquartered Missionaries of Charity. But the notice states that the extension does not apply to entities whose application for renewal of registration certificates has already been rejected. Such organisations cannot receive foreign funds.
"All FCRA registered associations are therefore advised to take note of the fact that in case of refusal of the application for renewal of certificate of registration, the validity of the certificate shall be deemed to have expired on the date of refusal of the application of renewal and the association shall not be eligible either to receive foreign contribution or utilise the foreign contribution received," the notice said.
The ministry had earlier this week said that the Missionaries of Charity's FCRA licence renewal plea was refused on December 25 due to "adverse inputs" and also for failing to meet the eligibility conditions under the FCRA, 2010, and the Foreign Contribution Regulation Rules, 2011. The ministry is yet to clarify what those adverse inputs are.
In its earlier statement, the Union home ministry had also said it had not frozen any bank account of the Missionaries of Charity, but State Bank of India had conveyed that the organisation itself had sent a request to the bank to freeze its accounts.