Centre ducks quota bill call
The MPs demanded that the institution as a whole be considered a unit while calculating the reserved posts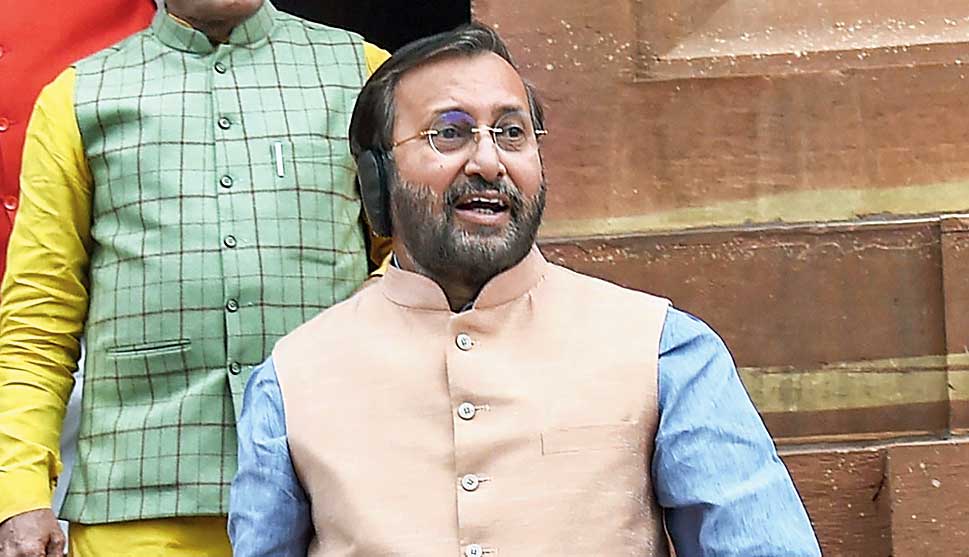 Prakash Javadekar outside Parliament on Thursday.
(PTI)
---
New Delhi
|
Published 07.02.19, 09:15 PM
|
---
Rashtriya Janata Dal MP Manoj Jha on Thursday contrasted the government's rush to enact an economic quota for the upper castes "within 48 hours" with its now 671-day-old vacillation over possible measures to safeguard reservation volumes for the socially deprived.
Rajya Sabha members across parties, including some from the BJP, demanded an immediate bill to overcome a court judgment stipulating a department-wise implementation of teacher quotas at universities, which will drastically reduce the available reserved posts.
The MPs demanded that the institution as a whole be considered a unit while calculating the reserved posts.
But human resource development minister Prakash Javadekar remained evasive on the demand for a law and reaffirmed that the government would file a review petition in the Supreme Court.
"A review petition will not work. Please bring in a bill immediately," Jha said.
"You brought in a wonderful bill within 48 hours (of cabinet clearance) without any evidence (survey to establish educational backwardness among the poor upper castes) to provide for the (economic) quota. That much seriousness and sensitivity is required (for a teacher quota bill);
otherwise injustice will be done to the Dalits, Scheduled Tribes and backward classes."
After Allahabad High Court on April 7, 2017, directed department-wise implementation of reservations, the government sat for a year on the various parties' demand for a law to bypass the judgment. It moved a special leave petition in the apex court in July last year, which was dismissed last month.
Javadekar's ministry had drafted a law to overrule the verdict and sent it to the cabinet on December 20. But there has been no movement on it and the idea of a law seems to have been dropped to avoid angering the upper castes.
Samajwadi Party MP Ram Gopal Yadav told the House that a review petition would achieve nothing. Bahujan Samaj Party member S.C. Mishra underlined that many universities had issued advertisements for teacher recruitment, treating each department as a unit.
Javadekar had assured the Rajya Sabha last year that teacher recruitments would be put on hold in every university till the matter was sorted out.
On Thursday, he said the circular issued by the University Grants Commission asking institutions to freeze teacher recruitments had not been withdrawn yet.
"We keep full sensitivity about the issue. The government is in favour of (taking the) university as a unit. We will file a review petition and get justice," Javadekar said.
BJP member Satya Narayan Jatia and former Prime Minister Manmohan Singh and Congress leader Ghulam Nabi Azad too associated themselves with the demand for a bill.
Reservation expert P.S. Krishnan told this newspaper: "I have written to the government to bring in a bill immediately. The success rate of review petitions is almost nil. A review petition is a dilatory tactic."
The government had got the 10 per cent economic quota enacted in both Houses by January 9 after the cabinet had cleared the bill on January 7.