Centre decides to accord Z-category security to Asaduddin Owaisi
One of the accused is Sachin, a resident of Noida who has an attempt to murder case pending against him, the police said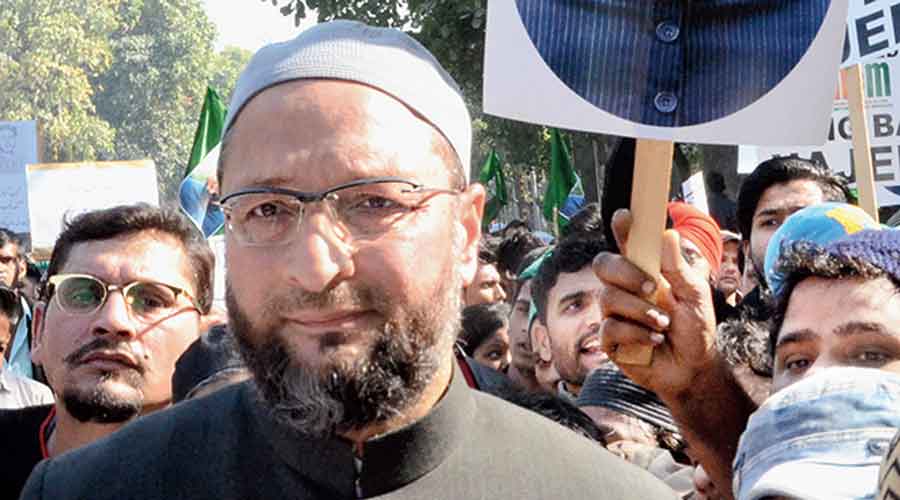 Asaduddin Owaisi.
File photo
---
New Delhi
|
Published 05.02.22, 01:44 AM
|
---
The Centre on Friday decided to accord Z-category security to AIMIM leader Asaduddin Owaisi, a day after shots were fired at his car when the Hyderabad MP's convoy had stopped at an Uttar Pradesh toll plaza.
Owaisi, however, rejected the offer.
"I don't want Z-category security. I want to be an A-category citizen, on a par with you all. Why was the UAPA not invoked against those who fired at me?" he said in Parliament on Friday, referring to the stringent anti-terror law that has been extensively used by BJP dispensations and, according to critics, disproportionately against Muslims.
"There are two India, one India is of love and the other is of hate. Who is radicalising youths?" Owaisi said.
No one was injured in Thursday's incident. The AIMIM parliamentarian, returning to Delhi after campaigning in Meerut, continued his journey in another car.
Sources in the Union home ministry said the government decided to provide Owaisi Z-category security by the Central Reserve Police Force (CRPF) after reviewing the threat level in the light of Thursday's attack that came barely a week ahead of the Assembly elections in Uttar Pradesh. Z-category security entails 22 armed guards.
2 arrested
Police said two people were arrested on Friday for firing at Owaisi's convoy and they had been sent to 14 days' police custody after being produced before a court.
One of the accused is Sachin, a resident of Noida who has an attempt to murder case pending against him, the police said.
"In his Facebook profile, Sachin says he is a member of a Hindu Right-wing organisation and calls himself Deshbhakt Sachin Hindu," said a police officer.
He said several pictures have emerged of Sachin's Facebook posts expressing support to the BJP. Some photographs show him posing with BJP politicians in Uttar Pradesh, the officer said.
Another accused is Shubham, a farmer from Saharanpur who does not have a criminal record.
According to the police, the two have told interrogators that they were upset with certain remarks of Asaduddin Owaisi and his brother and MLA Akbaruddin Owaisi.
The police have seized brand new country-made pistols from Sachin and Shubham. Cops are now looking for the people from whom the duo bought the firearms.