Census yanks lid off India scavenger stink
The just released socio-economic and caste census data show more than 1.8 lakh manual scavengers in the country at a time virtually every state government has been denying their existence.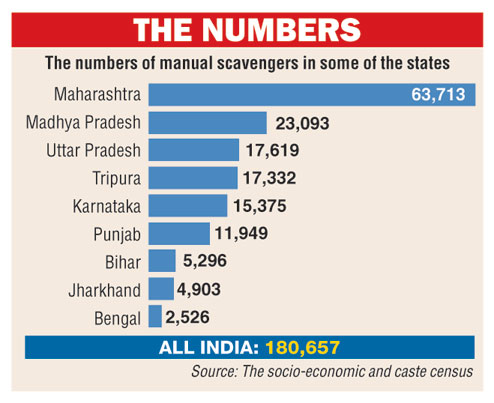 ---
Published 07.07.15, 12:00 AM
|
---
New Delhi, July 7: The just released socio-economic and caste census data show more than 1.8 lakh manual scavengers in the country at a time virtually every state government has been denying their existence.
Hundreds if not thousands in almost every state, including 2,500 in Bengal, told the surveyors they manually remove untreated human excreta from dry toilets, railway tracks and sewers - a practice banned by Parliament 22 years ago.
State government officials themselves verified the data, a senior Union rural development ministry official said.
In response to a public interest plea moved by the Safai Karmachari Andolan in 2003, almost every state government had told the Supreme Court that its population included no manual scavengers.
But in its March 2014 judgment, the apex court accepted the sample data provided by the Andolan about manual scavengers who remove fresh faeces "with bare hands, brooms or metal scrapers". It directed the states to rehabilitate them, as required by law.
Andolan convener Bejwada Wilson said his organisation, committed to "eradication of manual scavenging and rehabilitation of all scavengers", would use the latest data to contact all the 1.8 lakh manual scavengers.
"We'll take them to their district collectors, asking for their rehabilitation," Wilson told this newspaper.
If the authorities still did not act, he said, the Andolan would move the apex court again and launch a nationwide protest.
Earlier, the population census of 2011 had recorded nearly eight lakh household dry toilets from where, it said, humans removed raw faeces manually. But it did not count the scavengers and was silent on manual scavenging of faeces from sewage lines and railway tracks, Wilson said.
Civic and rural bodies regularly hire scavengers to manually clean blocked sewers, as do the railways to clean the tracks of excreta dropped by train toilets.
"While we were providing data on individual scavengers, the states were issuing denials," Wilson said. "Now they can't deny it any more."
State pressure
Rural development ministry officials said most states had tried to press the Union ministry into putting zeroes in the column for manual scavengers, claiming the enumerators had recorded incorrect data.
"So, a verification procedure was introduced. Senior state officials went and verified the data. In some cases they corrected the data," an official said.
Parliament had enacted the Employment of Manual Scavengers and Construction of Dry Latrine (Prohibition) Act in 1993, banning manual scavenging of household toilets and requiring state governments to rehabilitate the scavengers.
The act stipulated a year's jail and a fine of Rs 2,000 for anyone engaging manual scavengers or building dry (non-flush) toilets. But the states hardly enforced the law, officials say.
In 2013, Parliament passed the Prohibition of Employment as Manual Scavengers and their Rehabilitation Bill, which widened the definition of manual scavenging to include the manual removal of excreta from sewers and railway tracks. It also increased the punishment to five years in jail.
Economist Abhijit Sen, who was a member of the erstwhile Planning Commission, said the government must come up with schemes to provide alternative jobs to manual scavengers.
Wilson criticised the Centre's Swachh Bharat Abhiyan, saying some two lakh among the community toilets being set up under it would not have their septic tanks linked to sewage lines.
"Who will clean these tanks? Manual scavengers, of course. In a way, the government is perpetuating the problem of manual scavenging," Wilson said.
He said every toilet in cities and villages should be connected to the sewerage, and the railways and the local bodies must use machines to clean the sewers and tracks, as is done abroad.