Cancer-stricken PhD scholar cries 'Azadi' on deathbed
Silent for a month, scholar raises slogan in hospital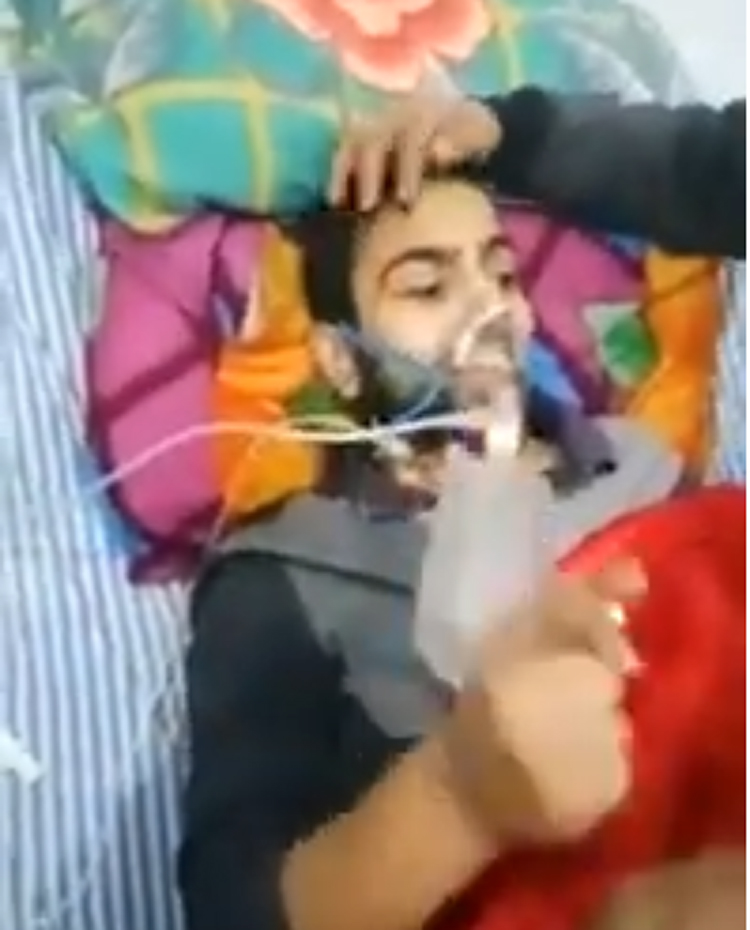 ---
|
Srinagar
|
Published 04.04.19, 10:27 AM
---
The cancer-stricken PhD scholar lies on his deathbed, mouth and nose enveloped by the polymask of a ventilator. Jamsheed Jameel Mir, 29, has not spoken a single word since appearing to lose his voice a month ago.
Suddenly — just five minutes before his death on Tuesday evening, according to relatives — the young environmentalist seems to regain his speech.
'Hum ley kar rahenge (We'll achieve for sure)…" he croaks through the polymask, right arm and index finger raised, eyes widened with emotion and the effort to lift his weakened voice into a scream.
'…Azadi (freedom)," a relative standing by his hospital bed completes the slogan.
The dying patient repeats the words several times. He then switches to: "Tum kuchh bhi bolo, hum chheen ke lenge (Whatever you say, we will wrest)…"
'Azadi," comes the response again.
The 37-second video has gone viral, triggering a flood of tributes for the young scholar who had in life appeared more inclined towards environmental issues than the struggle for azadi.
'It (Jameel's sloganeering with his last breath) took everybody in the ward by surprise," his cousin Aamir Rather said.
Jameel died at the Sher-e-Kashmir Institute of Medical Sciences at 7.30pm, five minutes after chanting the slogans, Aamir said. The video does not record the end.
'For around a month he could not speak; he conversed only in signs. Early yesterday (Tuesday) he was put on a ventilator after he had difficulty breathing," Aamir told The Telegraph on Wednesday.
'Suddenly, he seemed to regain his voice last evening and began shouting pro-azadi slogans."
Aamir said Jameel craved azadi as much as anyone else but was not an activist. "He was a nature explorer and cricket lover. Last year he developed a foot tumour and never recovered."
Jameel's father, Mohammad Ismael Mir, is a separatist leader and has spent many years in jail, said student leader Nasir Khuehami, another cousin.
'He (Jameel) had his upbringing in a pro-azadi environment. He was good in his studies and went to Sikkim to pursue a PhD in peace and conflict studies. He had been bedridden because of his ailment for more than a year," he said.
Jameel's mostly unspoken pro-azadi sentiments did sometimes come out in the open, though. After PhD scholar-turned-rebel Manan Wani, 26, was killed last October, he wrote a Facebook post saying: "We are all soldiers of Resistance #DrMananWani…. Your words will be eulogised by generations to come."
After losing his speech, Jameel had stayed active on social media for another fortnight, mostly providing updates about his worsening health. Chemotherapy had left him weak.
"Nothing to say. Yesterday was very painful day of my entire life," he said in his last post on March 15.
Two days earlier, he had written about his parents.
'My mother is glued to my bed since more than a week now. Tiredness and sleeplessness is visible on her face. To be honest, I was not so obedient son as I should have been," he wrote.
'During these days here in hospital I few times raised my voice when if (I) felt uncomfortable with pain and other silly issues, she would remain quite (quiet), smile and told me to relax.
'Today at 6am, I heard shreeks (shrieks), wailing coming from nearby room meant for prayers. I recognised it was my mom. I wished to go there, held her tightly and make her comfortable, but I know I was not able to move an inch without help of others.
'Later when she came back, I pretended to be in sleep, she started rubbing my legs. I told her to stand up, kissed her forehead and hands with biggest smile of week on my face."
Jameel wrote he didn't much worry about his disease but felt sorry that his parents were suffering because of him.