Caged and bearded, Omar has 'aged'
One of Omar's relatives corroborated the details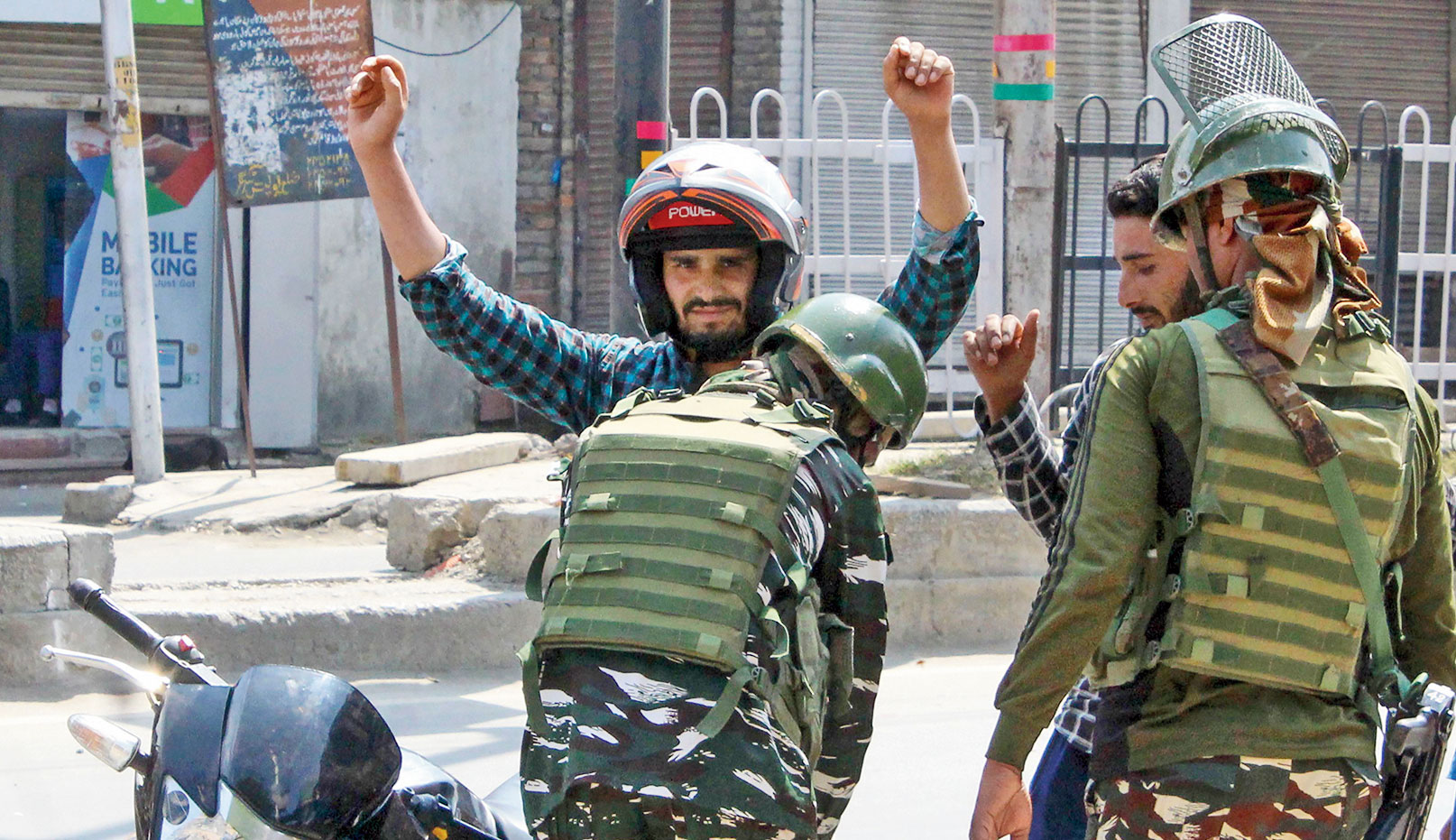 Security personnel frisk a biker in Srinagar on Sunday.
(PTI)
---
Srinagar
|
Published 01.09.19, 08:37 PM
|
---
Omar Abdullah, a prisoner of his own bodyguards, is almost unrecognisable after nearly a month in detention, an official who met the former Jammu and Kashmir chief minister told The Telegraph.
"At first look, you might not recognise him until it sinks in that he is Omar sahab," the government official said.
One of Omar's relatives corroborated the details. "He looks older than his age," the relative added. Omar is 49.
The former chief minister has grown a beard and he no longer uses the dye, making him look like a "snowy white man".
Omar was put under house arrest in the late hours of August 4 and formally arrested the next day when the government announced the decision to revoke the special status of Jammu and Kashmir. He is one of the many politicians from the pro-India camp who have been detained.
Omar is lodged in Hari Nivas, a guesthouse in the VVIP enclave of Gupkar in Srinagar, several hundred metres from his residence on the same road. The guesthouse has been turned into a sub-jail.
Hari Nivas has a "haunted" past. The erstwhile palace was turned into the headquarters of police's intelligence wing at the peak of militancy in the 1990s. As chief minister between 2005 and 2008, Ghulam Nabi Azad had made it his official residence.
Some politicians were reluctant to live there because of "ghost stories" and other superstition. Azad lost his chair days after he shifted to the palace in 2008.
Mehbooba Mufti, another former chief minister, is lodged some 5km from her home at Gupkar.
Family sources said relatives were denied access to both Omar and Mehbooba during the first three weeks. Some relatives were allowed to meet them in the past week.
Omar's aunt Suraya Mattoo and sister Safia were the first to visit him on Monday. Safia met him again, this time with her children, on Saturday.
On Thursday, Mehbooba's mother Gulshan and sister Rubayya were allowed to meet her.
Sources said it was only once — on Bakr-Id on August 12 — that the government facilitated a call between Omar and his father Farooq, also a former chief minister. The two have not spoken since then.
Family sources said they had to struggle a lot to meet Omar. On one occasion, Safia had to wait for around an hour outside the deputy commissioner's office in Srinagar for permission.
Security men imposing fetters on Omar's freedom are the same who had been deputed to protect him. He enjoyed Z-plus security. "We feel ashamed to put curbs on them. We wish somebody else was given that duty but as government servants, we are helpless," a guard said.
The government had also put the families of Omar's sister Safia, aunts Khalida and Suraya — both daughters of Sheikh Abdullah — and uncle Mustafa Kamal, Sheikh's other son, under house arrest. Khalida's family and Kamal continue to be under house arrest. Khalida is the widow of former chief minister Ghulam Mohammad Shah.
Safiya and Suraya are no longer under house arrest but there are restrictions on visiting them.