By Ganesha! Surgical strike on science
Scientists alarmed by official stamp on beliefs rooted in mythology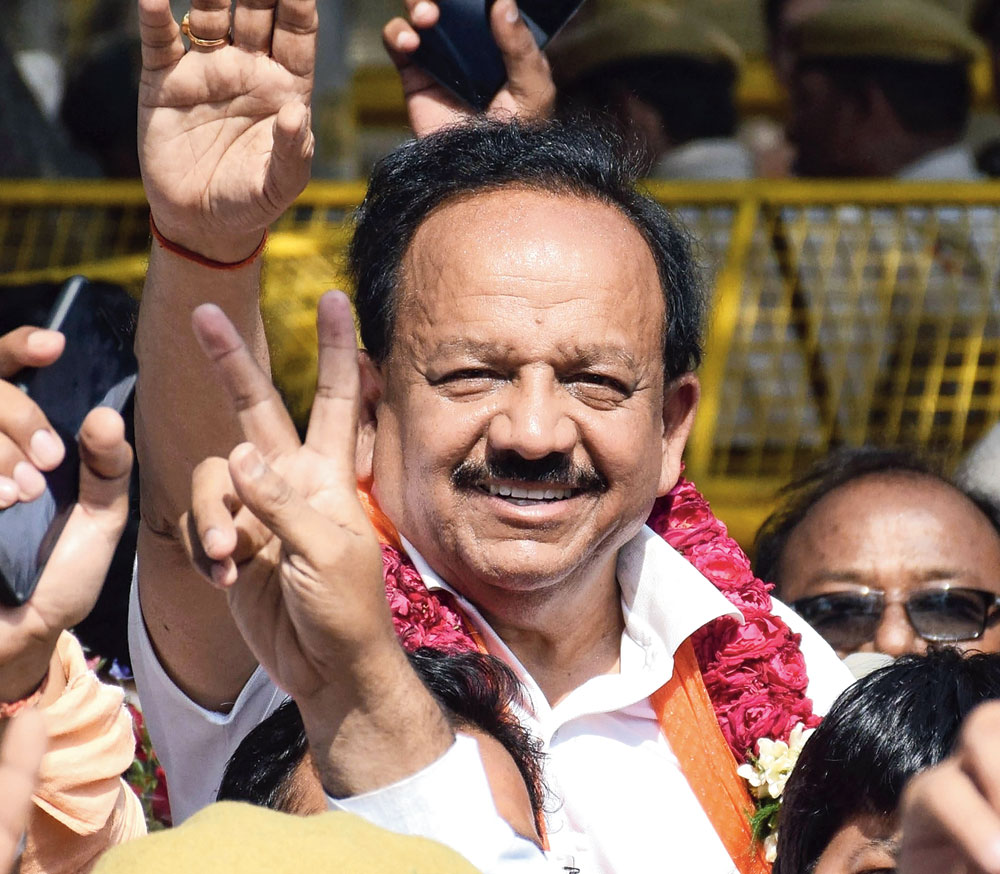 Union minister for science Harsh Vardhan in New Delhi on Monday.
(PTI)
---
New Delhi
|
Published 25.04.19, 02:44 AM
|
---
Members of India's scientific community are worried about what they view as a two-pronged assault on science under the Narendra Modi government, marked by efforts to prop up mythology as science and push policies and funds toward regressive turns.
Several senior scientists said their concerns relate not just to "ridiculous statements" from persons in responsible positions, including Union ministers, but also directions in which some academic and scientific institutions have been nudged over the past five years.
Over 240 scientists had on April 3 this year issued an appeal to citizens asking them to "vote wisely" and reject those who encourage discrimination, divide people and create fears. Sections of the signatories say neither science nor society can thrive under such trends.
Modi himself had surprised scientists when in October 2014 he said Ganesha's elephant head and the birth of Karna in the Mahabharata outside the womb suggested that ancient Indians were familiar with plastic surgery and genetic science. Science minister Harsh Vardhan had last year claimed the Vedas had a theory superior to Albert Einstein's theory of relativity. Another minister had questioned Charles Darwin's theory of evolution, while another had claimed Indians beat Isaac Newton to the law of gravitation.
"It is unfortunate, but even educated people are also vulnerable to such ridiculous claims," said Aniket Sule, a physicist at the Homi Bhabha Centre for Science Education, Mumbai.
Sule had unsuccessfully tried to block the presentation of unscientific claims at a conference for teachers organised by the Regional Institute of Education, Bhopal, in February this year. Conference speakers claimed praying to the tulsi plant strengthens the immune system, sindoor helps control blood pressure and stress, sleeping with the head south helps blood flow to the brain.
"It was shocking; when some of us objected, the session's chairperson simply said research should be conducted on these topics," said Rohini Karandikar, a biologist and science educator in Mumbai.
Funding agencies have also supported what some consider as pseudo-science. In 2015, the Union water resources ministry funded Council of Scientific and Industrial Research laboratories to look for medicinal compounds in the upstream waters of the Ganga to investigate its healing properties. In 2017, the Union department of science and technology established a national steering panel to guide research to assess the many claimed virtues of panchgavya, a concoction of cow dung, cow urine, milk, curd, ghee, water and other ingredients.
India's ministry for traditional medicine earlier this month issued an advisory that any scientist wishing to pursue research on Ayurveda, yoga, Unani, siddha, or homeopathy should consult experts in these fields.
"On one hand there is an attempt to promote pseudo-science and on the other there is an attempt to block scientifically rigorous studies on traditional sciences," said Subhash Lakhotia, emeritus professor at the Banaras Hindu University, Varanasi.
Minister Harsh Vardhan had said last year that the Modi government's allocations to its science departments between 2014 and 2018 had been 90 per cent higher than the allocations during the previous five years, 2009-14. The Modi government has also announced new technology missions, including one to expand the use of artificial intelligence systems, and asked India's space agency to send astronauts into space by 2022. But senior scientists point out that year-on-year inflation, commitments to previously approved projects, and the implementation of the Seventh Pay Commission salaries could explain the increased allocations between 2014-18 and 2009-2013.
"In labs and universities, scientists have not seen any jump in funding," said Gadadhar Misra, professor of mathematics at the Indian Institute of Science, Bangalore.
Misra and others point out that the government has even asked scientific institutions, including the Indian National Science Academy and the Indian Academy of Sciences, to generate a proportion of their own annual budgets.
Many scientists are also worried about a fresh emphasis on pursuing science for national development.
"It is disturbing that the government wishes all research in science to be relevant to the development of the nation — so much so that there is talk about creating a shelf of topics from which a PhD scholar must choose," said Misra. "There is nothing wrong in asking for research to address society's problems, but demanding that it is all that one is allowed to do is not desirable. This will destroy inquisitiveness in young minds to explore and understand new fundamental issues."
Scientists say the nudge to research institutions to generate 30 per cent of their annual budget from "non-public" sources has been touted as a move to hold scientists accountable by ensuring that research is relevant to societal needs.
"In reality, this means the research directions will be inevitably skewed towards generating incremental technological knowledge that can be sold for licensing fees," said Satyajit Rath, a medical immunologist and adjunct faculty at the Indian Institute of Science Education and Research, Pune. "This could stunt the quality and innovativeness of research, it will devalue research in the social sciences, humanities and fundamental natural sciences. And it will pull the state back from its responsibility to promote sceptical and questioning research as a public good."