Buzz words across districts of east UP: Modi toilets & Yogi cows
Toilets have mushroomed across villages, mostly built in the run-up to the general elections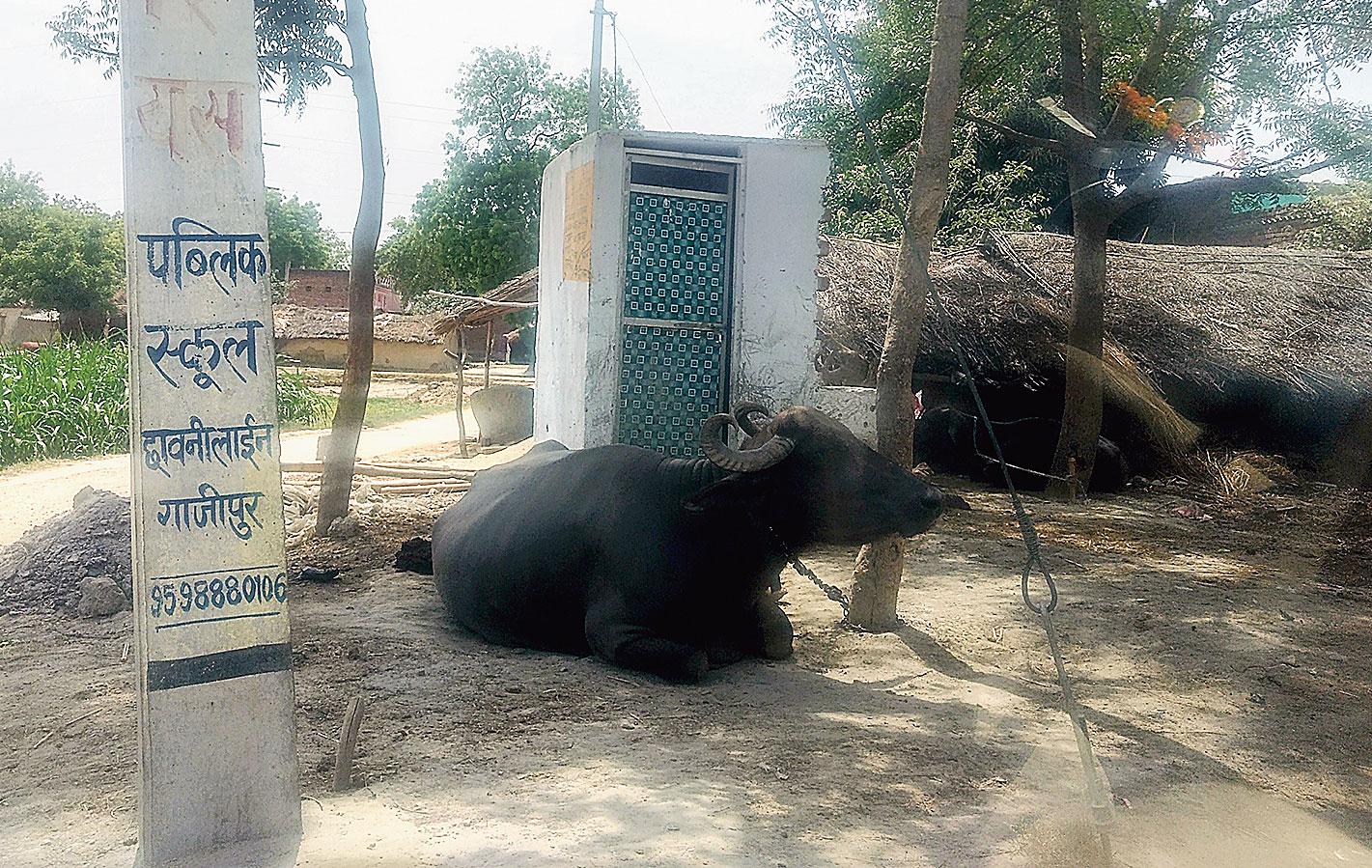 ---
---
Across the districts of east Uttar Pradesh, two things catch the eye and dominate conversations: "Modiji ka sauchalay" — the small, white structures that people refer to as Narendra Modi's toilets — and "Yogiji ke gaay" or Yogi Adityanath's stray cows who are eating up crops.
Toilets have mushroomed across villages, mostly built in the run-up to the general elections. Very few, however, use these toilets and claim they are too ramshackle to last. Mostly, the toilets look unused — doors and seats broken, or some acting as storage for cattle-fodder, the hurry and the lack of quality visible in the quality of construction.
"Modiji ka sauchalay ek mukka me dhah jaayegi (Modiji's toilet will collapse in one punch)," said Kedar Chauhan of Arakhour village. He claimed Rs 12,000 has been allotted by the government but the village headman in collusion with others was getting them built for half the amount. "They are using just one bag of cement and white sand (believed to be inferior)," said Chauhan, who belongs to the most backward Nonia caste.
He feared a storm and heavy rain would result in the toilets caving in.
Chauhan, 57, said while Modi's toilets though weak were tolerable, "Yogiji ke gaay" have become unbearable. "They are devouring all our crops, what will we eat?" he said.
Sitting beside him, Suhan Chauhan said the women curse Yogi and say they will not vote for the BJP. "We are convincing them that this vote is for Modi and not Yogi," Suhan said.
He said everyone feels Uttar Pradesh chief minister Adityanath is responsible for the cattle menace and he should be punished.
Aren't "Modiji's toilets" useful? Chauhan smiled: "Not yet, we like to go out in the fields only."
In Amadpur village of Ghazipur district, Lauhar Bind has put a lock on the door of his newly built toilet. "We will use it in an emergency," he said. "Now we go to the fields only."
Jhingni Devi, a young Bind caste woman of the same village, said the toilet "is good for bathing. For the rest we go the fields". She said she needs a pucca house more than a toilet: "Modiji should give us a house."
Village head Gita Singh said Jhingni doesn't qualify for a house because her thatched-roof hut has brick walls. "Houses have been built for Musahars, who lived in jhopdis (shanties)," Gita said.
Lauhar and Jhingni both said they would vote for Modi but may not vote for Yogi in the Assembly polls in 2022. "House I will manage somehow but what do I eat and feed my children when the cows destroy my crops?" Jhingni said.
Lauhar said the Yadavs of the neighbouring villages are "bullies" so they can't vote for the gathbandhan.