'Sexual degradation can turn to sexual violence'
Bulli Bai: Victims link harassment to bigotry
Mumbai and Delhi police have arrested four on the basis of FIRs registered by women at receiving end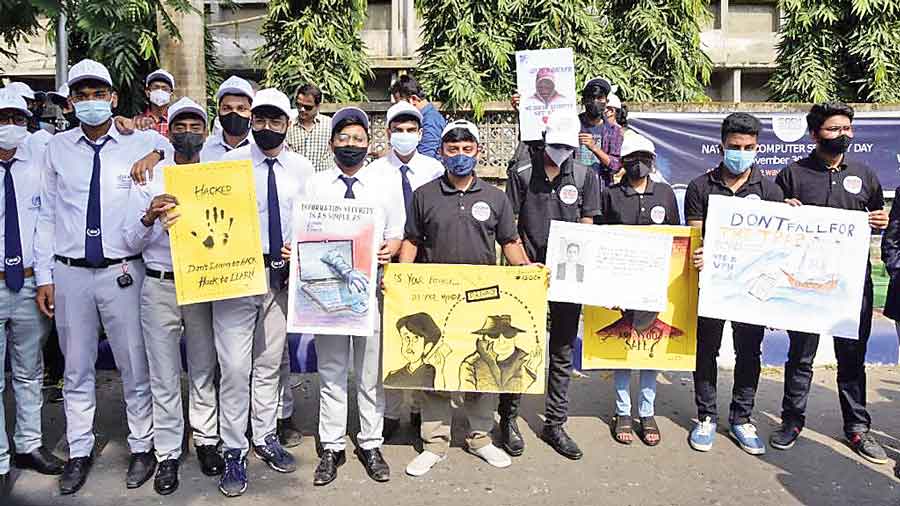 Representational picture of a protest against cyber crime
File Picture
---
New Delhi
|
Published 09.01.22, 03:03 AM
|
---
Several victims of the Bulli Bai app spoke out on Saturday, linking their harassment to the widespread promotion of bigotry from the "dinner table to the highest level of administration" and chiding those asking them to pardon the perpetrators.
A portal called Bulli Bai sought to put prominent Muslim women up for a mock auction on New Year's Day by using pictures from their social media profiles.
Mumbai police have arrested three people and Delhi police have arrested one, on the basis of FIRs registered by victims.
Last May, a similar effort to humiliate Muslim women had been made via the app Sulli Deals.
Speaking at a webinar, held by the Jamaat-e-Islami Hind-backed student group Fraternity Movement, poet Nabiya Khan said she was still waiting for Delhi police to act on her complaint against Sulli Deals, which too had targeted her.
"Impunity flows from above," Khan said. "People are wondering how 19 to 21-year-olds have turned so communal. It starts from the dinner table and goes to the highest level of administration. It starts in schools, shakhas (RSS assemblies), and in the writing of history…."
She added: "We are told that we have not faced actual violence. People don't understand that sexual degradation can turn to sexual violence at any given time."
Her point about those at the top appeared to be borne out by Uttar Pradesh chief minister Yogi Adityanath, who on Saturday described the upcoming Assembly elections as a battle between "80 per cent" and "20 per cent".
"The 80 per cent supporters will be on one side while 20 per cent will be on the other," Adityanath said. Muslims make up around 20 per cent of the population of Uttar Pradesh.
PTI quoted Adityanath as saying at a Doordarshan conclave in Lucknow: "I think 80 per cent will move forward with positive energy whereas 20 per cent have always opposed and will oppose further."
At the webinar, Nidha Parveen, a student from Kerala and a Bulli Bai victim, said: "For the Indian State, Muslim women being victims of sexual harassment, dehumanising, objectifying and auctioning on an online platform is not a crime. It has used its criminal justice system to shamelessly serve its interests by criminalising certain communities while granting absolute impunity to others.
"It is the State that decides what should be deemed a crime and what would constitute a real crime. If the actions against such crimes are done beforehand, the chances of (atrocities like) Bulli Bai (recurring) would be less. These men enjoy all kinds of impunity and this paved the way for such an auction again (after Sulli Deals)."
Besides Parveen, the victims from Kerala include Aysha Renna and Ladeeda Farzana, who became the faces of the protests against the new citizenship regime at the Jamia Millia Islamia university in New Delhi in 2019.
"I have been receiving calls (saying) we should show mercy to the small girl (Shweta Singh, an accused whose age has been put at 18 as well as 19)…. What about the trauma we went through? Nobody showed mercy or spoke up for us," Farzana said.
She said that in addition to the FIRs registered in Delhi, Mumbai and Hyderabad, and the police complaint filed by Parveen in Kerala's Kozhikode, she and Renna would be complaining to police in their respective hometowns of Kannur and Kondotty as well as to the state government.
She alleged police inaction on an earlier complaint against Sulli Deals in Kannur.
Afreen Fatima, JNU student and media secretary of Fraternity, said she had not only faced harassment via the Bulli Bai app but was constantly harassed and threatened online.
"This is not some fringe attack that happens now and then. This must be seen in the light of the anti-Muslim campaign in India. It is because politicians and parties hate Muslims, want to take away our citizenship and see us as foreigners…. My DMs (direct messages to her on social media) are nauseating," she said.