Breather for HAL and troubled Mirage
The efficiency of the Mirage 2000s that flew in, bombed and returned safely helped improve HAL's maligned image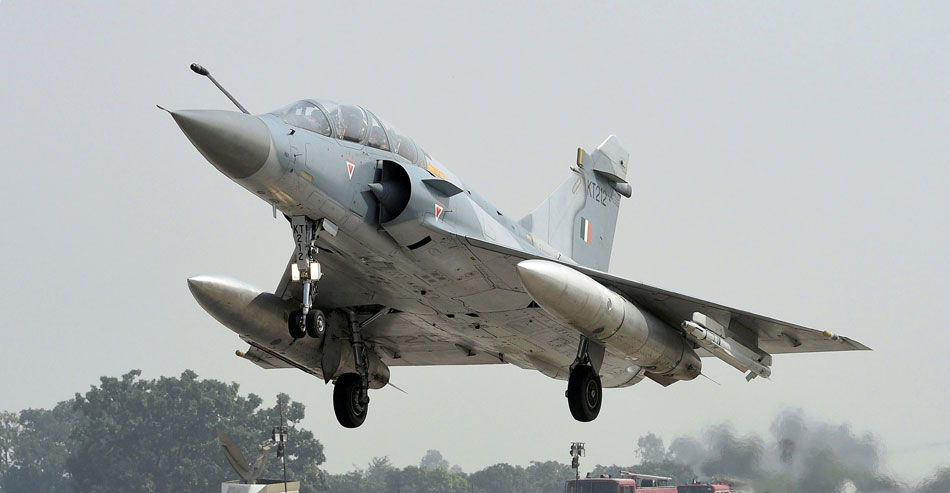 The Mirage 2000 planes were overhauled for 30 years and later upgraded by HAL
(PTI file picture)
---
Bangalore
|
Published 26.02.19, 09:58 PM
|
---
Employees of Hindustan Aeronautics Limited found reason to smile on Tuesday after word spread that the Indian Air Force had used Mirage 2000 multi-role fighter aircraft for the pre-dawn air strikes across the Line of Control.
The company, about which uncharitable remarks were made by those associated with the government after the Rafale controversy broke, had been dragged over coals when a Mirage 2000 it upgraded had crashed and killed both IAF pilots on February 1.
"That was a real tragedy as we lost two test pilots. But everyone started blaming HAL although only the court of inquiry can tell what really went wrong," said a HAL official. The upgraded aircraft was on its first test flight from the elite Aircraft and Systems Testing Establishment here when it crashed and turned into a fireball inside the HAL campus seconds after take-off.
Although the aircraft had met all parameters during the flight tests conducted by HAL's test pilots, the crash had put the firm under pressure.
It is against this backdrop that HAL officials received the information that Mirage 2000 planes played a pivotal role in the air strikes on Tuesday.
The Mirage 2000 planes were overhauled for 30 years and later upgraded by HAL. Originally built by Dassault Aviation of France, which also makes the Rafale fighter jets, the entire IAF fleet has been maintained by HAL.
"The efficiency shown by the Mirage 2000s that flew in, bombed and returned safely means a lot to us, since all of them have either been repaired, overhauled or upgraded by us," said the official.
A senior official at the HAL headquarters in Bangalore said there was no clear information on which aircraft participated in the air strikes.
"There is no way of confirming how many of them were the upgraded versions and how many the original ones. But I can say that we have so far upgraded a dozen Mirage 2000s," said the official. "After the upgrades, they have more teeth and are almost like new aircraft with improved performance ratings. That's all I can say now."
Inducted into the IAF in 1985, Mirage 2000s had undertaken missions in Kargil in 1999. In 2011, the UPA government had decided to upgrade the entire Mirage 2000 fleet and in March 2015, the IAF had received two aircraft upgraded by the original manufacturer, Dassault. The rest were contracted to HAL that has since been upgrading them under a partnership with Dassault.
A retired official who until a few years ago headed a division that handled the upgrade of Mirage 2000s had only praise for the aircraft.
"The original version itself is highly capable (as a fighter jet). The upgraded ones are even more lethal in that they are fitted with an indigenous avionics suite developed by HAL, new radar systems, flying controls and advanced weapon systems as per the IAF's requirements," said the retired official.
The retired official said richer countries in the West usually start looking to replace fighter jets every 30 years or so. "But since we are not a rich country, we do everything to stretch their lifespan by going for mid-life upgrades. With the ongoing upgrade on Mirage 2000, we can expect them to be in operational fitness for another 30 years."
The former official said it takes at least 15 years to develop a fighter jet. "And they are so prohibitively expensive that even richer countries are now going for joint development to cut costs. Our way of making our planes fit is by upgrading them," he said, explaining why an upgrade was a more economical option for the country.