Bollywood reacts to Hyderabad encounter
The film industry has expressed mixed feelings over the incident.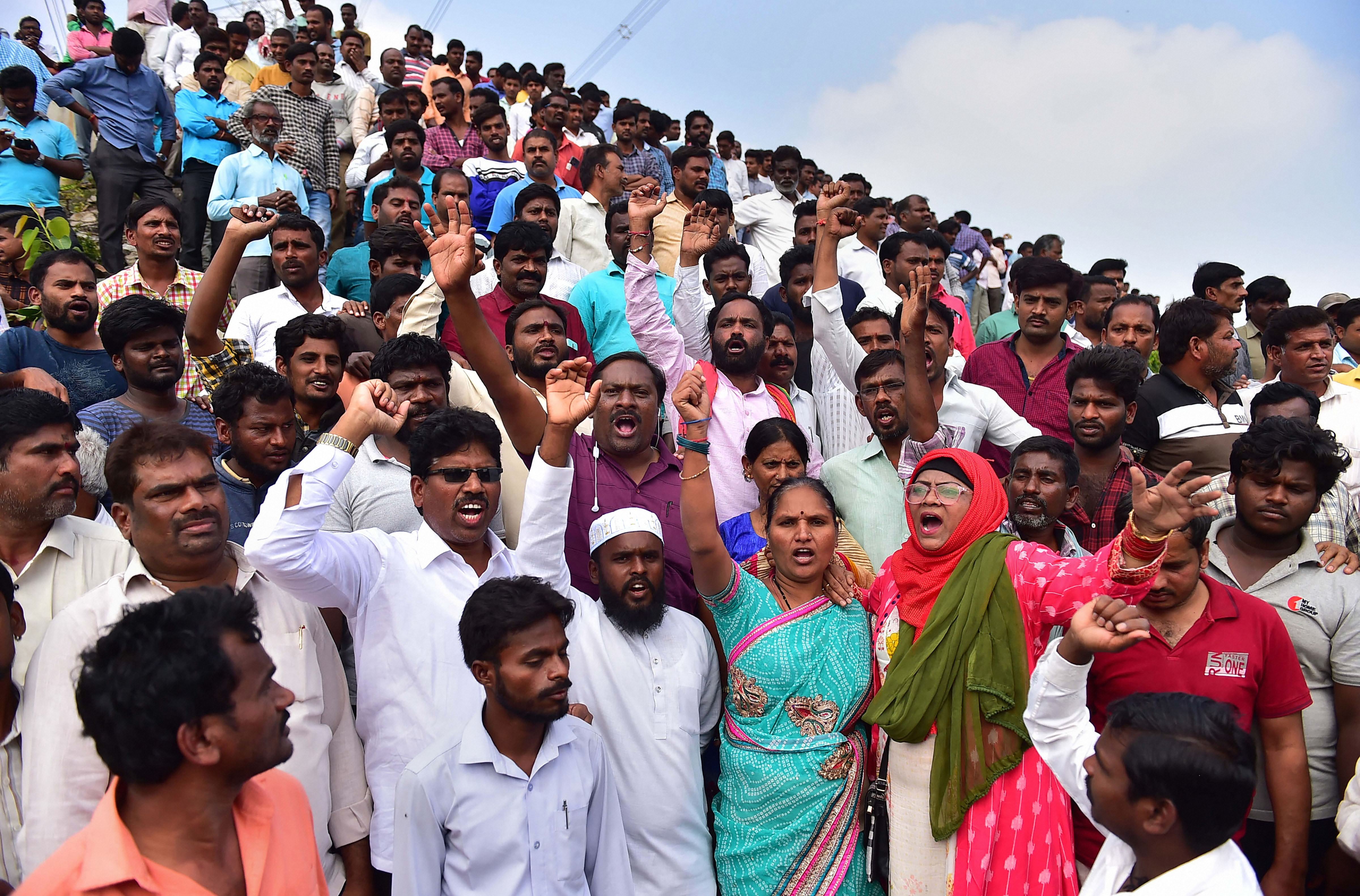 ---
---
Just as other netizens, whose reactions have flooded Twitter since morning, Bollywood celebrities too took to the social media platform to express their views on the police encounter of four persons accused in the rape and murder case of a woman veterinarian.
Many of these Bollywood celebrities hailed the encounter, saying that justice has been 'served.' A few expressed displeasure over the incident.
While Dino Morea said that 'justice has been served,' Vivek Oberoi referred to the incident as a form of 'poetic justice.'
Justice has been served, and served well.

— Dino Morea (@DinoMorea9) December 6, 2019
Same spot, same time frame, the predators became the prey! Now that's true Poetic Justice! Maybe now all such monsters will finally feel fear and think a hundred times before even thinking of raping and murdering girls!#JusticeForDisha #TelanganaPolice #JusticeServed #Telangana

— Vivek Anand Oberoi (@vivekoberoi) December 6, 2019
.Kudos to @TelanganaCMO and the @cyberabadpolice especially #VCSajjanar for delivering true justice swiftly and strongly! This sends a strong message to those monsters who break the law and hide behind the system. I am sure all such monsters are shaking with fear now! @cpcybd

— Vivek Anand Oberoi (@vivekoberoi) December 6, 2019
Veteran actor Rishi Kapoor congratulated Telengana police for the deed.
Bravo Telangana Police. My congratulations!

— Rishi Kapoor (@chintskap) December 6, 2019
Nagarjuna Akkineni too said that 'justice has been served.'
This morning I wake up to the news and JUSTICE HAS BEEN SERVED!! #Encounter

— Nagarjuna Akkineni (@iamnagarjuna) December 6, 2019
Producer Bunty Walia called the encounter the 'best way' to deal with rapists.
The best way to deal with rapists!#dial Telangana police👮🏻‍♂️

— Bunty S Walia (@bunty_walia) December 6, 2019
Esha Gupta said the police did what the courts 'are unable to do.'
The police did a great job, a great example has been set by this encounter, what the courts are unable to do, they did. Justice has been delivered. Now can we please hope for the same for Nirbhaya as well? And please let's not argue about the "human rights" or these inhuman scums

— Esha Gupta (@eshagupta2811) December 6, 2019
However, many disagreed with their counterparts in the film industry.
We live in a time where the absolute failure of the justice system is hailed as "justice".

Just so you know, cops killing people without a trial can land at your door too, someday.

— VISHAL DADLANI (@VishalDadlani) December 6, 2019
Ajay Brahmatmaj, a noted film critic, denounced this form of 'Gangajal' justice.
'गंगाजली' न्याय किसी भी सभ्य समाज के लिए उचित नहीं है।
त्वरित न्याय का विधान बने और आरोपियों को जल्दी से जल्दी सजा दी जाए।

— MrB (@brahmatmajay) December 6, 2019
Swara Bhaskar, who had pinned a tweet that says to assume her dead if she is not part of a Twitter controversy once a week, did not say anything. Instead, she just retweeted.
Now nobody will ever know if the four men killed by the police were innocent men, arrested fast to show action. And whether four of the most brutal rapists roam free, to rape and kill more women.#EncounterNight #Encounter https://t.co/LEXxSKWzre

— Karuna Nundy (@karunanundy) December 6, 2019
In Ryan International murder case, Bus Conductor was arrested. Public wanted instant justice. Lawyers refused to take his case. Later turned out he was innocent. Cops had tortured him to confess. Thankfully he wasnt shot in encounter before and case closed with people cheering

— Joy (@Joydas) December 6, 2019
This is not justice. This is the police breaking the law . It's dangerous. The legal system exists for a reason. https://t.co/5aoSRTLt2I

— Faye DSouza (@fayedsouza) December 6, 2019
Ranvir Shorey called the encounter a 'perversion of the justice system.'
Perversion of the justice system cannot be the answer to dealing with perverts in society. Fixing the justice system is. 🙏🏽

— रanviर_ डhoरeय_ (Ranvir Shorey) (@RanvirShorey) December 6, 2019