Bollywood actor Taapsee mocks 'memory of 2013'
Earlier this week, the I-T department had searched the homes and offices of Pannu and Anurag Kashyap, both fierce critics of the Narendra Modi government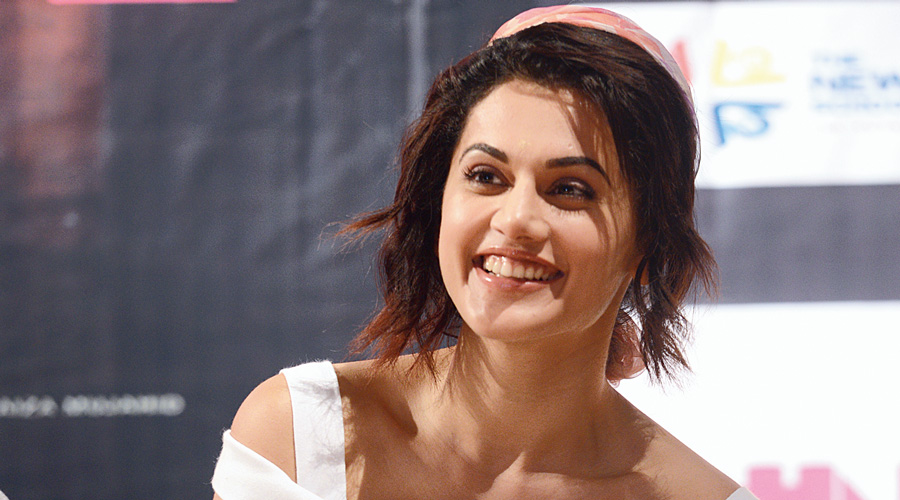 Taapsee Pannu.
File picture
---
New Delhi
|
Published 07.03.21, 02:03 AM
|
---
Bollywood actor Taapsee Pannu on Saturday put out a three-point statement to address the allegations of tax evasion against her.
Income tax officials had on March 3 launched raids on the homes and offices of Pannu  and film director Anurag Kashyap, both fierce critics of the Narendra Modi government.
Breaking her silence, the actor tweeted: "3 days of intense search of 3 things primarily 1. The keys of the "alleged" bungalow that I apparently own in Paris. Because summer holidays are around the corner.
"2. The "alleged" receipt worth 5 crores to frame n keep for future pitching coz I've been refused that money before.
"3. My memory of 2013 raid that happened with me according to our honourable finance minister."
Finance minister Nirmala Sitharaman had, in reply to a question whether the Modi government was going after its critics using central agencies, said on Friday the same individuals were raided in 2013 as well but no issue was made out of it then as is being done now.
"First of all, I am not commenting on any A or B individual. (But) since the names were taken, (I want to say) the very same names were raided in 2013," Sitharaman said during an interaction with journalists at the Indian Women's Press Corps.
While Kashyap had faced a service tax evasion case, none of the officials this paper spoke to could recall a raid on Pannu in 2013, when she was still a newcomer in the film industry.
Pannu ended her last tweet with a post script: "'Not so sasti' anymore", taking a swipe at actor Kangana Ranaut's earlier comment that the Pink star was Ranaut's "sasti (cheap) copy".
Ranaut, a self-confessed Modi supporter, was last September accorded Y-category security by the Centre after a tussle with the Maharashtra government.
Kashyap and Pannu have been outspoken critics of the government and have freely expressed their views on various issues, including the farmers' protests and the new citizenship regime, at a time when most film stars have chosen either to remain silent or toe the government line.
Recently, Pannu had appeared to criticise the show of solidarity by celebrities, including actors Akshay Kumar and Ajay Devgn and filmmaker Karan Johar, with the government in response to pop star Rihanna's post drawing attention to the farmers' protest.
Pannu had tweeted on February 4: "If one tweet rattles your unity, one joke rattles your faith or one show rattles your religious belief then it's you who has to work on strengthening your value system, not become 'propaganda teacher' for others."
Kashyap also tweeted on Saturday, saying he and Pannu had resumed work.
He shared a photo that captured a leisurely moment with Pannu during a shooting session. "And we restart our shoot #DoBaaraa," Kashyap wrote.