Blame on UP cops for assaults on Dalit girls
Rights group demands that the cases be tried in fast-track courts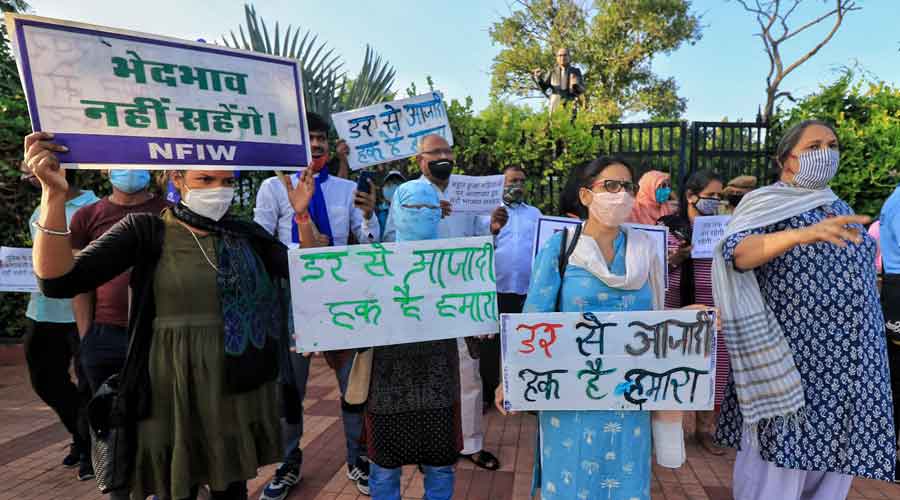 National Federation of Indian Women (NFIW) activists protest against the Uttar Pradesh government at Ambedkar Circle in Jaipur on Wednesday.
PTI
---
New Delhi
|
Published 01.10.20, 12:50 AM
|
---
A leading Dalit rights group on Wednesday described the fatal gang rape and torture of a teenaged Dalit girl in Hathras as the tip of an iceberg of atrocities against deprived segments of the population in Uttar Pradesh.
The National Campaign on Dalit Human Rights (NCDHR) blamed the indifference of the police for the increasing assaults on Dalit women in Uttar Pradesh and demanded that all these cases be tried in fast-track courts.
In a statement, the organisation said that more than a half-dozen assaults on Dalit women and girls had been reported from Lakhimpur Kheri district alone in the past two months. Six instances of abduction and rape have been reported from Saharanpur district.
"These gruesome incidents of sexual violence reflect the real picture of Indian society, constructed on violent casteist patriarchal structure," the statement said.
Data collated from the National Crime Record Bureau's reports suggest that Uttar Pradesh witnessed the highest number of atrocities against Dalit women in India between 2014 and 2018.
Altogether 7,920 cases of atrocities against Dalit women were registered under the SC/ST (Prevention of Atrocities) Amendment Act in the state during this period.
These included 3,421 cases of assault, 2,410 rapes and 1,870 kidnappings.
Vimal Thorat, an academic and the NCDHR convener, told this newspaper that the police were completely apathetic to atrocities against Dalits.
"If the police had taken prompt action, these incidents could have been reduced to a great extent. But the culprits are committing assaults with impunity," Thorat said.
In the Hathras case, the arrests took several days while the victim's family accused the police of invoking gang-rape charges after a delay of more than a week. Nor did the police provide protection to the victim's family, the NCDHR said.
It demanded strict implementation of the SC/ST Atrocities Act and the Protection of Children from Sexual Offences (Pocso) Act, and the fast-tracking of all cases of sexual assault on Dalit women and girls.
It also demanded relief and rehabilitation for the survivors of caste and gender violence.
According to the NCDHR statement, the 19-year-old Hathras victim was dragged, with her dupatta twined around her neck, into the field where she was gang-raped on September 14.
She suffered severe spinal cord injuries that paralysed her from the waist down and also sustained a deep cut to her tongue. She died on Tuesday at a Delhi hospital. All the four accused are upper caste men.
The inhumanity continued even after her death, the NCDHR said, referring to the police's alleged act of cremating her without the consent or participation of her immediate family, who say the force locked them inside their home.