'Blackmail' cuffs on UP rape complainant
The woman who has accused former Union minister Swami Chinmayanand of raping her was arrested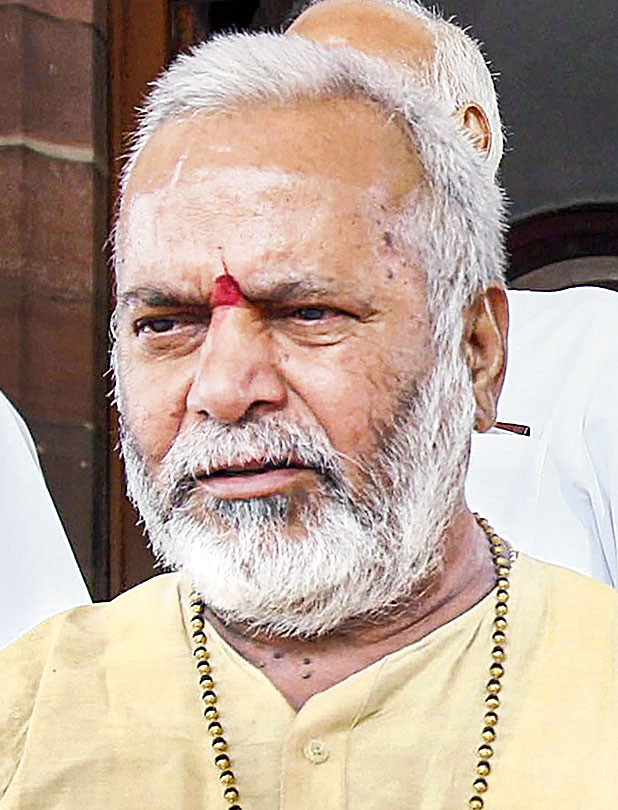 ---
|
Lucknow
|
Published 25.09.19, 08:18 PM
---
The woman who has accused former Union minister Swami Chinmayanand of raping her was arrested on Wednesday on the charge of blackmailing the BJP leader, a day before a court was to hear her plea for anticipatory bail.
The 23-year-old law student had on Tuesday filed the plea with a local court in hometown Shahjahanpur, which had set the hearing for Thursday. The same court on Wednesday remanded her in judicial custody for 14 days.
Naveen Arora, chief of the special investigation team (SIT), told reporters in Shahjahanpur that the investigators had questioned the woman on Tuesday and "arrested her on the basis of evidence". He didn't reveal the nature of the "evidence".
On Tuesday, the SIT had stopped the woman on her way to filing her petition, accompanied her to the court and back home, and then told her not to leave home without permission, Arora said. She was arrested from her home around 8am on Wednesday.
On Friday, the SIT had arrested Chinmayanand on charges of molestation, intimidation and sexual exploitation — which carries a maximum jail sentence of five years — but stopped short of booking him for rape, where conviction can bring a life term.
It also arrested three young men — all fellow students of the complainant at the same law college that Chinmayanand runs from his ashram — for allegedly blackmailing the monk with purported sex videos.
The complainant says Chinmayanand filmed her secretly while she was bathing in her hostel and blackmailed her into having sex with him for over a year, and later threatened to kill her when she tried to end the exploitation.
On August 22, days after the woman fled Chinmayanand's ashram, the monk had lodged a police complaint saying he had received a WhatsApp message from an unknown number threatening to circulate a sex video of his if he failed to cough up Rs 5 crore.
Several videos of unknown provenance have been circulating on social media since early September, showing a naked man resembling Chinmayanand receiving a massage from a woman while trying to initiate a smutty conversation.
But another video, which surfaced sometime later, shows three young men and a young woman travelling in a car and then sitting in a restaurant, purportedly planning to extort money from "a powerful man" with the help of a sleaze video.
The SIT had several times in the past declined to say anything about the possible identities of the four young people in the video.
It's not clear who filmed this video. The woman says she filmed Chinmayanand in the act with a camera hidden in her spectacles and handed over 43 videos as evidence to the SIT. But the investigators have refused to confirm anything beyond saying several videos have been sent to a forensic lab for authentication.
According to the SIT, Chinmayanand and the woman had about 200 conversations over the mobile phone in August.
The three young men arrested on blackmailing charges are Sanjay Singh, Sachin Sengar and Vikram Singh. Like Chinmayanand, they were on Friday remanded in judicial custody for 14 days.