'Yeh Modi hai': He who won't name China
BJP waves visit to Leh as 'true leadership'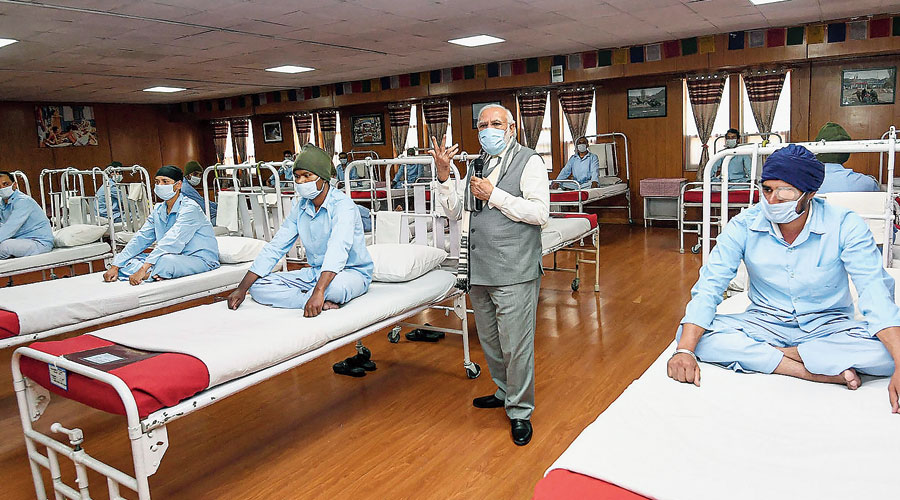 ---
---
The BJP on Friday came out all guns blazing to portray the Prime Minister's surprise visit to Ladakh as an assertion of the "yeh Modi hai (this is Modi)" strongman image that has taken a beating in the aftermath of the Opposition's relentless attack on him for appearing to cower before China.
Unlike in the case of Pakistan, when Narendra Modi had led from the front in taking a tough stand by projecting how he had taught the neighbour a lesson, his mellow response to the border tensions with China and the killing of 20 Indian soldiers in the Galwan Valley has been widely criticised.
In BJP circles, a need was being felt for a strong and demonstrable message for the party's hyper-nationalist constituency. The Opposition's repeated censure of the government for not displaying the courage to take on China, and its reference to satellite images showing Chinese camps on the Indian side of the border, was making matters worse for the saffron brigade.
The Prime Minister's carefully built persona of being a strong and decisive leader, best exemplified through his references to his "56-inch chest" and his repeated use of the expression "yeh Modi hai", had been suffering due to his efforts to play down the border crisis, his denial that there had been any intrusions and his avoidance of publicly naming China.
As the optics of the Prime Minister's visit played out on TV screens, BJP ministers and leaders launched what appeared to be an orchestrated move to reinforce Modi's image as a courageous leader.
"Leading from the front," home minister Amit Shah tweeted, uploading pictures and videos of Modi with soldiers in Leh and his speech.
The publicity department of the government seemed to have been prepared for the surprise visit, clicking innumerable pictures and shooting videos and uploading them through the day.
"True leadership in action!" tweeted BJP chief J.P. Nadda, also uploading Modi's pictures and videos.
The BJP's social media ecosystem underlined that a 69-year-old Modi visited Nimu, located 11,000 feet above the sea level, without any acclimatisation.
"He braves tough weather to land there… reviews situation at point of action… stands shoulder to shoulder with men of valour," tweeted BJP
general secretary (organisation) B.L. Santosh, adding that he was proud of his Prime Minister.
It was not clear which "point of action" Santosh was referring to as the Galwan Valley and other areas where there has been an escalation in tensions with China are at least 200km by road from Nimu.
Finance minister Nirmala Sitharaman referred to a portion of Modi's speech to tweet: "So true & well said."
The video clip she shared along with the tweet had Modi holding forth on Lord Krishna's twin images, one with a flute and the other with the Sudarshan Chakra, to stress that India wants peace and harmony but wouldn't back off from a confrontation either.
BJP leaders feel that in terms of the visual impact, Modi's visit had succeeded in sending out a strong message not only to China and the world, but also the domestic audience and the Congress.
In the wider Sangh parivar, the trip was seen as a demonstration of the ideological commitment to defend the crown of "Bharat Mata".
The RSS feels that Jammu and Kashmir and Ladakh form the crown of "Ma Bharati" and they have to be protected at any cost.
Modi, too, referred to this view when he said in his address that "Ladakh is Bharat Mata's crown and pride. We won't allow the head to be bowed."
The government's move to scrap Jammu and Kashmir's special status and turn Ladakh into a Union Territory was driven by this understanding, despite the knowledge that it would anger China along with Pakistan.