BJP's Operation Kamal vs Kamal Nath
Digvijaya Singh spearheads Congress operation to foil BJP plot to lure away 10 to 12 MLAs to topple Madhya Pradesh govt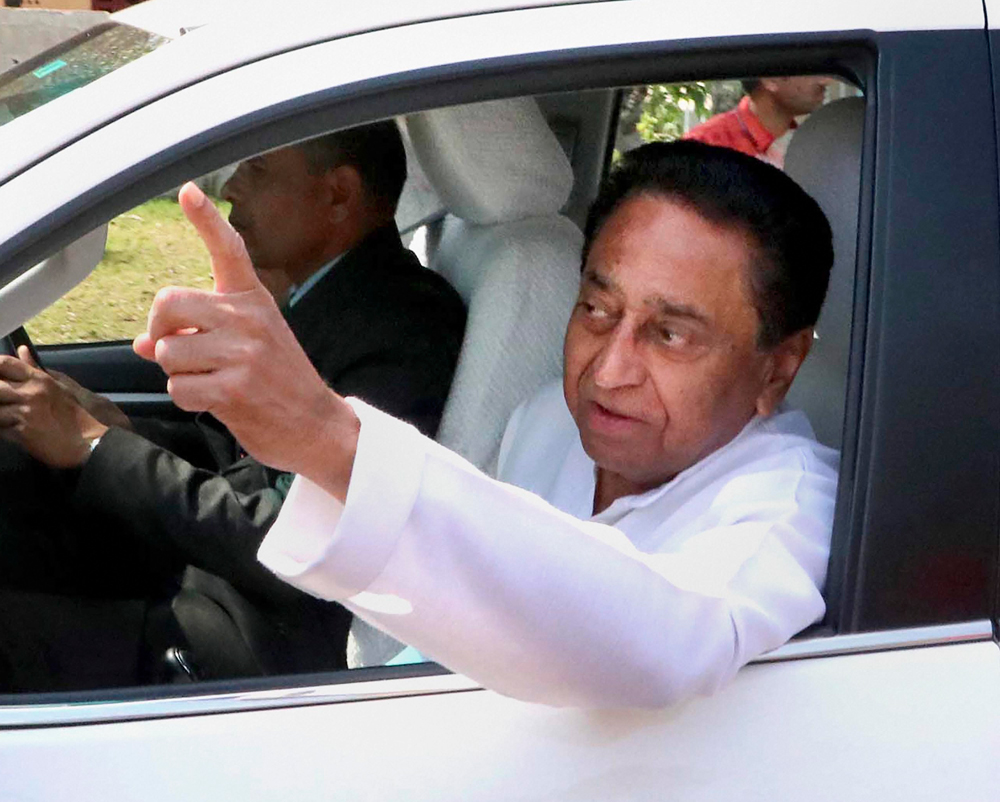 Madhya Pradesh Chief Minister Kamal Nath leaves after a meeting with party MLAs and others, in Bhopal, Wednesday, March 4, 2020.
(PTI)
---
New Delhi
|
Published 04.03.20, 09:49 PM
|
---
The Congress on Wednesday claimed to have foiled in the nick of time an alleged BJP plot to lure away 10 to 12 MLAs to topple the Kamal Nath government in Madhya Pradesh.
However, an admission by veteran Digvijaya Singh — who is believed to have spearheaded the Congress fight-back — that four MLAs were still in BJP custody at a Karnataka resort suggested there was still some uncertainty.
According to the Congress, its salvage operation had involved midnight drama at a five-star hotel in Gurgaon and had the cooperation of all its power centres, underlining the unity in the party despite all the talk of infighting.
The party accused former chief minister Shivraj Singh Chouhan of masterminding the topple plot, which it said involved ferrying some of the targeted MLAs on chartered flights out of the state. Chartered flights had been a key feature of last summer's political drama that saw the BJP wrest Karnataka from the Congress-JDS government with the help of defectors, most of whom have been made ministers now.
Such attempts have come to be known as "Operation Kamal" in an oblique reference to the BJP's Lotus symbol.
Kamal Nath's government has a narrow majority in Madhya Pradesh. The Congress has 114 MLAs in a House of 230 (currently 228), and has the support of the two BSP members, one Samajwadi Party member and four Independents. The BJP has 107 seats.
The timing of the topple bid appears linked to the upcoming Rajya Sabha elections.
There are three vacancies from Madhya Pradesh, of which two can go to the Congress on the basis of its current strength. Defections can, however, help the BJP snatch one seat from the Congress.
The two main contenders for the Rajya Sabha nominations from the Congress are Digvijaya and Jyotiraditya Scindia. The general perception is that Kamal Nath's government survives at the pleasure of these two powerhouses. Contesting the perceptions of differences within the party, Digvijaya on Wednesday claimed he had spoken to Scindia and that they were united like a rock.
"The government is 100 per cent safe. Not one MLA will defect. They were targeting 10-12 MLAs and some of them fell into their trap. But we intervened and foiled their game," Digvijaya told reporters.
"Coercion, threats, blackmail, money… every trick was used. Even now, four MLAs are in their custody. They are in a Chikmagalur resort; we have got in touch with them. They will come back."
On Tuesday, Digvijaya had alleged that the MLAs were being offered Rs 25 crore each to defect.
Sources said that of the 12 MLAs involved, 8 belonged to the Congress, three were Independents and the remaining MLA was the BSP's Rambai.
Some of these MLAs had apparently recorded their conversations with the BJP managers and alerted the Congress brass.
Two ministers — Jitu Patwary and Jaivardhan Singh (Digvijaya's son) — then travelled to a five-star hotel in Manesar, Haryana, after learning that some of the MLAs had been sequestered there.
While they found Rambai there, another MLA — a Congress member — was forcibly whisked away by BJP leaders in front of their noses, Congress sources said.
"Former BJP minister Bhupendra Singh had brought the BSP MLA to Delhi in a chartered plane. There were two chartered planes — a 12-seater and a 9-seater. Four MLAs went to Karnataka in the 12-seater. Some of them were not willing to go but were forced to as BJP leaders were there along with some antisocial elements," Digvijaya said.
"As more MLAs couldn't be brought after the plot got busted, Shivraj Singh Chouhan returned to Bhopal in the other plane along with his PA and security man."
Digvijaya added: "The plan was to give Rs 25 crore each: 5 crore now, 5 crore for voting in the Rajya Sabha elections and the rest while pulling down the government."
Asked about the masterminds of the operation, Digvijaya said: "Number 1: Shivraj. Number 2: Narottam Mishra. Then Sanjay Pathak and Bhupendra Singh also (all of them are BJP leaders). These leaders minted money over the last 15 years. The BJP has been doing this for quite some time, especially since Amit Shah took over."
Two Congress MLAs too publicly alleged that BJP leaders had offered them money to defect.
One of them said: "I got a call from Shivraj Chouhan himself. He promised to make me a minister in addition to giving me Rs 35 crore."
Chouhan dismissed the allegations, saying the Congress was blaming the BJP to hide factionalism and problems within. But Narottam Mishra said: "MLAs do keep in touch with me: 15 to 20 MLAs are in contact with us. The Congress MLAs are angry because they can't get their work done."