BJP now falls back on Nehru too
The party blames the former Prime Minister for most of India's current problems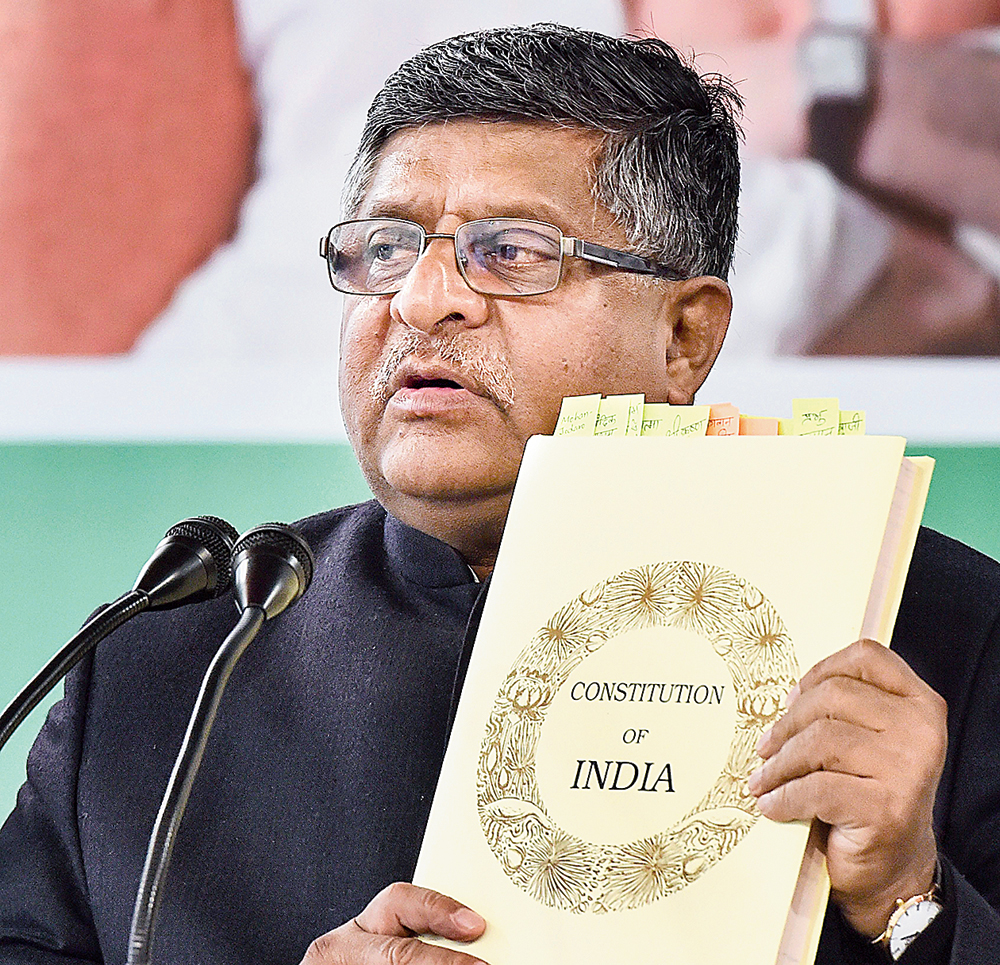 ---
---
Law minister Ravi Shankar Prasad on Monday displayed sketches of Ram, Krishna, Buddha, Mahavir and Hanuman in the original Constitution as he sought to take on protesters against the citizenship act, unwittingly paying tribute to Jawaharlal Nehru among other leaders.
"Leaders like Rajendra Prasad, Nehru, Sardar Patel and B.R. Ambedkar had decided to include these sketches to reflect the country's heritage," Prasad said and wondered what those "supporting the Shaheen Bagh" protest "would have said" had the Constitution been framed now.
The BJP blames Nehru for most of India's current problems.
Prasad, who was addressing the media over the Shaheen Bagh protests, said a famous painter from Bengal was asked to do the sketches but did not name the artist, Nandalal Bose.
He held up a copy of the Constitution, opened the page containing the fundamental rights and showed the sketch of "Lord Ram, Sita and Laxman returning to Ayodhya".
The minister then turned to a page containing the Directive Principles which, he said, has a picture of "Lord Krishna reading out the Gita to Arjun in the Mahabharat".
"It (the Constitution) has pictures of Buddha, Lord Mahavir, Hanuman and Natraj. It also has a picture of Akbar but not of Babar and Aurangzeb," Prasad said, adding the leaders he had mentioned earlier had selected the sketches.
"Had the Constitution been framed today and these sketches included, then what would those supporting Shaheen Bagh would have said? They would have said India was being turned into a Hindu rashtra, that India's secular soul was being compromised," he said.
"Those talking about constitutional nationalism should understand the essence of the Constitution," Prasad added and went on to say that the BJP was proud of India's heritage and culture. "We want these issues to be talked about in the Delhi polls," he said.
Both Prasad and the BJP have referred to these sketches in the past too but Monday's assertions at the party office appeared to be a well-thought-out effort to claim that the essence of the Constitution was Hindutva.
This year's calendar brought out by Parliament too has the pictures that are on the pages of the original Constitution.