BJP focus on 'urban Naxals'
Election campaign clue in book release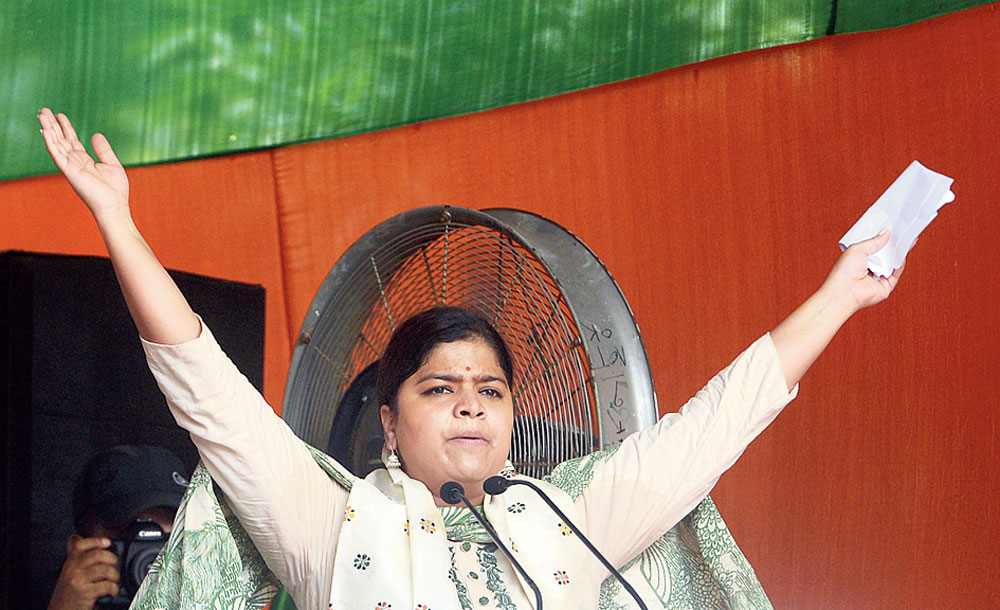 Bharatiya Janata Party Yuva Morcha president Poonam Mahajan announced the launch of a book on "urban Naxals"
(Agencies)
---
New Delhi
|
Published 23.10.18, 08:30 PM
|
---
The BJP's youth wing, led by lawmaker Poonam Mahajan, is giving final touches to a book on "urban Naxals" that is scheduled for release next March, in a signal that the issue will be a key election plank in the 2019 general election.
"The study circle of the youth wing has prepared a politically detailed book on urban Naxalism… It will be detailed account of how youths from urban and rural areas are misled," Bharatiya Janata Party Yuva Morcha president Poonam Mahajan said on Tuesday. Mahajan is the daughter of the late BJP leader Pramod Mahajan and is the MP from Mumbai North Central.
Mahajan said the book will have nine chapters by different writers and will be well-researched, with the authors spending time in the Naxalite-affected areas. It will be released at a big event.
The BJP had made a big issue out of the recent police action against a group of activists, who were accused of having links with Maoists. It has been repeatedly targeting the Opposition, particularly the Congress and the Left, for supporting "anti-national" activists, seeking to turn the issue into an election plank.
Mahajan announced the launch of the book ahead of a national convention of the party's youth wing in Hyderabad this weekend that is to be attended by Union ministers and some chief ministers.
The convention's agenda is to mobilise the party's youth cadre to fulfil Amit Shah's aim of ensuring a bigger-than-2014 victory in 2019. Home minister Rajnath Singh will inaugurate the three-day meet and Shah will address a rally on the final day.
"The convention will pass a political resolution on how to achieve the victory target in 2019," Mahajan said. The youth wing cadre would be the nodal persons at the polling booth level, she said.
Shah has tasked the youth wing to run a drive for enrolling new voters and to carry out door-to-door campaign to ensure that beneficiaries of different schemes of the Modi government vote for the party in 2019. Mahajan claimed that so far they have enrolled 25 lakh new or first-time voters.