BJP cancels cheque to 'worker' widow
'BJP leaders had promised to take care of me and my three children…. If they had to stop payment, why did they hand the cheque to me at all?'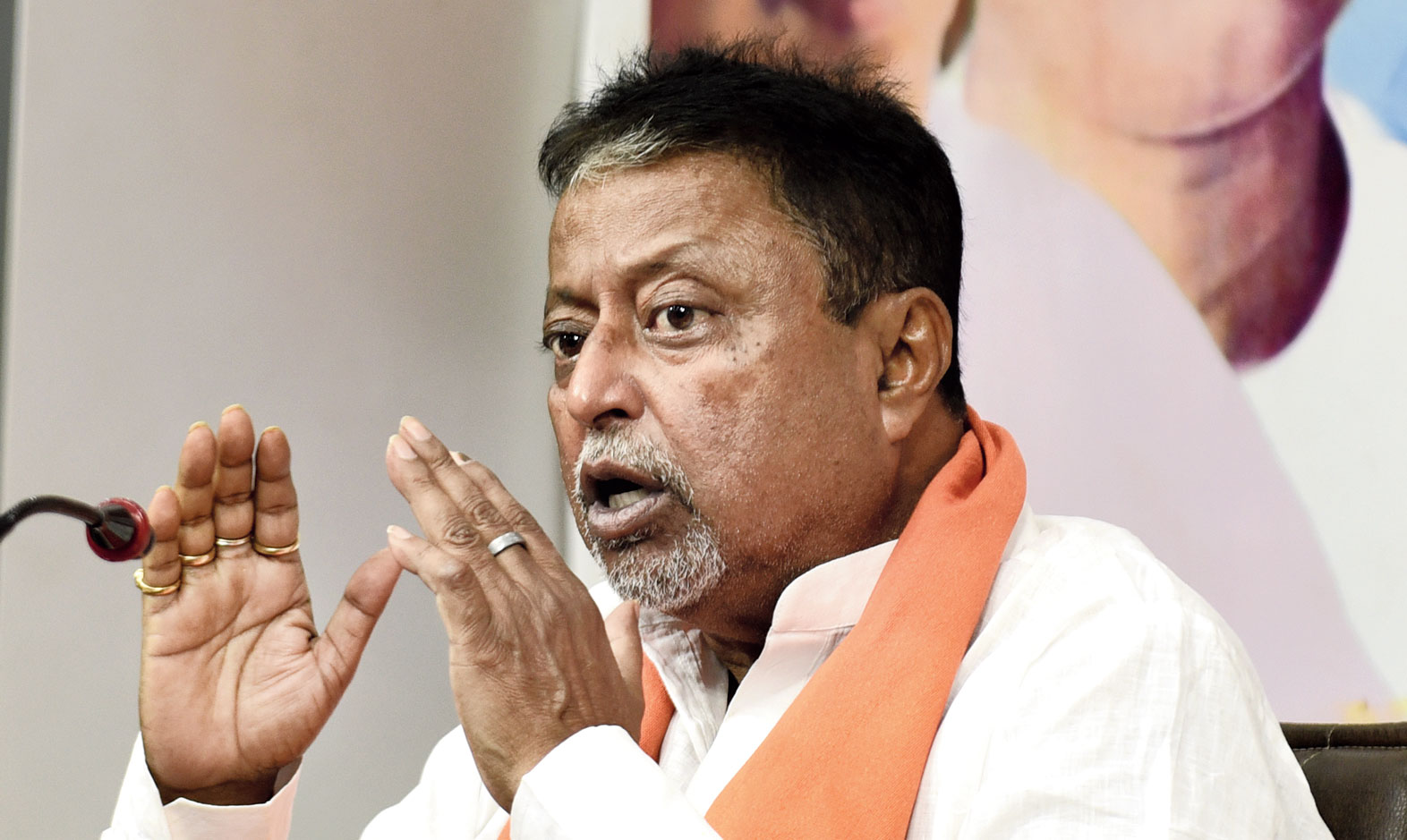 A BJP team headed by Mukul Roy visited the village on September 15 and handed Chaina a cheque, No. 381280, drawn on Punjab National Bank.
(Telegraph file picture)
---
Bolpur(Birbhum)
|
Published 03.11.19, 08:43 PM
|
---
The widow of a marginal farmer whom the BJP had declared a "dedicated party worker" has alleged the cheque for Rs 5 lakh the party had given her after her husband's death has been returned by the bank following a "stop payment" order.
"The bank sent the cheque back last week. The accompanying document said the issuer had sent a 'stop payment' order," Chaina Garai, a resident of Ramkrishnapur village in Nanoor, Birbhum, said.
"BJP leaders had promised to take care of me and my three children…. If they had to stop payment, why did they hand the cheque to me at all?"
Her husband Swarup had been shot at during a BJP-Trinamul clash on September 6 night. He died at a Calcutta hospital on September 9, following which a political controversy broke out over his body.
His relatives, who had planned a procession with the body to the BJP office in central Calcutta, accused the police of smuggling the body out of SSKM Hospital and taking it to their village.
A BJP team headed by Mukul Roy visited the village on September 15 and handed Chaina a cheque, No. 381280, drawn on Punjab National Bank.
"I didn't cash it immediately as I was in shock. I deposited it at the bank last month, but it has been returned," Chaina told The Telegraph.
District BJP leaders said the party had decided against paying Chaina because she had "betrayed" the party.
"Yes, we have stopped the payment. Trinamul has bought her off and she has declared in public that her husband was a Trinamul worker," district BJP president Shyama Prasad Mondal said.
"She has betrayed everyone, including her dead husband. If he was indeed a Trinamul worker, why should we pay her?"
Ramkrishnapur residents said Swarup was indeed a BJP worker but Chaina denied having told any lies. She accused the BJP of declaring Swarup a BJP worker to gain politically from his death.
"Immediately after his death, BJP leaders began coming to our home and putting up saffron flags…. We were in a state of shock but they didn't care. I still maintain that my husband was not into politics but used to vote for Trinamul," she said.
"I had visited the office of district Trinamul president Anubrata Mondal on September 28 and told him my husband used to vote for Trinamul. He didn't offer me any money for that."
Her allegations have given Trinamul fresh ammunition to accuse the BJP of politicising a poor man's death and then denying his wife the promised financial help for speaking the truth.
"The BJP tried to milk Swarup's death politically but went back on its promise to his wife," said Abhijit Sinha, Trinamul district vice-president.
BJP district president Shyama Prasad said the party would give the money to Swarup's parents. "They are telling the truth — that he was a BJP worker," he said.