BJP ally likens party to Ravan
Minister Om Prakash Rajbhar also reminded the party that 'the arrogant Ravan' had been destroyed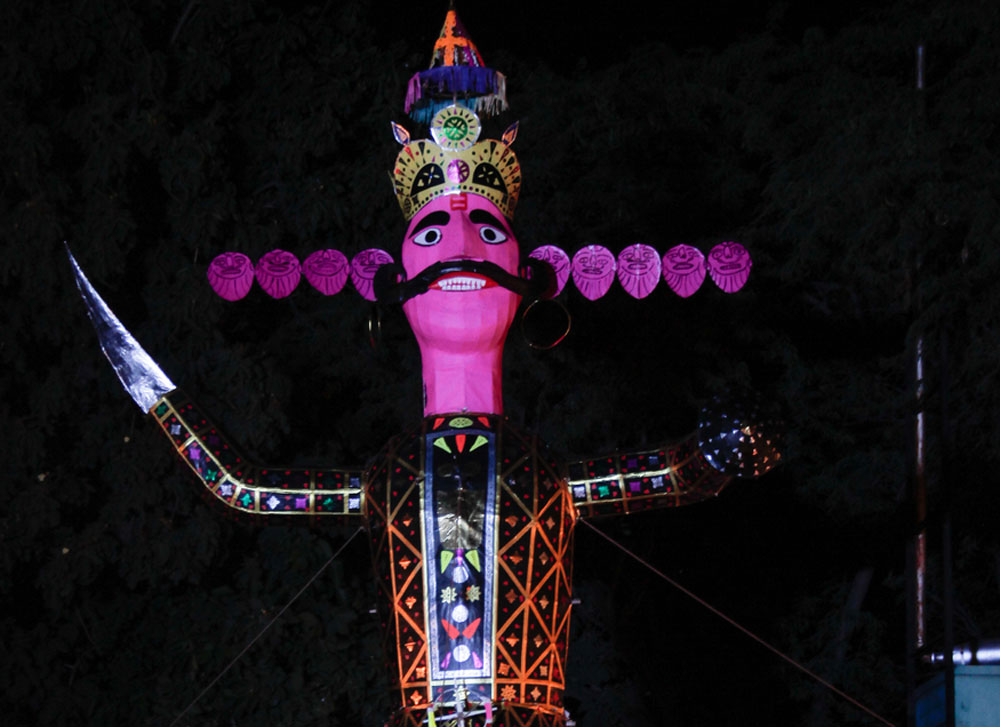 An effigy of Ravana
(Shutterstock)
---
Lucknow
|
Published 13.11.18, 10:13 PM
|
---
A BJP ally and minister in Yogi Adityanath's cabinet on Tuesday likened the ruling party's attitude to Ravan's "arrogance" and warned that even the mythological king of Lanka had been destroyed despite being so powerful.
Uttar Pradesh backward class welfare minister Om Prakash Rajbhar's public salvo came days after he advised the BJP to change the names of its Muslim leaders before renaming places founded by Muslim rulers.
"We shouldn't forget that the arrogant Ravan was also destroyed," Rajbhar, whose Suheldev Bharatiya Samaj Party (SBSP) has four MLAs in a House of 403, told reporters in Lucknow. "The BJP's arrogance can be compared with none other than Ravan. Despite being 'mahabali' (very powerful), his arrogance was destroyed."
Rajbhar also claimed that the BJP's rising temple rhetoric was a "drama to divert people's attention from its failures".
The SBSP chief's latest attack on his ally came despite warnings from chief minister Adityanath and deputy chief minister Keshav Prasad Maurya. "Some people lose their mind when their end comes," Adityanath had said on Monday, hinting at possible action against Rajbhar who is said to be close to BJP national chief Amit Shah.
Maurya had also reacted against the Most Backward Caste leader, saying: "He (Rajbhar) is crossing his limits."
But the warnings appeared to have had no effect. "I am not a slave of the BJP or the government. The BJP leaders are smug (in the belief) that they would be in power for 50 years…. The voters would finish them politically in future elections," Rajbhar said, asked about Adityanath's and Maurya's comments.
Shah had in September told a BJP national executive meeting in Delhi that the party's victory in the 2019 Lok Sabha elections would keep it in power for the next 50 years.
Rajbhar also claimed that allies like the Shiv Sena and Union minister Ram Vilas Pawan were "threatening to dump" the BJP, and added that he was waiting for the day when the BJP would remove his SBSP from the alliance.
The Sena, the BJP's oldest ally but increasingly belligerent of late, has criticised the national party for its delay in building a Ram temple.
LJP leader Paswan had criticised the Narendra Modi government for dilly-dallying on restoring some stringent provisions of the SC/ST Act, which the government eventually did.
Rajbhar has been upset with the Modi government for not heeding his demand for reservation for the Most Backward Castes (MBCs). He had recently accused the BJP of reneging on a promise to him to earmark a part of the 27 per cent OBC quota for the MBCs.
On Saturday Rajbhar had advised the BJP to change the names of its Muslim members before renaming places with Muslim names.
"Mukhtar Abbas Naqvi is Union minister for minority affairs, Syed Shahnawaz Hussain is BJP national spokesperson and Mohsin Raza is Uttar Pradesh minister for minority affairs. I demand that the government and the BJP change their names before carrying on renaming cities that have Muslim names," he had said in Lucknow.
Mughalsarai has been renamed after RSS ideologue Deendayal Upadhyay while Allahabad and Faizabad have been renamed Prayagraj and Ayodhya. A move is afoot to rename Ahmedabad as Karnavati.
Rajbhar had earlier said there was corruption in the Adityanath government.