BJP against 'tapasya', says Rahul Gandhi
After visiting Mahakaleshwar Temple in Ujjain, Rahul used religious metaphors to deal with political issues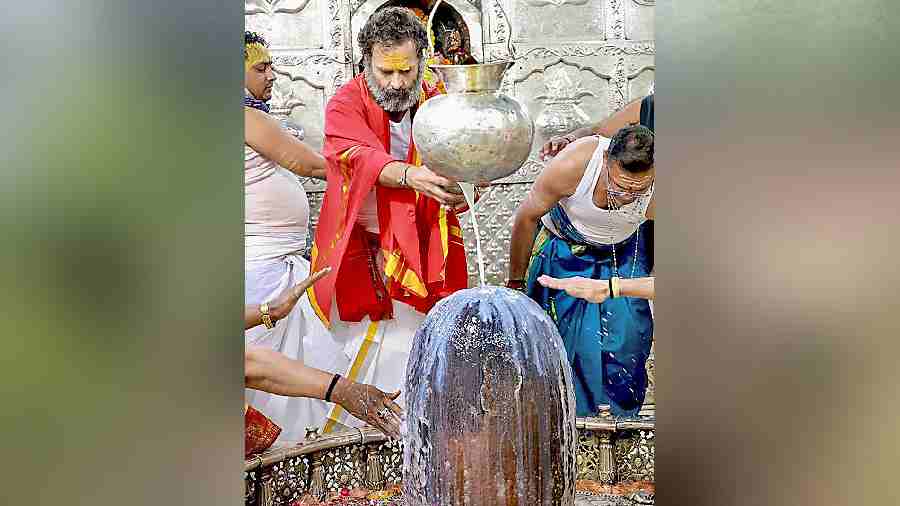 Rahul Gandhi offers prayers at the Mahakaleshwar temple in Ujjain on Tuesday.
PTI
---
New Delhi
|
Published 30.11.22, 03:46 AM
|
---
Rahul Gandhi on Tuesday confronted the RSS-BJP's overt religiosity in public life by saying that Hinduism ordained rulers to look after the poor and the weak, those who struggle daily for survival, but this government rewarded only those who worship Narendra Modi.
After visiting Mahakaleshwar Temple in Ujjain, one of the most sacred places of worship for Hindus, Rahul used religious metaphors to deal with political issues. He argued that "tapasya" was critical in Hindu religion and it evoked reverence.
He said governments in the same spirit should sincerely take care of those who were struggling instead of working against their interest to help the rich and the powerful. As he was introduced as a "tapaswi" by local leaders at the public meeting, Rahul said: "What we are doing is nothing; maybe a tapasya for three months. The real tapasya is done by the farmers who wake at 4am daily and feed the nation with their blood and toil. The youth who struggle to complete their studies and their families who support them despite financial strains. Tapasya is done by the small shopkeepers and modest industries, which create livelihood for people."
He added: "But two industrialist friends of Narendra Modi, who worship him day and night, get everything. Two, or five, industrialists can get whatever they want — ports, airports, railways, roads, power. Modi is handing over the nation's entire wealth to them. But those who struggle, serve this country, get nothing. I met thousands of farmers during the Bharat Jodo Yatra and they told me they neither get the right price for their crops nor support of any kind."
Insisting that governments have no job other than supporting the struggling masses, Rahul said: "Money is sucked out of the pockets of the poor every day to be given to the rich — petrol, diesel, fertiliser and prices of other commodities are raised for this. Youths don't get job; they appear in examinations after tapasya and encounter a Vyapam scam. Tapasya mein chori ho gai… the tapasya of small shopkeepers and businesses is crushed by notebandi. These are not policies, these are weapons to crush you — notebandi, flawed GST, lockdowns." He alleged that the objective was to destroy the "tapasya" of ordinary Indians.
"The BJP people worship the gods and then act against those who do tapasya. This is an insult to god. Millions of people are supporting the Bharat Jodo Yatra because they have understood the game. The media doesn't show the Bharat Jodo Yatra but the fault doesn't lie with these reporters. They are controlled by the same industrialists who worship Modi. But this Yatra will bring freedom for the media as well. It is their Yatra as well. It is people's yatra."
This is not the first time that Rahul has attempted to interpret religion or Hinduism in terms of morality, sacrifice and service.
He has tried to reason with the people that Hinduism has nothing to do with the RSS political project of Hindutva, explaining that divisive politics and violence were antithetical to the tenets of Hindu religion.
But these are complicated issues and the party could not sustain the debate despite Rahul's periodical initiatives to challenge the Sangh parivar on the philosophical aspects of religion and nationalism.
On the contrary, Rahul's noble assertions have caused misgivings within the Congress. While the success of the Bharat Jodo Yatra has motivated the party workers and leaders, the absence of political focus has generated some concerns as well.
While some leaders strongly believe Rahul should have involved himself in Gujarat with greater intensity, many leaders resented his declaration a few days ago that he had no "hatred" for the RSS and Modi.
One leader summed up the mood in the party: "Yatra is good but he shouldn't forget he is a hardcore politician, leading the principal Opposition party. We are worried about his sense of detachment. Yesterday, he said he had forsaken Rahul Gandhi long ago. It shouldn't become difficult for the Congress to salvage the political Rahul Gandhi after the Yatra. Our senior leaders should ensure the political narrative is not drowned in his philosophical quest."