Biryani case on hosts in UP village
Over a dozen invitees who had chicken biryani have demanded travel expenses to purify themselves in the Ganga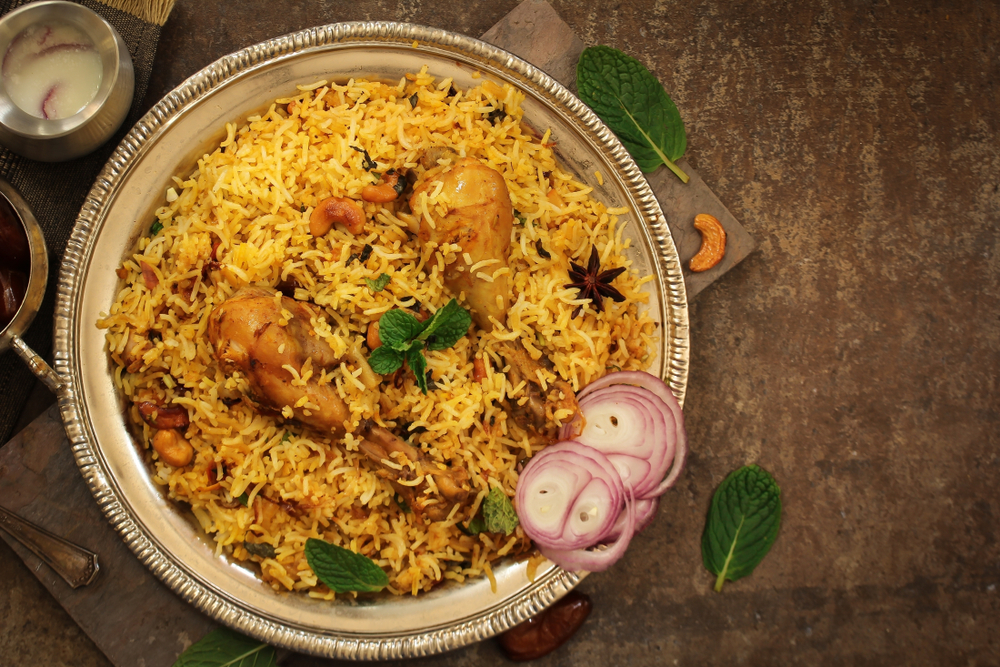 (Representational image) A case has now been registered against 23 identified and 20 unidentified people for offering chicken biryani without informing invitees that it was a non-vegetarian dish
(Shutterstock)
---
Lucknow
|
Published 05.09.19, 09:33 PM
|
---
Over a dozen invitees who had chicken biryani at a feast last weekend in an Uttar Pradesh village to mark the death anniversary of a Sufi saint have demanded travel expenses from the hosts to purify themselves in the Ganga.
The realisation that the non-vegetarian food was a "conspiracy against their religion", however, came on September 1 — the day after Saturday's feast at Salat, a village in Mahoba district, 250km south of Lucknow.
The invitees have since asked the organisers for money to travel to Kanpur, Allahabad or Varanasi so that they can take a bath in the holy river.
As it involved a dispute between two communities, police held a meeting with both on Monday and convinced them not to let the issue flare up.
Sources, however, said some leaders of the state's ruling BJP, including local MLA Brijbhushan Rajput, visited the village on Tuesday and asked the police to register a case against 43 persons for "making vegetarian people eat non-vegetarian food mischievously".
With politicians from the ruling party unwilling to let the matter rest, police had little option left. A case has now been registered against 23 identified and 20 unidentified people for offering chicken biryani without informing invitees that it was a non-vegetarian dish.
"We have registered cases against 43 people under Indian Penal Code sections for promoting enmity between religious communities (153A), deliberate and malicious act to outrage religious feelings of a group (292A) and cheating (420). The police have not arrested anybody yet," Anup Dubey, inspector-in-charge of the local Charkhari police station, told reporters.
Among those who have been booked are Sheikh Kallu, Mohammad Yusuf, Mohammad Yunus, Mohammad Qamaruddin, Mohammad Ramzan, Mohammad Rashid and Mohammad Bashir.
"Earlier, the complainants had admitted they were aware that it was chicken biryani before they ate it," Dubey, who had held the meeting with both sides, added.
A Lucknow-based police officer, who didn't want to be named, confirmed Monday's meeting. "The police had held a meeting with the villagers on Monday and they all agreed that some people who had taken chicken biryani knew that it was not vegetarian food. But some of them again started making a hue and cry over this on Tuesday and so the FIR was registered on Wednesday," the officer said.
"Besides chicken biryani, puri and vegetables were also served. Some people who ate biryani started demanding Rs 50,000 from the organisers on Sunday," the officer said, adding the feast was an annual festival (Urs) to mark the death anniversary of Sheikh Peer Baba, a 19th-century Sufi saint from the area.
This was the sixth year that the Urs was celebrated but the first time that such a controversy has broken out.
Swami Nath, superintendent of police, Mahoba, said a force had been deployed in the village. "It was not true that people didn't know it was non-veg," he said, echoing the other officers. "An inquiry is in progress."
MLA Rajput, whose party has been in power in the state since March 2017, said the organisers had intentionally hurt the sentiments of Hindus.
"Biryani was served deliberately to hurt the sentiments of the Hindus and strict action must be taken against the organisers of the programme," the local media quoted Rajput as saying on Wednesday.
Rajput was not available for comment on Thursday. His mobile phone was outside the network coverage area.