Bird flu wreaks havoc, ten states hit
Animal husbandry department issues SOPs to Delhi, Maharashtra, Gujarat and others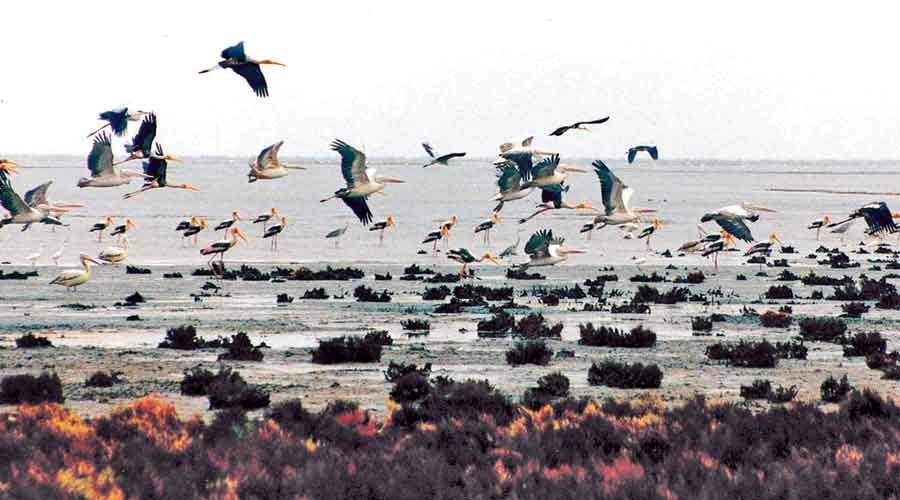 ---
---
The Centre on Monday said bird flu has been confirmed in 10 states so far and stressed on increased surveillance around water bodies, live bird markets, zoos and poultry farms.
"Till January 11, 2021, Avian Influenza has been confirmed in 10 states of the country," the department of animal husbandry and dairying said in a statement.
The outbreak was confirmed in seven states -- Kerala, Rajasthan, Madhya Pradesh, Himachal Pradesh, Haryana, Gujarat and Uttar Pradesh -- as on January 10.
On Monday, bird flu has also been confirmed in Delhi, Uttarakhand and Maharashtra.
States have been asked to build awareness among the public and avoid the spread of misinformation.
"States/ UTs have been requested to increase surveillance around water bodies, live bird markets, zoos, poultry farms, etc. along with proper disposal of carcass, and strengthening of biosecurity in poultry farms," it said.
The Centre has also directed states to maintain adequate stock of PPE kits and accessories required for culling operations.
It has asked state animal husbandry departments to ensure effective communication and coordination with health authorities for close vigilance of the disease status and avoid any chances of transmission of the disease into humans.
Meanwhile, the department said that ICAR- NIHSAD has confirmed the death of crows and migratory/wild birds in Tonk, Karauli, Bhilwara districts of Rajasthan as well as Valsad, Vadodara and Surat districts of Gujarat.
Further, the death of crows was confirmed in Kotdwar and Dehradun districts of Uttarakhand. In Delhi, crows and ducks, respectively, were reported dead in New Delhi and Sanjay lake areas.
The outbreak of Avian Influenza has been among poultry in Parbhani district, while AI is confirmed from Mumbai, Thane, Dapoli, Beed in crows in Maharashtra.
In Haryana, culling of infected birds is underway to control and containment of the spread of the disease. A central team has visited Himachal Pradesh and will reach Panchkula on Monday for carrying out monitoring of the epicentre sites and conducting an epidemiological investigation, the statement said.
Here's a state-wise break down of the bird flu.
Uttarakhand
Over 30 birds have been found dead at different places in and around Rishikesh creating a bird flu scare in the town.
Twenty-eight crows and one pigeon were found dead in AIIMS, Rishikesh premises, one death was reported from Bees Bigha locality and two from Raiwala station, government veterinary officer Rajesh Raturi said.
Samples of the birds have been collected and sent to the forest department for further action, he said.
Confirming the deaths, Rishikesh Municipal Commissioner Narendra Singh Quiriyal said a temporary ban on the sale of bird meat can also be imposed in the public interest if necessary.
Maharashtra
Bird flu has been confirmed as the cause of death of around 900 hens in the last few days at a poultry farm in Maharashtra's Parbhani district, a senior official said on Monday.
The district administration has now decided to cull nearly 8,000 birds in Murumba village where these hens died, Collector Deepak Muglikar said.
"The cause of the death has been confirmed as bird flu. Hence, we have decided to cull all the birds in one-km radius of the place where these deaths took place," the collector said.
"We have created a prohibitory zone in 10 km radius of the area where the birds died. No birds will be transported from there to any other place. Our medical team is stationed there and it is examining all people of the village," he said.
New Delhi
Testing of eight samples sent to a Bhopal-based laboratory has confirmed bird flu in Delhi, officials said on Monday.
All eight samples -- four from a park in Mayur Vihar Phase 3, three from Sanjay Lake and one from Dwarka -- have been found positive for avian influenza, Dr Rakesh Singh from the animal husbandry unit of the Development Department said.
The report of the test results arrived on Monday morning, he said.
Officials earlier said that around 50 crows had died in Central Park, Mayur Vihar Phase 3 in a span of three to four days.
Ten ducks were found dead in the Sanjay Lake recently.
A few samples were also sent to a lab in Jalandhar and their results are awaited, Singh said.
The New Delhi Municipal Council (NDMC) formed a rapid response team to conduct field inspection for examining various birds in its areas in the wake of a bird flu outbreak in the national capital.
Gujarat
Bird flu cases have been confirmed in Gujarat's Surat and Vadodara districts as some samples of dead crows from there have tested positive for the avian influenza, officials said on Monday.
Samples of four crows collected from two places at Bardoli taluka in Surat on January 6 were sent to a Bhopal- based laboratory, Nilam Dave, deputy director of animal husbandry department, Surat, said.
"They have tested positive for the bird flu," the official said.
Besides, three out of five crow samples collected from Vasantpura village in Savli taluka of Vadodara, where 25 crows died on January 6, have also tested positive, Vadodara animal husbandry department's deputy director Prakash Darji said.
On Sunday, 57 pigeons were found dead in Kia village of Vadodara's Karjan taluka and their samples have been sent for confirmation to the Bhopal-based lab, he added.
As a precautionary measure, surveys were undertaken in these two districts, especially within a 10-km radius of the spot where the birds were found dead, officials said.
Samples of the carcasses have been sent to the lab in Bhopal and results in many cases are awaited.