Bihar: Teachers take classes on boats amid flood
Those on the boat are a diverse mix, from primary school students to high school pupils, and are taught mathematics, physics, chemistry, Hindi and English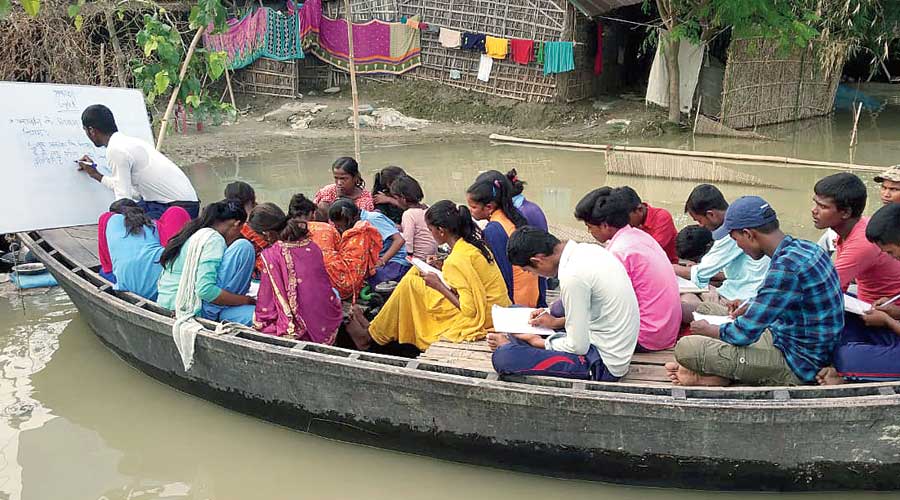 ---
Patna
|
Published 06.09.21, 01:11 AM
|
---
Where there is a will, there is a boat.
This Teachers' Day, three teachers rowed their watery way to school students marooned in floods in Bihar's Katihar district and coached them on boats, continuing with an initiative they started five days ago.
The Manihari sub-division, located along the Ganga in Katihar, gets inundated every year and stays under water for several months, disrupting normal life and the education of children.
Borrowing boats from local fishermen and boatmen, the three teachers — Kundan Kumar Saha, Pankaj Kumar Sah and Ravindra Mandal — sail out in the morning to reach the remote villages.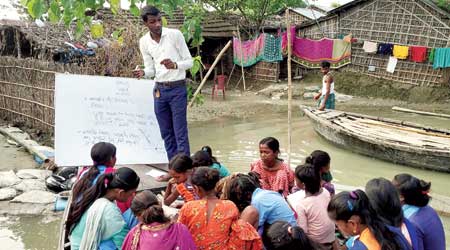 Once around 20 students are aboard a boat, they tie it to the nearest tree or stump rearing their heads through the floodwaters, put up a whiteboard and begin their classes, the waves of the swollen Ganga rocking them softly.
The teachers don't charge any fees, even buying books, notebooks and pencils for the kids.
Education had never been a smooth sailing for the children of Manihari, mostly inhabited by impoverished farmers and labourers. The pandemic pushed them further in deep water as the area's government schools closed and online learning remained a distant dream because of lack of Internet connectivity.
"First the Covid-19 pandemic and the lockdown shut educational institutions, then the floods ravaged the area for at least four months. The twin troubles have disrupted the education of children since last year," Mandal told The Telegraph.
Those on the boat are a diverse mix — from primary school students to high school pupils. They are taught mathematics, physics, chemistry, Hindi and English, among other subjects.