Bihar seeks foreign travel data to tackle coronavirus
Bihar has no positive case of coronavirus so far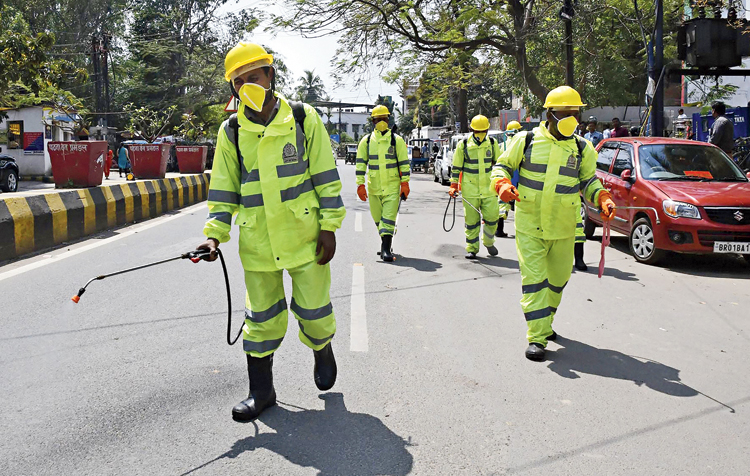 ---
|
Patna
|
Published 19.03.20, 09:25 PM
---
The Bihar government has sought data from the Centre about natives of the state returning from novel coronavirus affected countries.
It is also mulling to invoke the Essential Services Maintenance Act (Esma) to ensure that facilities required for normal life are not disrupted at a time when the entire country is grappling to contain the spread of the virus.
"We have sought data from the ministry of external affairs and the ministry of civil aviation about the people of Bihar travelling from coronavirus-affected countries.
"We require it for better screening of people arriving here from foreign shores," Bihar health minister Mangal Pandey said.
The minister added that some private airlines were already providing data available with them, but the state needed the entire set of data for containing any chances of the spread of the deadly virus in the state.
Bihar has no positive case of coronavirus so far. It has screened 2.38 lakh passengers at 49 transit points located along its border with Nepal, 20,120 fliers disembarking at Patna and Gaya airports till Thursday of which 390 were enrolled for observation.
Health department principal secretary Sanjay Kumar said that the Indian Council of Medical Research (ICMR) has given its nod to start a coronavirus testing centre at Darbhanga Medical College and Hospital (DMCH).
"This will the second coronavirus testing laboratory in the state. We had only one such testing facility till now functioning at Rajendra Memorial Research Institute of Medical Sciences in Patna," health department secretary said.
Meanwhile, chief minister Nitish Kumar convened a meeting of senior administrative officials at his 1, Aney Marg official residence on Thursday to discuss various proactive steps that could be taken to further cut the chances of coronavirus spread.
Sources told The Telegraph that the "government is considering to invoke Esma to maintain necessary services required for the people even if various curbs are imposed in the state.
"Health services, water and electricity supply, milk, cereals, telecommunications are some of the services that need to function smoothly."
Bihar has already imposed the Epidemic Diseases Act, shut down educational institutions, theatres, shopping malls, banned public functions and any private gathering of more than 50 people so far.