Nitish Kumar calls for 'love and harmony' between communities
Do not make provocative statements, advices Bihar CM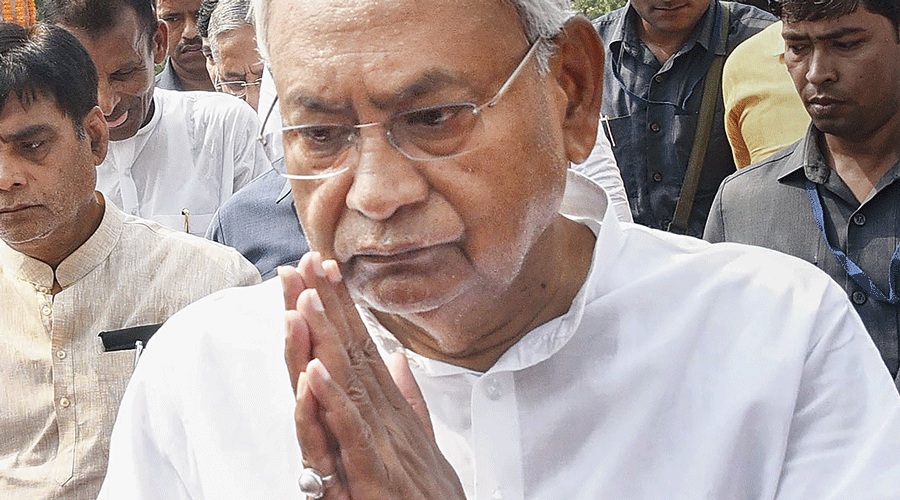 ---
Patna
|
Published 19.04.22, 01:58 AM
|
---
Bihar chief minister Nitish Kumar on Monday called for "love and harmony" between communities and asserted that anybody fighting with other persons on communal lines should be taken as a bad person who has nothing to do with religion.
Nitish showed mirror to the governments in other states on the issue of communal harmony by giving the example of his own governance in Bihar since 2005.
He pointed out that "creating awareness among people, keeping administration and police alert on religious occasions to keep a tab on everything and check disputes" were the key to his efforts to ensure that no communal strife occurred.
The chief minister was reacting, on the sidelines of his 'janata durbar' (public interaction), to questions by media persons over the rampant controversies and violence related to namaz, azaan, hijab, non-vegetarian food, religious processions and other such issues across the country.
"Everybody should maintain love and harmony among themselves. People following different religions have their own religious practices. They are free to follow them, but the most important thing is that they should not enter into a dispute over them," Nitish said.
"Nobody is stopping anybody from following his religion. But, if you really believe in doing puja, you should do it properly. Does fighting with each other have any relation with puja? If anybody from any community indulges in such controversies then we should take him as somebody who has nothing to do with religion, and is a bad person. Such people just want to somehow create some disputes," the chief minister added.
The chief minister asserted that people from all communities were respected in Bihar and were never insulted. He also cautioned the people about shooting off their mouths on such issues.
Nitish heads the National Democratic Alliance (NDA) government in the state and the Bharatiya Janata Party (BJP) is the largest partner in it. Bihar has largely stayed away from the controversies currently plaguing the country.
Answering questions on the oscillation of poll strategist Prashant Kishor towards the Congress, Nitish said: "My relations with him are personal and we do not discuss his political decisions. If he is going anywhere, it is his wish."
The chief minister also downplayed the Bochaha Assembly bypoll results and that the BJP, which had fielded its candidate, was analysing the reasons behind the defeat. He also pointed out that the NDA had won the bypolls to two Assembly seats last year.