Bihar lychee alert that fell on deaf ears
With 100 kids dead, scientists point out that 5-year-old warning was ignored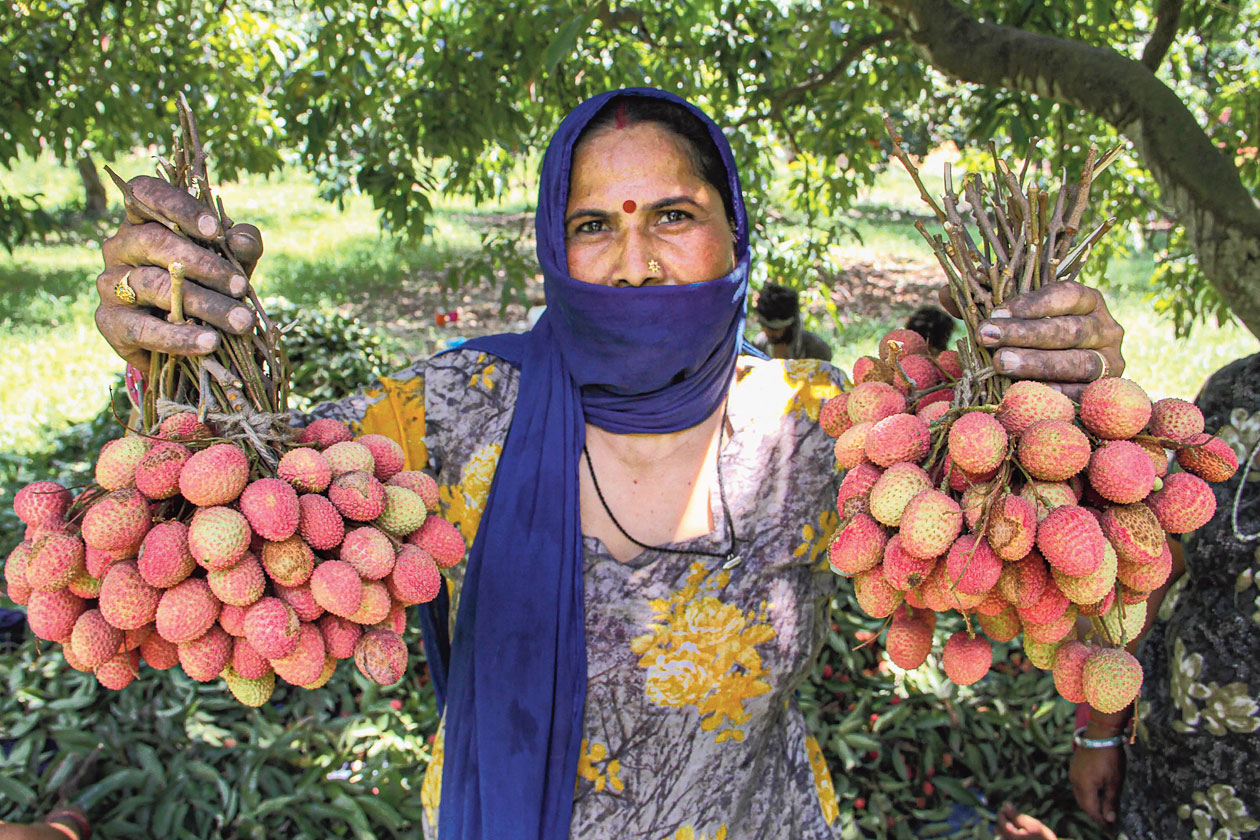 Lychees plucked from an orchard on the outskirts of Jammu.
(PTI)
---
New Delhi
|
Published 21.06.19, 02:30 AM
|
---
More than 100 children have died from a brain illness in Muzaffarpur, Bihar, this year amid concerns that health authorities and local communities paid little heed to warnings five years ago that lychees can trigger the illness in undernourished children if they skip the evening meal.
A paediatrician in Vellore and a toxicologist in Lucknow who played disease detectives and first proposed the intriguing tripartite connection between poverty, lychees and a life-threatening illness in 2014 believe that greater medical preparedness and public awareness could have helped curb the toll.
Their studies between 2012 and 2014 had suggested that lychee pulp contains a blood sugar-lowering chemical called methylene cyclopropol glycine (MCPG) that triggers hypoglycaemic encephalopathy (brain damage caused by low blood sugar levels) when taken after a prolonged fast by undernourished children.
A joint study by Indian and US researchers in 2017 had confirmed that the blood sugar-lowering chemicals in lychee can lead to encephalopathy. The scientists had then again recommended that all kids receive an evening meal before sleeping and that young undernourished children not consume too many lychees.
"The joint India-US study corroborated what we'd proposed in 2014 — still even today there appears to be some reluctance in acting on our recommendations," said T. Jacob John, a senior paediatrician who was formerly with the Christian Medical College, Vellore.
The outbreak, clustered around Muzaffarpur but with patients from other districts, has prompted the Union health ministry to deploy panels of experts to help the state combat the illness and determine its cause. The health ministry has also pledged to bolster diagnostic and virology facilities in the state.
But many experts, including John, are wondering whether some of the deaths in the 2019 outbreak which, like earlier ones, have coincided with the lychee harvesting season, could have been averted through appropriate responses by the public and the health community.
"Unfortunately, health authorities sometimes disregard evidence, even strong evidence," said John, who had been invited by the Bihar government in 2012 to probe what was then and is still called acute encephalitis syndrome, or AES.
John examined the hospitalised children's medical charts and noticed some peculiarities: they had all developed symptoms within hours, typically in the early mornings; their illness had a fast course, causing death within three or four days; and their spinal fluid did not show signs of infection.
From his paediatric studies, John recalled reading about an illness called Jamaican vomiting sickness that occurred in children who consumed the ackee fruit.
In his Patna hotel, John used a Google search to find out that the ackee and the lychee belong to the same fruit family.
He teamed up with Mukul Das, a senior scientist at the Indian Institute of Toxicology Research, Lucknow, who showed through laboratory studies the presence of the sugar-lowering chemical in lychee pulp. Das's studies also showed that MCPG causes hypoglycemic encephalopathy in laboratory animals.
In the field, John urged paediatricians to treat children with 10 per cent dextrose — a kind of sugar — and noted that they got well.
"We're not suggesting that every child admitted has hypoglycaemic encephalopathy," said Das. "But the coincidence with the lychee harvesting season makes this likely. After so many years of research, it is sad that health authorities are still searching for viruses, or citing heat stroke or pesticides."
Bihar and western Uttar Pradesh have battled AES outbreaks for over a decade and scientists at the Pune-based National Institute of Virology had over five years ago suggested that the illness may be caused by enteroviruses ingested through contaminated water.
Bikash Kumar, principal of the Sri Krishna Medical College Hospital, Muzaffarpur, had told this newspaper earlier this week that the treatment got delayed for many kids who did not receive adequate care at their nearest healthcare centre.
Fruit safe for well-nourished children

The researchers who detected the link between lychees, undernutrition and encephalopathy over five years ago assert that their findings have no relevance to the consumption of lychees by well-nourished children or adults.
"Children and adults who are otherwise well nourished can consume it without concern — the problem emerges only if the fruit is consumed in a state of prolonged fasting by undernourished children," said T. Jacob John, an emeritus paediatrician and virologist formerly at the Christian Medical College, Vellore.
John, collaborating with Mukul Das, a senior scientist at the Industrial Toxicology Research Centre, Lucknow, had in 2014 proposed that children who eat lychees after skipping evening meals are likely to develop encephalopathy triggered by low blood sugar.
Das had shown the presence of blood sugar-lowering chemicals in lychees. In a state of fasting, the body begins to break down fatty acids to supply glucose. But the sugar-lowering chemicals in lychees interfere with this normal fatty acids breakdown and worsen the low sugar levels and push the body into a hypoglycemic state.
This causes the children to slip into a condition called hypoglycemic encephalopathy, a condition marked by vomiting, involuntary body movements, convulsions and, in advances stages, coma.
The health ministry has recognised the link and urged clinicians managing the disease to test the affected children for hypoglycemia and take corrective steps.