Lalu blames Centre for destroying economy and communal harmony
The frail-looking RJD chief returned to active politics after three years and took pot shots at chief minister Nitish Kumar as well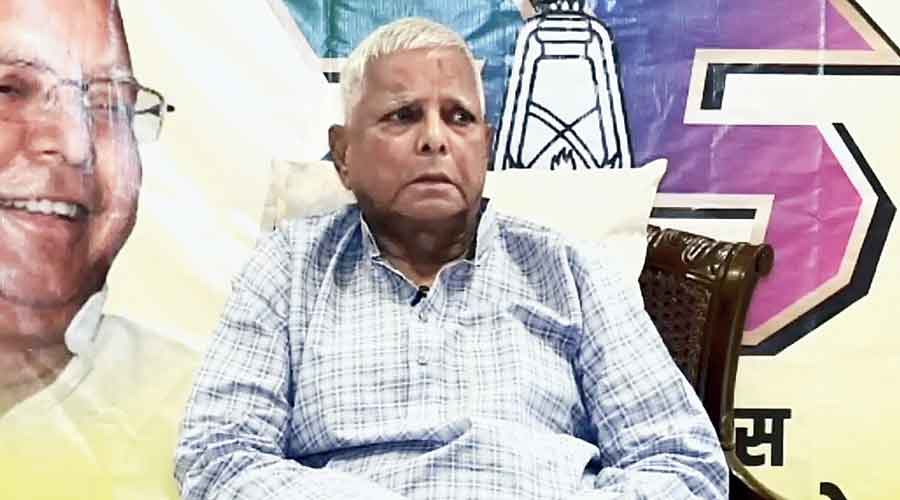 Lalu Prasad inaugurates the RJD's 25th foundation day celebration from Delhi on Monday
Sanjay Choudhary
---
Patna
|
Published 06.07.21, 01:45 AM
|
---
A frail-looking Lalu Prasad returned to active politics after three-and-a-half years on Monday, accused the BJP-led central government of destroying the economy and communal harmony, and took pot shots at chief minister Nitish Kumar.
"They (the Sangh parivar) are shouting slogans about (a Krishna temple in) Mathura after (the Ram temple in) Ayodhya. What's the matter? What do they want?" the 74-year-old Rashtriya Janata Dal (RJD) chief said.
"They want to destroy the country for the sake of power. We are already battling economic problems, and efforts are being made to damage the social fabric."
Lalu, who is in daughter and Rajya Sabha member Misa Bharti's house in Delhi, was addressing his party's 25th foundation day celebrations in Patna after digitally inaugurating it.
This was the former chief minister's first public address since being convicted in various fodder scam cases in December 2017 and January 2018 and jailed. He received bail in April this year and has since been in Delhi, undergoing treatment for various ailments.
Lalu's return to public life seems to have perked up RJD leaders and workers, who see in the development the beginning of the end of the state's NDA government. Nitish has a thin majority while Lalu is a master at using his mass appeal to build new political equations.
The RJD chief's speech was punctuated with huge cheers from the Patna gathering, with many party supporters teary-eyed.
Lalu said he was ill but would return to Patna soon. "I shall make my presence felt not only in Patna but every district of the state. Be patient," he said.
Lalu appealed to party workers to strive to strengthen the country's social fabric.
"The country has been pushed backward. We are continuously regressing. Compensating it will not be easy," he said.
"Inflation has broken the back of the common man. Poverty reigns. They are selling the railways, airlines and other things at throwaway prices. This is not good for the country."
Lalu claimed the public would have brought everything to a standstill had so much inflation been witnessed during his rule. He said his tenure reflected the "rule of the poor", which had overturned the traditional idea of the government and given deprived communities the opportunity to go to the polling booths.
"We will prefer to be broken down and destroyed but will not retract our steps. The bread was being baked on just one side for centuries in Bihar; I overturned it. Those who disliked this made noises about a 'jungle raj', but my government was the government of the poor," Lalu said.
He compared the Covid pandemic to Judgement Day and expressed concern about the predicted third wave.
"So many people have died of Covid in the country. A large number of people died in Bihar too in the absence of treatment. No facilities were arranged," Lalu said.
Attacking Nitish, he said: "Not a single day passes without three to four murders in Bihar. Corruption is at its peak. Our state lags behind. Lakhs of people from here are forced to go to other states as migrant labourers."
He added: "I have seen five Prime Ministers and helped form their governments. I never bothered about becoming a Union minister. Nitish was fretting about it, so I got him appointed a (Union) minister."
Lalu's wife and former chief minister Rabri Devi, who is with him in Delhi, too participated in the event along with Misa.
His sons — leader of the Bihar Opposition Tejashwi Prasad Yadav and Hasanpur MLA Tej Pratap Yadav — Bihar party chief Jagadanand Singh and other senior leaders attended the physical function in Patna and delivered speeches.