Bihar government mission to plant 5cr saplings
The state has engaged paramilitary forces, farmers and several other institutions to make the drive a success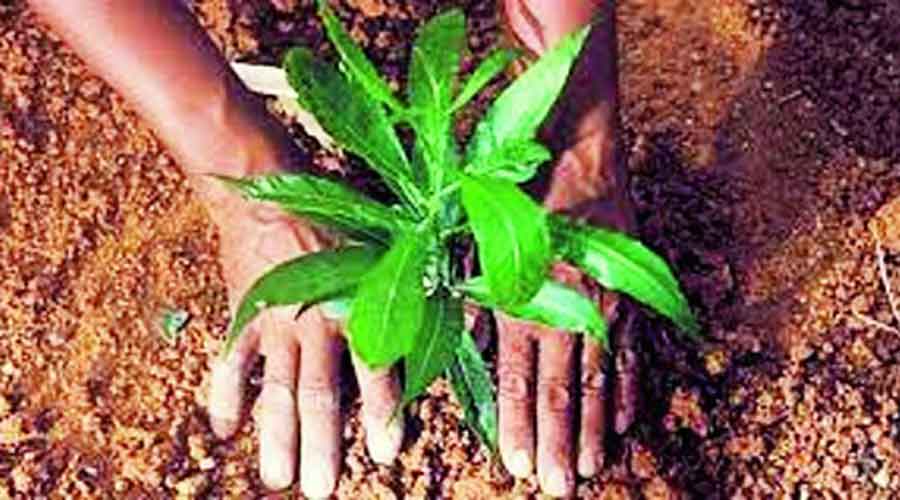 The aim is to increase the green cover — area covered by plants or trees in a certain terrain — in the state ravaged by climate change, and increase awareness about environment protection
File picture
---
Patna
|
Published 06.06.21, 12:42 AM
|
---
The Bihar government rolled out "Mission 5.0" on Saturday to plant five crore saplings in 2021-22 to mark World Environment Day.
The state government has engaged paramilitary forces, farmers and several other institutions to make the drive a success.
The aim is to increase the green cover — area covered by plants or trees in a certain terrain — in the state ravaged by climate change, and increase awareness about environment protection.
Chief minister Nitish Kumar inaugurated the mission by planting a mahogany sapling at his 1 Aney Marg residence in Patna. The mission was simultaneously launched across the state, including various forest divisions.
"We started the Hariyali Mission in 2012 to increase the green cover in Bihar. It had decreased drastically after Jharkhand separated from the state, but has now gone up to 15 per cent due to the state government's continuous efforts," Nitish said.
The plantation drive has also been incorporated in the Mahatma Gandhi National Rural Employment Guarantee Act (MGNREGA). Jeevika didis, who are part of women self-help groups created under the Bihar Rural Livelihood Project, paramilitary forces stationed in the state, and several civil society organisations have also been made a part of the mission to plant five crore saplings.
Various nurseries belonging to the environment and forest department have prepared 5.5 crore saplings to meet the target. These will be provided free of cost for planting.
Around 1.24 crore of these saplings will be planted as part of projects undertaken by different government departments, two crore will be planted as part of MGNREGA work and 1.5 crore by the Jeevika didis.
Different central paramilitary forces stationed in the state, civil society organisations, boards and clubs will plant over 20 lakh plants as part of the mission.
Around 50 lakh saplings of fruit-bearing plants will also be provided to the farmers in an attempt to increase their income. The government will give Rs 60 to them for every surviving plant after three years.
A government official said most of the planting would be completed during the rainy season.