Bihar: BJP eyes more seats in Assembly polls
Despite declaring that Nitish will be the face of the alliance, the saffron party's campaign so far looks an independent push with no mention of the chief minister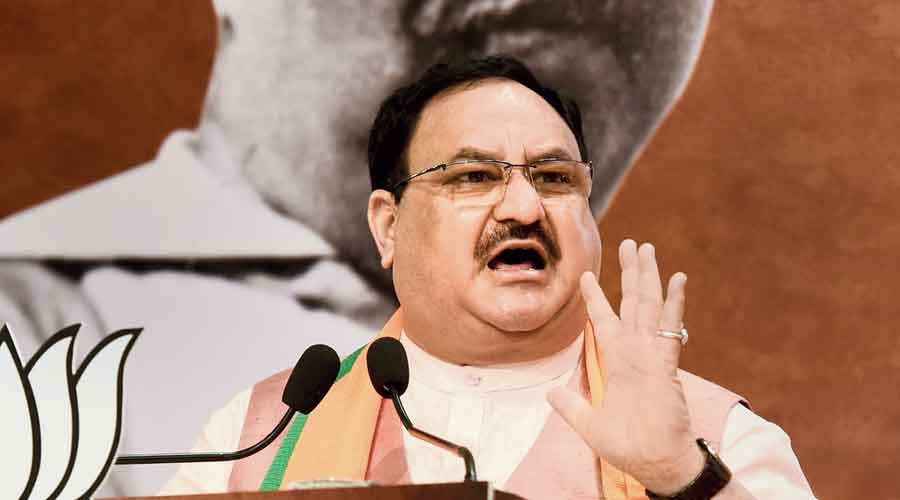 ---
---
BJP president J.P. Nadda on Saturday chaired a meeting of senior Bihar leaders amid indications of the party driving a hard bargain with ally Nitish Kumar's Janata Dal United for a larger share of seats in the upcoming polls.
The BJP has taken the lead over the two other allies of the NDA in Bihar, the JDU and the Lok Janshakti Party (LJP) of Union minister Ram Vilas Paswan, in launching aggressive preparations for the polls, indicating intentions to demand a bigger share of the election pie.
The party has already held rallies through the virtual mode, organisational meetings and on Saturday Nadda held a meeting with BJP MPs from Bihar. Among the main items on the agenda was a discussion on the seat-sharing arrangement, sources said.
During last year's Lok Sabha polls, JDU boss and Bihar chief minister Nitish had driven a hard bargain with then BJP chief Amit Shah and the two parties contested 17 seats each, leaving the remaining 6 for the LJP. The BJP, riding Modi's popularity, wanted to be the big brother in Bihar but Nitish managed to restrict it and strike an equal seat-sharing arrangement.
Using the same formula, the BJP could demand equal seat sharing for the Assembly polls, party leaders indicated.
"Seat sharing talks with allies haven't yet started but the BJP is determined to get a bigger role in Bihar," one Bihar MP said. "The BJP's support base has widened," the MP added.
The BJP had always been a junior ally to the JDU in Bihar before Nitish snapped the 17-year-old ties with the saffron party over the projection of Modi as the Prime Minister candidate in 2013. When the Bihar leader returned to the alliance in 2017, the BJP was no longer the party he had dealt with in the past.
The JDU has been pressing that while Modi may be the pan-India brand, in Bihar Nitish is the NDA's tallest leader.
The BJP has already declared that Nitish would be the face of the NDA in the polls but by giving in on this count the party appears to be preparing the ground for demanding a larger number of seats to contest.
"If we contest an equal number of seats and manage to win more than the JDU, then it will establish that our support base has widened," one BJP leader said.
Despite declaring that Nitish would be the face of the alliance, the BJP's campaign so far looks an independent push with no mention of the chief minister. It's online campaign talks about achievements of the "NDA government" and urges the voters to have "faith in the BJP".