Bihar battle: NDA ready, not rivals
BJP cedes 6 segments to JDU, Paswan party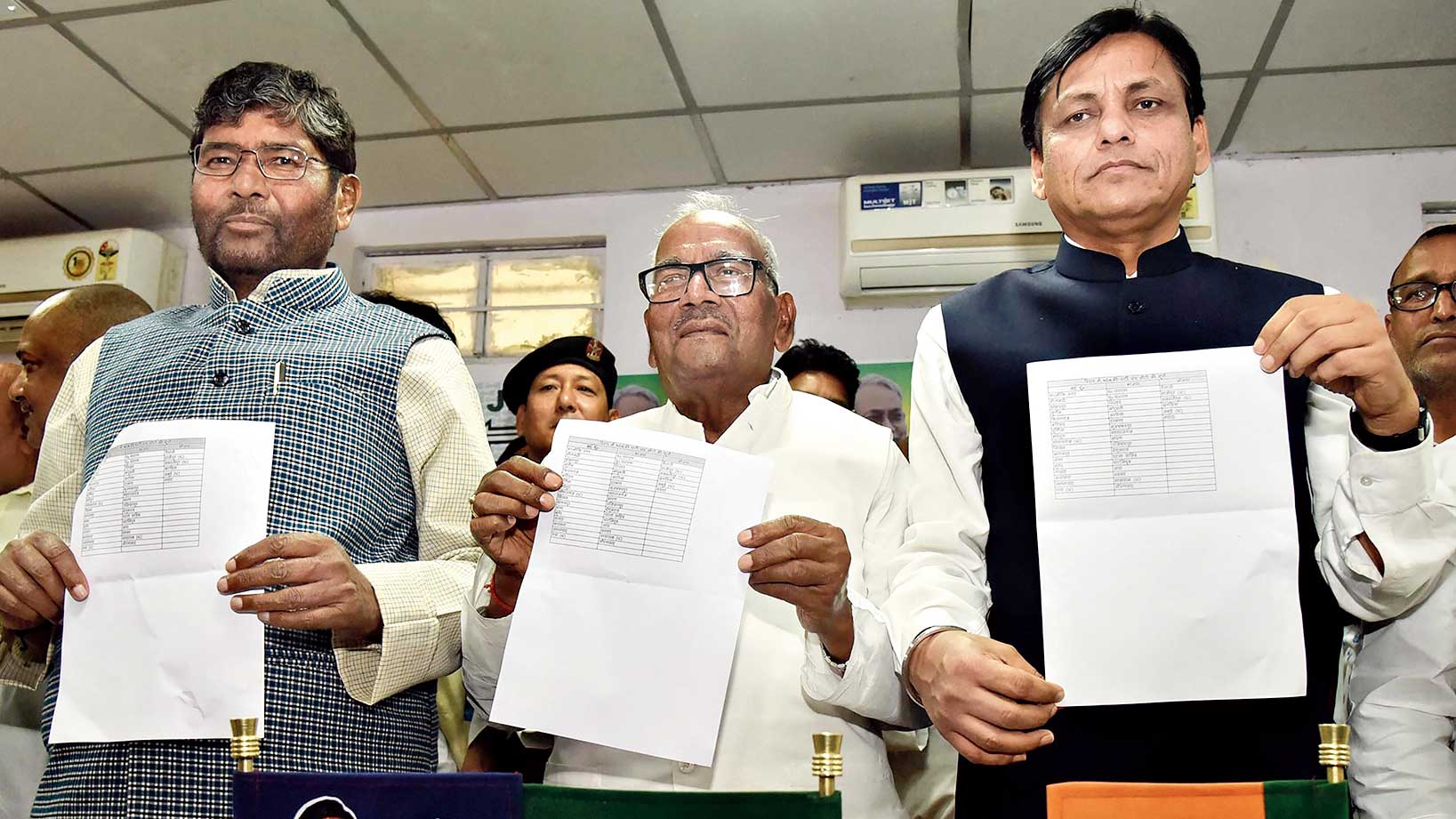 ---
|
Patna
|
Published 17.03.19, 07:44 PM
---
The BJP ceded five Lok Sabha constituencies it holds in Bihar to the Janata Dal (United) and one more to the Lok Janshakti Party as the National Democratic Alliance announced the final seat-sharing formula for the general election in the state on Sunday.
While Valmikinagar, Jhanjharpur, Gopalganj, Siwan and Gaya have been given to chief minister Nitish Kumar's party, the LJP has been allotted Nawada. In return, Ram Vilas Paswan's party ceded Munger to the JDU.
Bhagalpur, which Shahnawaz Hussain of the BJP had lost by a narrow margin in 2014, was allotted to the JDU.
The BJP and the JDU will contest 17 seats each in Bihar, while the LJP will field candidates in six constituencies.
The state has 40 Lok Sabha segments in total.
The announcement of the seat sharing was made by BJP Bihar president Nityanand Rai, his JDU counterpart Bashishtha Narayan Singh and the LJP's Pashupati Kumar Paras.
The three leaders sounded confident after announcing the constituencies. But rumblings within the BJP over ceding the sitting seats to the partners had started even before the formal announcement was made.
Jhanjharpur MP Virendra Kumar Choudhary had recently warned the BJP leadership that denial of ticket to him would lead to resentment among voters of the extremely backward caste of the Darbhanga region.
Siwan BJP MP Om Prakash Yadav didn't hide his disappointment either over his seat's allocation to the JDU.
"The party leadership should have taken into account the kind of struggle it took to wrest the seat from the RJD. I personally feel the BJP shouldn't have ceded this seat," Yadav told The Telegraph on Sunday.
Despite the disappointment, Yadav said, he would work for the victory of the JDU candidate.
Satish Chandra Dubey, BJP MP of Valmikinagar, declined comment.
But another BJP leader from the region, Bagaha MLA Raghaw Sharan Pandey, said: "According to my information, the JDU was keen on the Sheohar seat. But I really don't understand how the state leadership presented the case for the central leadership to agree to cede Valmikinagar, instead of Sheohar, to the JDU," said Pandey, a retired IAS officer.
He said some similar decisions during the 2015 Bihar Assembly elections had proved costly for the BJP and the party could win just 53 seats, down from 91 in 2010.
BJP functionaries close to Shahnawaz Hussain sounded hurt. "Shahnawazji continuously worked in the constituency despite losing it in 2014. He sounded very low when he spoke to us after the party parliamentary board meeting on Saturday night in which he was informed about the party decision," a BJP functionary said.
BJP sources said Union minister Giriraj Singh, too, was initially not okay with giving his Nawada seat to the LJP.