Tejashwi and Chirag Paswan lambast Nitish Kumar over personal attacks
Bihar is in the middle of threephase Assembly elections; the first phase was held on October 28, the second phase is on Tuesday and the third on November 7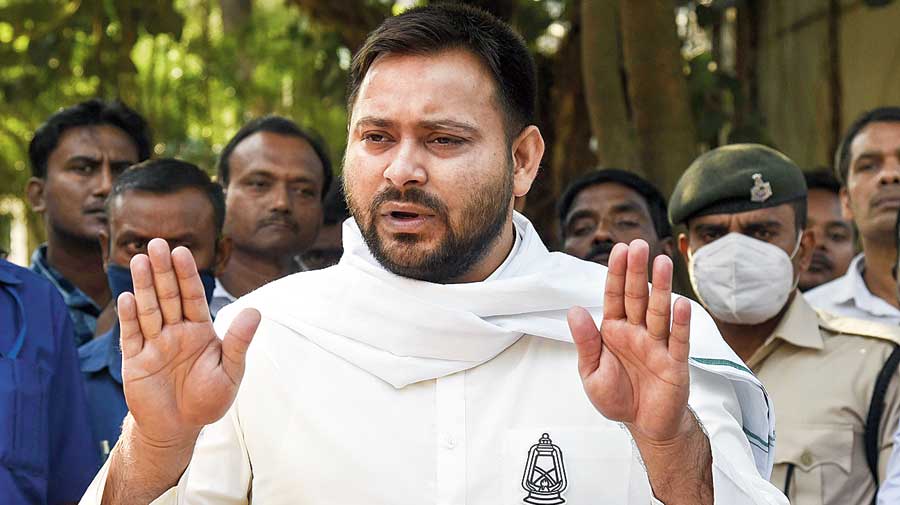 Rashtriya Janata Dal leader Tejashwi Prasad Yadav
File picture
---
Published 03.11.20, 02:21 AM
|
---
Rashtriya Janata Dal leader Tejashwi Prasad Yadav and Lok Janshakti Party chief Chirag Paswan lambasted chief minister Nitish Kumar on Monday over his personal attacks on opponents in election speeches.
"What is wrong if somebody comes from the world of cricket or movies to politics? How much legislative experience did Nitishji have when he first became an MLA in 1985? What has happened to him? How can he say such things? This means doctors or engineers also cannot come to politics? I am surprised that he has become so negative," Tejashwi said, speaking to journalists.
"People are not angry with Nitishji. They now hate him. He does not talk on issues plaguing Bihar. He is silent on rising inflation, poverty, lack of industries, and the migra¬tion of unemployed people. He has nothing to show as the achievement of his 15 year rule. He is sure to lose in this election, but he will not accept it till the results come," Tejashwi added.
In an interview to a local news channel, Nitish had said of Tejashwi and Chirag that one has come from the world of cricket and the other from movies. He had also said that family was everything for the two young leaders, whereas he considered the entire state as his family.
Bihar is in the middle of threephase Assembly elections. The first phase was held on October 28, the second phase is on Tuesday and the third on November 7. Votes will be counted on November 10.
Chirag wrote an open letter to Nitish, accusing him of faking sympathy over the death of his father and former Union minister Ram Vilas Paswan last month. "Nitish never came to see my father while he was ill, but is now showing sympathy and indulging in a farce. He never telephoned or tried to meet him while he was alive, while Prime Minister Narendra Modi was in touch day and night and made efforts for better treatment," Chirag said.
The LJP chief alleged that the JDU leaked raw footage of his video shoot meant for party workers to show that he was busy filming soon after his father had died.
Chirag added that he could not have abandoned party men after the death of father Ram Vilas, despite the fact that he could not move out for 12 days while conducting the "shraddh" (last rituals). This made him shoot videos ahead of the first phase of the ongoing elections.
"Nitishji could have criticised my 'Bihar first, Bihari first' vision document. Instead, he chose to leak a video to show how I was shooting videos after my father's death. The chief minister should show the achievements of the last five years to seek votes in the ongoing polls, but he and his leaders are making personal attacks. The people have understood this," Chirag said.
The LJP chief asserted that the Munger police firing on Durga devotees was a ploy to divert public attention from the real issues. He questioned the role of Nitish, pointing out that he is also the home minister and the police report to him.
Chirag has been at loggerheads with Nitish for the last several months, attacking him on development and asserting that he will not return to power. Although the BJP and Nitish are allies in this election, Chirag claims his party will form the government in the state with the BJP.