BHU student missing for six months after being picked up by cops
Court slams police, threatens CBI probe if they fail to produce Shiv Kumar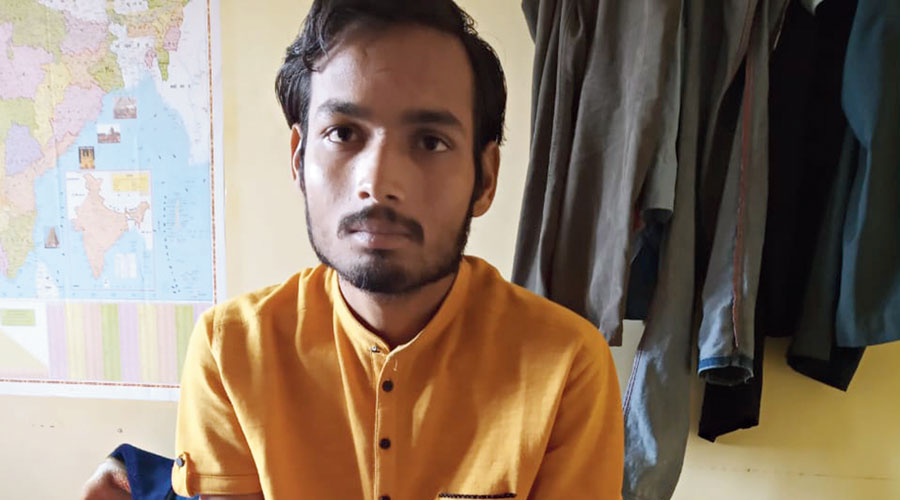 ---
|
Lucknow
|
Published 06.09.20, 02:41 AM
---
A Banaras Hindu University student has been missing for over six months since Varanasi police picked him up from the campus gates, his father has told Allahabad High Court.
Pradeep Trivedi, a farmer from Madhya Pradesh, told reporters in Varanasi on Saturday that the high court had slammed the police for making misleading comments and threatened a CBI probe if they failed to produce his son, but not set a deadline.
Second-year BSc student Shiv Kumar, 24, was picked up by a team from Lanka police station from the BHU gates on February 12 night, Pradeep said. He never returned to his hostel, BHU has confirmed in writing to the police.
"After my son failed to answer calls for two days, I arrived in Varanasi on February 16. But the Lanka police rebuffed me – they filed a missing-person complaint only after BHU authorities intervened the next day," Pradeep said.
Pradeep has since then been shuttling between the Prime Minister's constituency and his home 360km away at Brajpur village in Panna district, fighting an uncooperative police to find out what happened to his son.
He has pledged to move barefoot and eat only once a day until he finds Shiv. He has sold a part of his farmland to pay for his long periods of stay in Varanasi, from where he has been travelling to Allahabad for the court hearings.
"The police told me they had detained my son on February 12 night and let him off the next morning as he was unwell. Since then, they have been changing their statements every day – even in court," Pradeep said.
While the police have after a couple of flip-flops accepted in high court that they had detained Shiv in February, they have failed to explain why or say what happened to him.
"The high court, which began hearing the case on August 25, said there was something fishy in the police report and that the case could be transferred to the CBI if my son was not produced soon," Pradeep said.
Saurabh Tiwari, a Varanasi-based advocate who has been fighting the case free of charge, said some BHU research scholars had brought Pradeep to him on August 17.
"On August 25, the bench of Chief Justice Govind Mathur and Justice Saumitra Dayal Singh suggested a possible CBI probe and asked the Varanasi senior superintendent of police (SSP) whether the force was trying to turn Uttar Pradesh into a police state," Tiwari told The Telegraph over the phone.
"Initially, the police admitted picking up Shiv but claimed he was released the next day. They also admitted Lanka police had committed an offence by failing to register Shiv's detention in the form of a general diary. At the next hearing, they said they had actually detained a 45-year-old man called Shiv and not the 24-year-old Shiv."
Grilled by Tiwari, the police later agreed that the 45-year-old was not Shiv but a mentally unsound man whom they had admitted to a mental hospital, the lawyer said. The police again accepted that they had detained the student Shiv.
"Varanasi SSP Amit Pathak submitted a sealed envelope to the court on September 3 stating the police had ordered an inquiry and that one or two cops involved in detaining the BHU student had been shifted to the police lines (taken off duty) as punishment. The court observed there was nothing relevant about the case in the SSP's affidavit," Tiwari said.
On September 3, the matter was heard by the bench of Justices Shashikant Gupta and Shamim Ahmad, to whom the case had been transferred. The next hearing is on September 22.