Bhim Army hunger strike row in Tihar
In another tweet, the Bhim Army threatened to gherao chief minister Kejriwal's home on Monday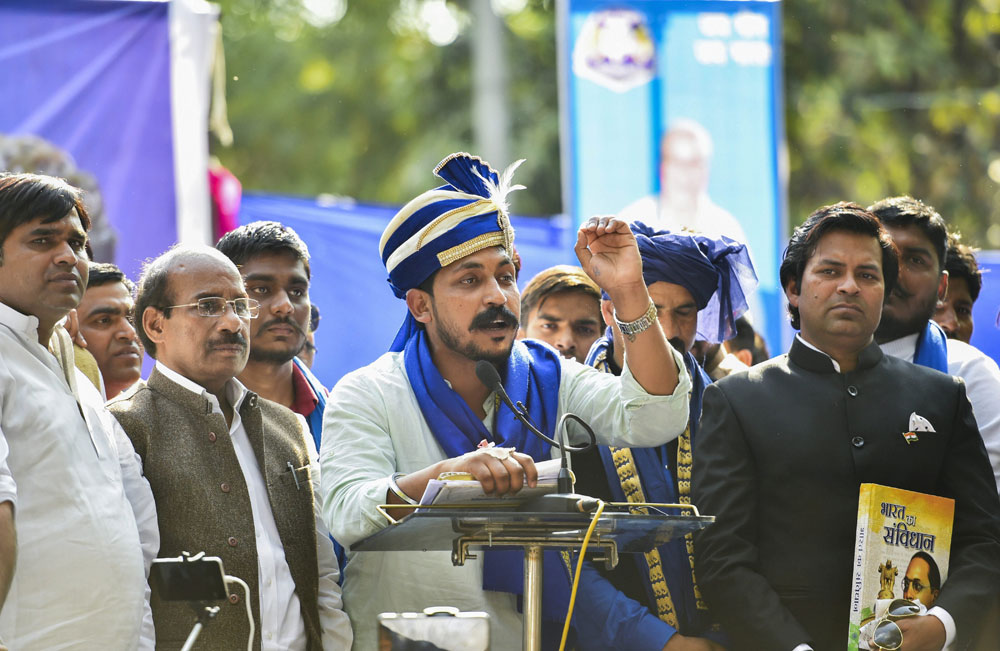 ---
New Delhi
|
Published 13.10.19, 09:55 PM
|
---
A tweet from jailed Ambedkarite leader Chandrashekhar "Ravan" Azad's account on Sunday morning announced that he and fellow Bhim Army undertrials were on hunger strike in Tihar over prison authorities' refusal to let them celebrate Valmiki Jayanti.
Jail authorities described the tweet as "false", denied any hunger strike and said the inmates had been allowed to celebrate, and had celebrated, Valmiki Jayanti.
But a Delhi government source said state jails minister Satyendar Jain had got the Tihar authorities to allow the Valmiki Jayanti celebration after the hunger-strike tweet.
Azad's associates too said the Dalit leader had indeed informed them that the prison authorities were refusing to allow Valmiki Jayanti celebrations and that the Dalit prisoners were planning a hunger strike.
The 11.29am tweet said: "Bhim Army chief Chandrashekhar Azad ji's message is that celebration of Maharishi Valmiki's birth anniversary is not being allowed in jail. When Holi and Diwali are celebrated then why are we being discriminated against, or does the (Arvind) Kejriwal government not believe in Maharishi Valmiki. @ArvindKejriwal reply and make arrangements soon."
In another tweet, the Bhim Army threatened to gherao chief minister Kejriwal's home on Monday.
Maharishi Valmiki, purported author of the Ramayan, is worshipped by the Balmiki caste among Dalits who are traditionally employed as sanitation workers.
Azad, an Uttar Pradesh-based Dalit leader, has been in jail custody since August, facing trial with 95 others for allegedly rioting over the demolition of a temple to 15th-century mystic Ravidas, also revered by Dalits.
A Delhi court granted bail to 24 of Azad's associates last week, of whom 4 have been released and 20 are expected to be freed on Monday.
The tweet came while Kejriwal was participating in a Valmiki Jayanti celebration near Red Fort. The BJP and the Aam Aadmi Party have been vying for the support of Balmikis, more than five lakh of whom live in Delhi.
At 3.08pm, state SC/ST welfare minister Rajendra Pal Gautam re-tweeted the Bhim Army tweet and said: "I have spoken about this to Jails Minister @SatyendarJain. He has immediately taken cognisance of this and spoken to jail authorities to give instructions to celebrate Valmiki Jayanti in jail."
The Tihar spokesperson, additional IGP Raj Kumar, told The Telegraph the tweet was "false" and that there was no hunger strike.
"Valmiki Jayanti was celebrated in several (of Tihar's) jails. Prasad was also distributed. In jail No. 3, where Azad and 22 others are residing, they had refused to celebrate initially. But now they are celebrating too," he said.
Tihar has nine jails with a combined capacity of 5,200, where approximately 18,000 are currently interned. Jail No. 3 has around 2,000 inmates.
"Permission is granted for all religious festivities. On request an image of their deity or the person being worshipped or celebrated is provided to the inmates," Kumar said.
"Permission was granted for Valmiki Jayanti too. Some inmates of jail No. 3 wanted food from outside, which is not allowed. Inmates are allowed a five-minute phone call every day, and this misinformation about a hunger strike may have been conveyed by one of the inmates to someone outside…. No action is contemplated against anyone."
Kush Kataria of the All India Bahujan Coordination Committee has been handling publicity for Azad since his arrest.
"Yesterday morning he called me up and told me he had sought permission to celebrate Valmiki Jayanti, which was not granted," Kataria told this newspaper.
"This morning he called me to say he and 500 other Dalit prisoners would not eat food till they were allowed to offer flowers to Maharishi Valmiki. We publicised this from his social media handles. They had demanded a picture of Maharishi Valmiki and asked for kheer to be served as prasad. We have not received any further information."
A Delhi government source said that Jain had spoken to director-general (prisons) Sandeep Goel on Sunday and defused the situation.
"We told them to allow the celebration in whatever manner the prisoners had requested. The prasad was arranged according to their request," the source said.