Bhim Army chief to contest against Yogi from Gorakhpur Urban seat
Chandrashekhar Azad had in 2019 announced he would fight the Lok Sabha election against Narendra Modi from Varanasi but didn't file his nomination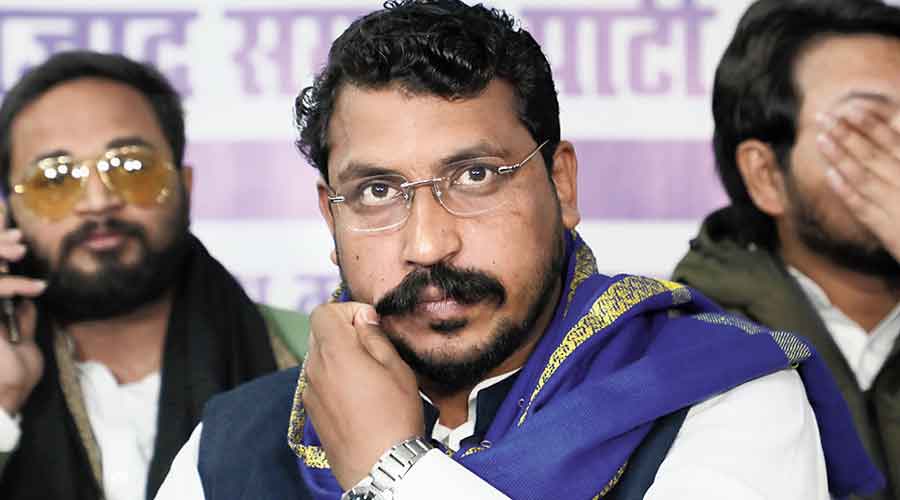 Chandrashekhar Azad.
File photo
---
Lucknow
|
Published 21.01.22, 02:49 AM
|
---
Bhim Army chief Chandrashekhar Azad has announced he will contest against chief minister Yogi Adityanath from the Gorakhpur Urban seat.
"It's Mandal against kamandal. Adityanath is dangerous for the people," the Dalit youth leader said in Saharanpur on Thursday.
Chandrashekhar had in 2019 announced he would contest the Lok Sabha election against Prime Minister Narendra Modi from Varanasi but didn't file his nomination.
If he contests this time, it can cut both ways — he may end up splitting the anti-BJP votes and indirectly helping Adityanath. But Chandrashekhar can hurt Adityanath if he succeeds in denting the chief minister's Dalit backing in Gorakhpur.
"Mandal" politics, named after B.P. Mandal who headed the commission that recommended a 27 per cent reservation in jobs for the Other Backward Classes, stands for social justice and the empowerment of marginalised segments. "Kamandal" — a water container carried by sadhus and usually fitted with a handle and a spout — stands for the BJP's religious politics.
"My Azad Samaj Party wants me to challenge Adityanath and I am ready," said Chandrashekhar, whose party is expected to contest over 100 of the 403 Assembly seats in Uttar Pradesh.
"Yogi Adityanath, who didn't allow people to speak against him, and under whose rule youths were attacked by the police for demanding jobs and Dalits were killed for seeking justice, should be sent back to his temple in Gorakhpur," Chandrashekhar added.
Adityanath is mahant of the Gorakhnath temple.
Adityanath had been five-time MP from Gorakhpur between 1998 and 2017 with the support of a large number of Dalit voters who believed in the spiritual power of the Gorakhnath temple. Chandrashekhar might be able to take some of these Dalit votes away.
Another irritant for Adityanath in Gorakhpur Urban is Radha Mohan Das Agrawal, a paediatrician who has been the local MLA since 2002 and is a known intra-party critic of the chief minister.
Last year, Agrawal was heard saying in a video that only the "Thakurs, the caste men of the chief minister, are safe in Uttar Pradesh".
Agrawal has not found a place in the list of about 200 BJP candidates announced so far but his nomination from some other constituency is not ruled out.
A source close to him said: "Agrawal has a very good image and treats poor people free of cost. He has become silent ever since Yogi was announced as the candidate. His distancing from the election campaign will harm Yogi."
Samajwadi Party president Akhilesh Yadav said in Lucknow on Thursday: "I can field Agrawal from the Gorakhpur (Urban) seat if he is interested in joining the Samajwadi Party."
Unconfirmed reports say the Samajwadis are in touch also with Subharati Shukla, widow of Upendra Dutt Shukla, who was BJP candidate in the 2018 Gorakhpur parliamentary by-election and won 434,788 votes, losing to Samajwadi-supported Nishad Party candidate Praveen Nishad by 21,801 votes. The Nishad Party is now a BJP ally. The BJP won the Gorakhpur parliamentary seat in 2019.
Gorakhpur Urban will vote in the sixth phase on March 3.