Bharat Jodo Yatra in Kashmir: As crowd swells, police 'vanish'
The police people who were supposed to manage the crowd and hold the rope were nowhere to be seen, says Rahul Gandhi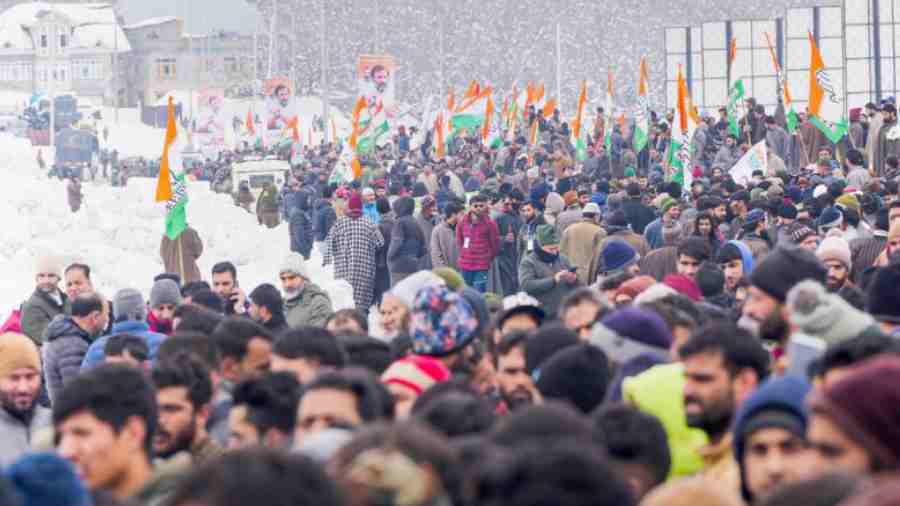 The crowd at Qazigund, known as the Gateway of Kashmir, when the Bharat Jodo Yatra reached there on Friday.
PTI picture
---
Srinagar
|
Published 28.01.23, 03:33 AM
|
---
The Bharat Jodo Yatra, which started from Kanyakumari in September, was greeted by a large cheering crowd as it entered Kashmir on Friday morning but Rahul Gandhi had to stop walking soon after because the police ring around him disappeared.
The Yatra had covered barely a kilometre after crossing the Banihal tunnel that connects Jammu with Kashmir when the crowd came too close to Rahul, raising slogans in favour of the Congress leader and his Yatra, but sending his security detail into a tizzy. Rahul was stuck in the crowd for around 30 minutes.
"This morning, quite a large crowd had gathered but unfortunately the police arrangement completely collapsed. The police people who were supposed to manage the crowd and hold the rope were nowhere to be seen," Rahul said at an unscheduled media briefing at Khanabal. "My security detail were very uncomfortable with me walking further. I had to cancel my walk. The other Yatris, of course, did the walk," Rahul added. Former chief minister Omar Abdullah, who was walking with Rahul, said: "I'm witness to this. The outer ring of the cordon which was maintained by J&K police simply vanished within minutes of @ RahulGandhi starting to walk. We had just crossed into Kashmir from Jammu & were looking forward to the 11km walk but unfortunately it had to be cancelled."
The Congress shared on Twitter a video clip that showed Yatra volunteers rushing to form a security cordon on a crowded road, with voices heard asking where the police were. Jammu and Kashmir police, in a series of tweets, denied any lapse.
"Only authorised persons as identified by organisers & frisked crowd was allowed inside towards the route of Yatra. Organisers & managers of BJY did not intimate about large gathering from Banihal joining the Yatra, which thronged near the starting point," police said.
The tweets did not explain why the police cordon appeared to have vanished. "It is very difficult for me to go against what my security people are recommending," Rahul said at the briefing.
The Congress leader added that he hoped what happened on Friday would not be repeated on Saturday and Sunday.
The Yatra is scheduled to end on Monday in Srinagar. But for the trouble over security at Banihal tunnel, it would have been an exceptionally captivating march. The area was blanketed in snow and the first thing that some Yatris who arrived ahead of Rahul did was to have fun with snowballs, throwing them mercilessly at each other.
Thousands of Kashmiris were waiting for Rahul eagerly on this side of Banihal tunnel, betraying a rare reprieve in the Valley where people are afraid to freely express themselves. The two leaders appeared to be enjoying the crowd initially. But then many breached the security ring.
Rahul's security team sensed trouble and raised the alarm. Eventually, Rahul was driven off in a bulletproof vehicle. Rahul was scheduled to walk 11km to Vessu, home to one of the largest colonies for migrant Kashmiri Pandit employees. Congress leader K.C. Venugopal said there were no security officers for 15 minutes.
"The police drove off after we crossed Banihal tunnel. Who ordered this?" he said. "This is a very serious lapse."
Rahul's father and former Prime Minister Rajiv Gandhi was assassinated at a public meeting by a person who had bowed as if to touch his feet but instead detonated a suicide bomb.