SSC scam: Congress, BJP get into war of words
Cong stokes Goa bar controversy linked to Smriti Irani's family; BJP spokesperson refers to Sonia Gandhi as 'bar bala (bar girl)' on TV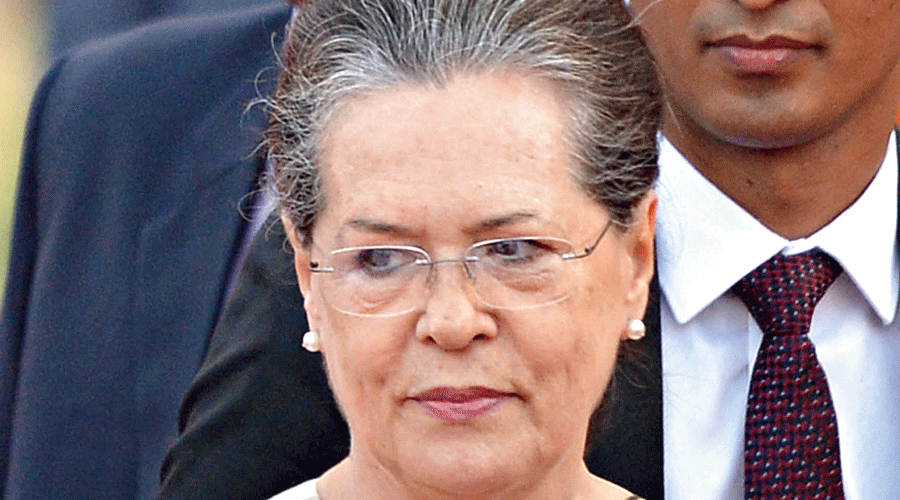 Sonia Gandhi.
File picture
---
New Delhi
|
Published 25.07.22, 02:44 AM
|
---
Bar bala (bar girl), bar bala, bar bala, bar bala, bar bala, bar bala, bar bala, bar bala, bar bala, bar bala, bar bala, bar bala, bar bala, bar bala, bar bala, bar bala, bar bala, bar bala,  bar bala,  bar bala....
The evening before the lofty farewell speech by President Ram Nath Kovind was marked by a display of the Indian "sanskar" that the BJP never tires of championing.
BJP spokesperson Prem Shukla repeatedly referred to Sonia Gandhi as "bar bala (bar girl)" on a TV channel on Saturday during a debate on the Bengal SSC scam when a Congress spokesperson referred to the Goa bar controversy linked to the family of Union minister Smriti Irani.
There is nothing wrong with the job but the BJP spokesperson was not alluding to the dignity of labour when he called the Congress president a bar girl at least 20 times.
The Congress on Sunday warned BJP president J.P. Nadda of legal action if his party's spokespersons continued to make vulgar personal attacks on Sonia Gandhi and other leaders, expressing a sense of outrage over the low-level political discourse.
In a letter to Nadda, Congress communications chief Jairam Ramesh said BJP spokesperson Prem Shukla had used vulgar language about Sonia during the July 23 TV debate. "We register our strong objection to the vulgar language used by your spokesperson."
Ramesh added: "The senior leaders and spokespersons of the BJP, which boasts of representing Indian cultural ethos and sanskar, have been repeatedly using indecent language about honourable women of the country, particularly our party president.
"The use of indecent expressions reflects the BJP's anti-women mindset. Such objectionable remarks have lowered the level of political discourse in the country. Respecting women has been India's tradition since Vedic times but the BJP has continuously dismayed us by (its) language and conduct. We appeal to you and Prime Minister Narendra Modi to tender an apology for the shameful and indecent language used by your leaders."
Declaring that the Congress would be forced to initiate legal action if such indecent attacks were repeated, Ramesh said: "Tutor your leaders and spokespersons not to hurt the dignity of politics and avoid using vulgar language."
Shukla, the spokesperson in question, has triggered several controversies in the past with his vulgar expressions and intemperate behaviour.
But Ramesh hinted that BJP leaders and spokespersons had learnt to use indecent language from none other than the Prime Minister. In a separate statement, Ramesh said: "The country knows that Prime Minister Narendra Modi and several other top BJP leaders have used indecent language about political opponents and women. If somebody sitting in the highest post of Prime Minister will lower the dignity of his position, his spokespersons will naturally misbehave with Opposition leaders and use vulgar expressions."
Ramesh recalled that Modi hadn't ever expressed regret for using indecent expressions about opponents even as such conduct lowered the level of political discourse in the country. The indecent expressions used by Modi about women and top Opposition leaders, including Sonia, have been widely reported.
Modi too bears a similar grudge, and has publicly pointed to indecent language his opponents have used about him. It is true that both sides have contributed to the dramatic fall in the level of public discourse.
Sonia doesn't use any indecent expressions, although her description of Modi as "maut ke saudagar" had triggered a major controversy. Rahul Gandhi and other Congress leaders have used terms like "liar", "coward" and "chor" over the last few years. Ramesh himself describes Modi as "Vishwaguru of jhooth" and "vishguru".
Congress leaders, however, insist that pointing to lies spoken deliberately by the Prime Minister in public life isn't abusive.
"Vishguru", too, Congress leaders say, is about the politics of hate, not a personal attack.
BJP politicians, who believe that no leader has endured more abusive attacks than Modi, won't appreciate such arguments.
The Congress leaders reject this claim, arguing that the difference between political criticism based on concrete evidence and wild personal allegations should be understood.