Bengal scientists have developed the world's hardest known self-healing material in a laboratory feat that they say could lead to mobile phone screens that repair their own cracks in less than a second.
The researchers from the Indian Institute of Science Education and Research,Calcutta, and the Indian Institute of Technology, Kharagpur, have synthesised an organic crystalline material with a unique internal molecular structure that spontaneously repairs itself when damaged.
The scientists used a needle to trigger mild to severe cracks in a segment of the material and watched as the cracks automatically reversed themselves within a fraction of a second after the needle pressure was withdrawn.
Self-healing materials have been under study worldwide for over three decades and have entered into engineering applications, mainly for wear-resistance in the construction, automotive and aerospace industries.
They have also entered kitchens in the form of self-healing cutting boards.
But almost all known self-healing materials are soft and amorphous — having an internal structure marked by irregularities and defects — and require some external stimulus such as heat, light or a chemical agent to heal themselves.
"Our self-healing material is 10 times harder than others," said Chilla Malla Reddy, a chemical sciences professor at the IISER who led the research.
"And it has a crystalline structure, a well-ordered internal structure, the favoured structure in most electronics and optical applications."
Reddy and his colleagues synthesised tiny single crystals of an organic material — each needle-shaped crystal being 1mm to 2mm long and 0.1mm to 0.2mm wide.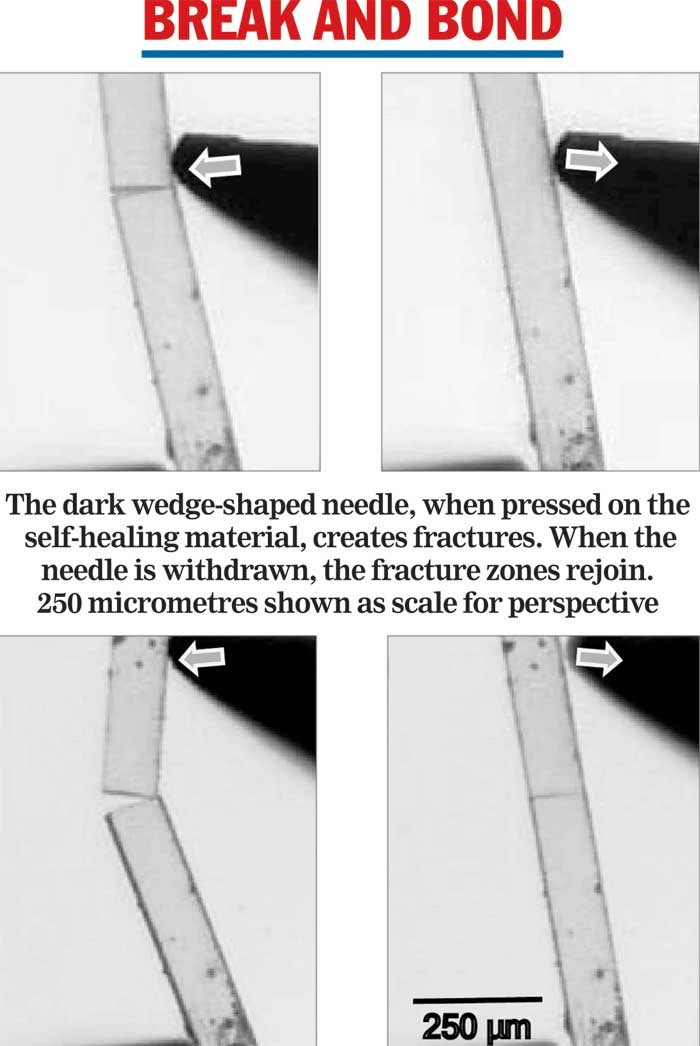 The crystals' molecular arrangement is such that when a fracture occurs, a strong attractive force between the two surfaces causes the fragments to rejoin.
The scientists have published their experimental results in the US research journal Science.
The organic material they have synthesised belongs to a class of substances called piezoelectric crystals that can turn mechanical energy into electrical energy or electrical energy into mechanical energy.
"Piezoelectric materials are ubiquitous in industry and scientific applications," said Nirmalya Ghosh, a physical sciences professor at the IISER who was part of the research team.
The self-healing property could be useful in any application where the piezoelectric materials are repeatedly loaded and unloaded and are at risk of fracture or damage.
Piezoelectric materials are used in robots, on spacecraft, in modern microscopes, and elsewhere. Reddy said the substance the team has developed demonstrates that self-healing and hard crystalline structures can be coupled.
It also has optical properties. "I can imagine applications for an everyday device," said Bhanu Bhushan Khatua, one of the researchers, from IIT Kharagpur.
"Such materials could be used for mobile phone screens that will repair themselves if they fall and develop cracks."