Mamata: Fear to blame, Bajaj has guts
Whoever is speaking out is being put under the scanner, she said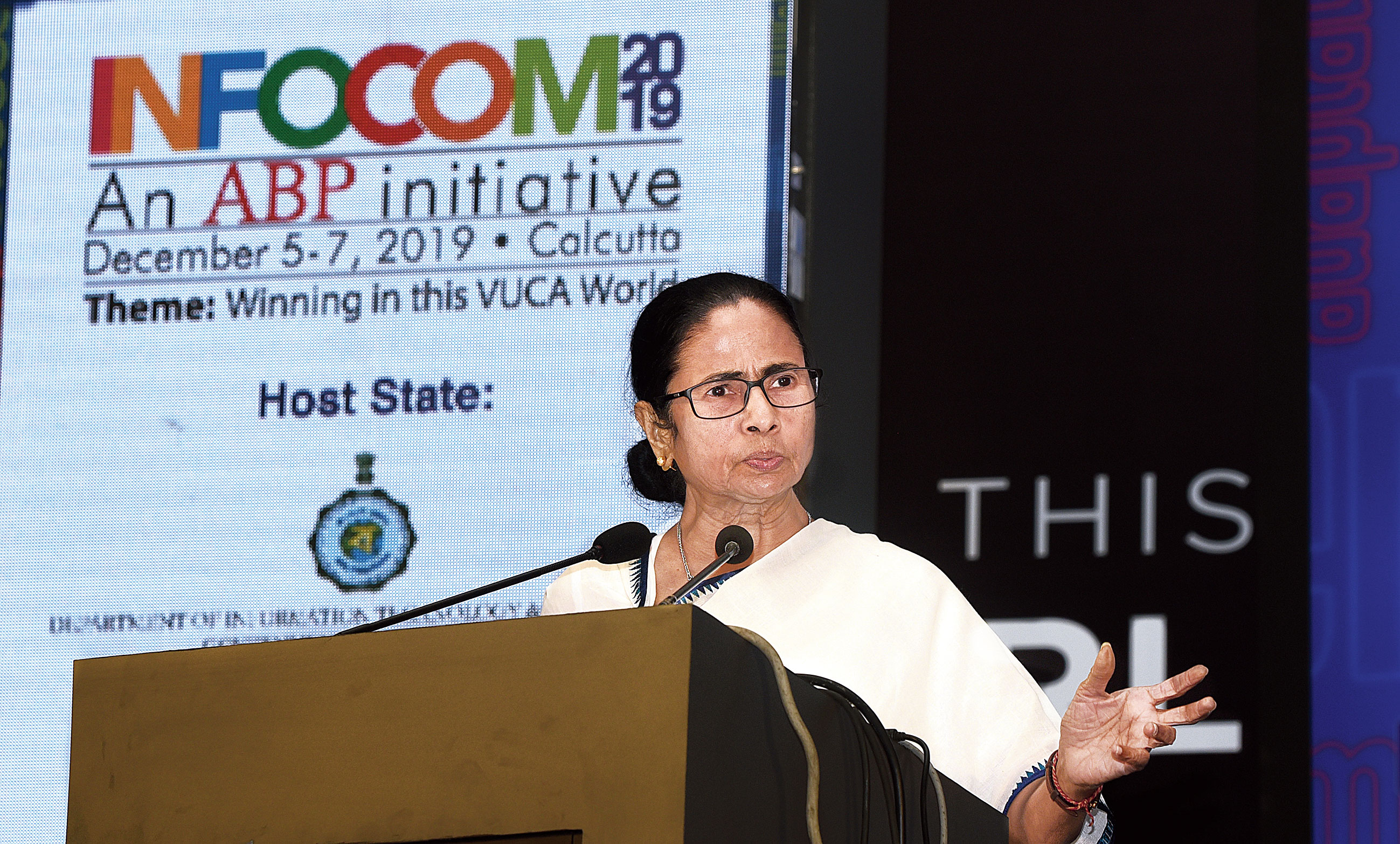 ---
Calcutta
|
Published 05.12.19, 09:47 PM
|
---
Chief minister Mamata Banerjee has blamed the economic slowdown on a lack of trust in the government of the day and an atmosphere of fear that are forcing industry to close the taps of fresh investment.
"It (the economic situation) is very alarming. People are suffering from uncertainty…. Nobody wants to set up industries. This is the reality today…. Rahul Bajaj has guts, so he could speak up, but can everybody do it?" Mamata asked during her address after inaugurating the 18th edition of Infocom, an ABP initiative.
The chief minister was referring to the weekend statement by veteran industrialist Bajaj in front of home minister Amit Shah that corporate India lacks confidence that the government would appreciate open criticism.
Whoever is speaking out is being put under the scanner, Mamata said, adding that the fear of investigation was causing the slowdown in the country.
"Our industry captains want to invest in India but (what) if you disturb them every day, send them to jail?" Mamata asked. "Let industry flourish; stop interfering in their day-to-day affairs or those of banks."
The theme of the three-day Infocom 2019, eastern India's biggest business, technology and leadership conclave, is "winning in this volatile, uncertain, complex and ambiguous (Vuca) world".
The acronym "Vuca" traces its roots to a post-Cold-War Americanism.
Mamata switched to the theme of the conclave in her inimitable style, referring to a rhyming word "bhukha (hunger)" and linking Vuca with the unfolding and volatile economic situation in India on a day the RBI lowered the growth forecast to 5 per cent.
"The condition of the economy is very bad. It's a gloom-and-doom situation. We can call it the darkest situation in this country," the chief minister said.
"Unemployment is rising sky high. The MSME (micro, small and medium enterprises) sector is facing problems. Poverty is sky high. No control over price rise, one kg onion costs Rs 140…. Too much," she said.
The chief minister also flagged concerns over the banking system. "I am depositing state government money for public benefit. People are also putting their hard-earned money…. But we don't know if they will say, 'Ek lakh se jada aap utha sakte nahi hain (You can't withdraw more than Rs 1 lakh)'."
"Aap ghar me rupiya rakho to notebandi ho jayega, aur bank me rakho to lootbandi ho jayega, kya karoge aap (If you keep money at home, there will be a note withdrawal, and if you keep it in a bank, it may be looted, so what will you do)?" she said.
"The people are suffering because of uncertainty. They are unsure about banks and life insurance companies."
In the recent past, LIC has been being asked to bail out sick companies. For instance, it had to put in Rs 21,624 crore in IDBI Bank, a move questioned by many who expressed the fear that it might hurt the insurer's ability to reward policyholders in the future.
Mamata sought to explain the reasons behind the fear factor and accused the Centre of unleashing various agencies at its disposal -– "either the CBI or the income tax or the Enforcement Directorate" -– on businessmen and interfering in their businesses.
"I know that our industry friends want to invest in India. But every day if they are disturbed and then sent to jail, what would they do?" she asked.
Sources close to the chief minister said she underscored these points at the business conclave as she wanted industry representatives to shed their fear and express their angst.
Mamata's words found resonance among several industrialists, who later said in private that investors were being looked at with suspicion, and even genuine business failures were being equated with fraud.
Without mentioning the Narendra Modi government, Mamata added: "Talking about Hindu- Muslim and using divisive politics cannot give results."
Although the chief minister painted a picture of gloom, she appealed to the industry representatives not to get "upset" and predicted a "political sunset" soon.
Mamata used the podium to send out a message that the government in Bengal was different and urged India Inc to invest in the state. "Let us work for peace, let us work in a united manner…. Please come and invest in Bengal," she said.