Ban gatherings if Covid cases rise: Centre to states
Calcutta is among 19 districts with test positivity rates between 5 and 10 per cent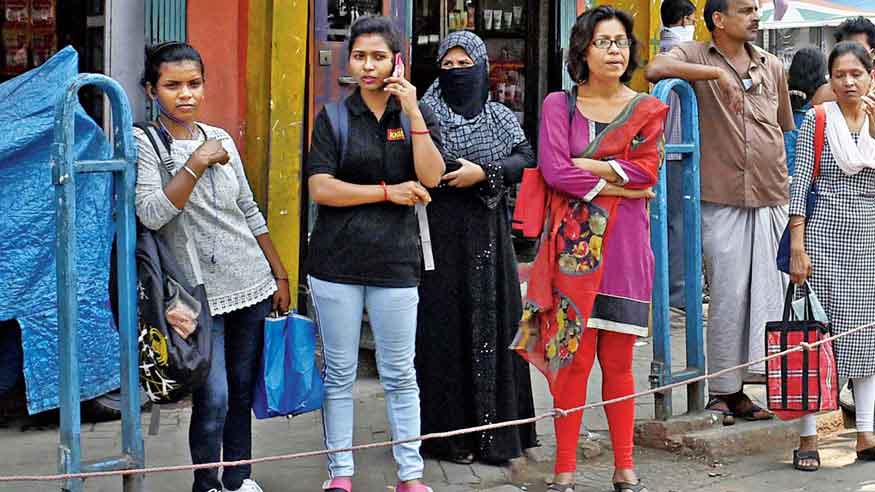 Social gatherings can escalate cases in view of the emergence of the Omicron variant
File Picture
---
New Delhi
|
Published 12.12.21, 01:47 AM
|
---
The Union health ministry on Saturday asked district authorities across India to prohibit social gatherings and similar crowd-drawing events if local Covid-19 test positivity and hospital critical care occupancy rise beyond certain thresholds.
Health secretary Rajesh Bhushan, in a note to the chief secretaries of all the states, said the districts should initiate local containment interventions if test positivity rates cross 10 per cent and critical care bed occupancy exceeds 60 per cent.
The test positivity rate is the proportion of positive results among those tested. It's a key measure of the size of the epidemic and needs to be as low as possible — ideally below 2 per cent.
A high positivity rate signals either a large epidemic or insufficient diagnostic testing.
Twenty-seven districts in eight states currently have test positivity rates of 5 per cent or higher and "need to be monitored very closely", Bhushan wrote. Calcutta is among 19 districts with test positivity rates between 5 and 10 per cent.
Nine of the remaining 18 are in Kerala, five in Mizoram, and one each are in Arunachal Pradesh, Manipur, Nagaland and Puducherry.
Eight other districts — Kozhikode and Thiruvananthapuram in Kerala, Hnahthial, Serchhip, Champai, Lunglei and Lwangtlai in Mizoram and Sikkim's South district — have test positivity rates of 10 per cent or higher.
The health ministry's note urges district authorities to look out for fresh clusters of cases and initiate "intensive action and local containment" if needed.
The note comes amid uncertainty over whether and how the fast-spreading omicron variant might impact the course of India's epidemic. Health authorities had until Friday detected 32 Omicron-infected patients - all mild - and said Omicron had not caused any clusters in India yet.
"Local surveillance and containment actions could help avert runaway surges," said an epidemiologist at a government research institution. "This could in turn keep the numbers of daily new infections within the limits of available hospital resources."
The ministry has asked districts to prohibit cultural, political, sports, entertainment, academic, religious and festival-linked congregations, curtail counts of attendees at marriages and funerals, and introduce night curfews if test positivity and critical care occupancy rates exceed the set thresholds.
"They're taking a cautious approach this time -- which is good," said Oommen John, a physician and research fellow at The George Institute for Global Health, New Delhi.
"They've asked all districts to be on high alert even while our overall epidemic appears stable for now."
India's daily new Covid-19 infections have remained steady below 10,000 over the past two weeks, after a near-steady decline since the second wave's peak daily count of over 400,000 in early May.
The ministry had similarly directed states to adopt the 10 per cent test positivity and 60 per cent critical care occupancy rates as thresholds to initiate local containment actions on April 25 this year. But health experts said the April 25 note was too late to avert the second wave.
The April 25 note had come more than two months after the country's daily new infections had started rising in mid-February. The country's seven-day average of daily new infections had increased from 11,300 on February 16 to 25,000 on March 16 and 188,000 on April 16.
Saturday's note from the ministry iterated the need for district surveillance units across the country to ramp up surveillance and Covid-19 testing of patients with influenza-like illness and severe acute respiratory infections.
Health officials had said on Friday that none of the around 70 clusters of infections investigated in the country over the past two weeks had been driven by omicron. But health researchers have said that detection of omicron hinges on sampling and surveillance efficiency.
Preliminary studies from other countries have found that omicron carries a three-to-eight-fold higher risk of causing re-infections in previously infected people. Lab studies have indicated that omicron also has some ability to evade vaccine-induced antibodies.