Badshah, Birbal and baingan: Akhilesh Yadav tells the Kashmir story
When the emperor liked the brinjal curry, all his ministers did so too, says Samajwadi chief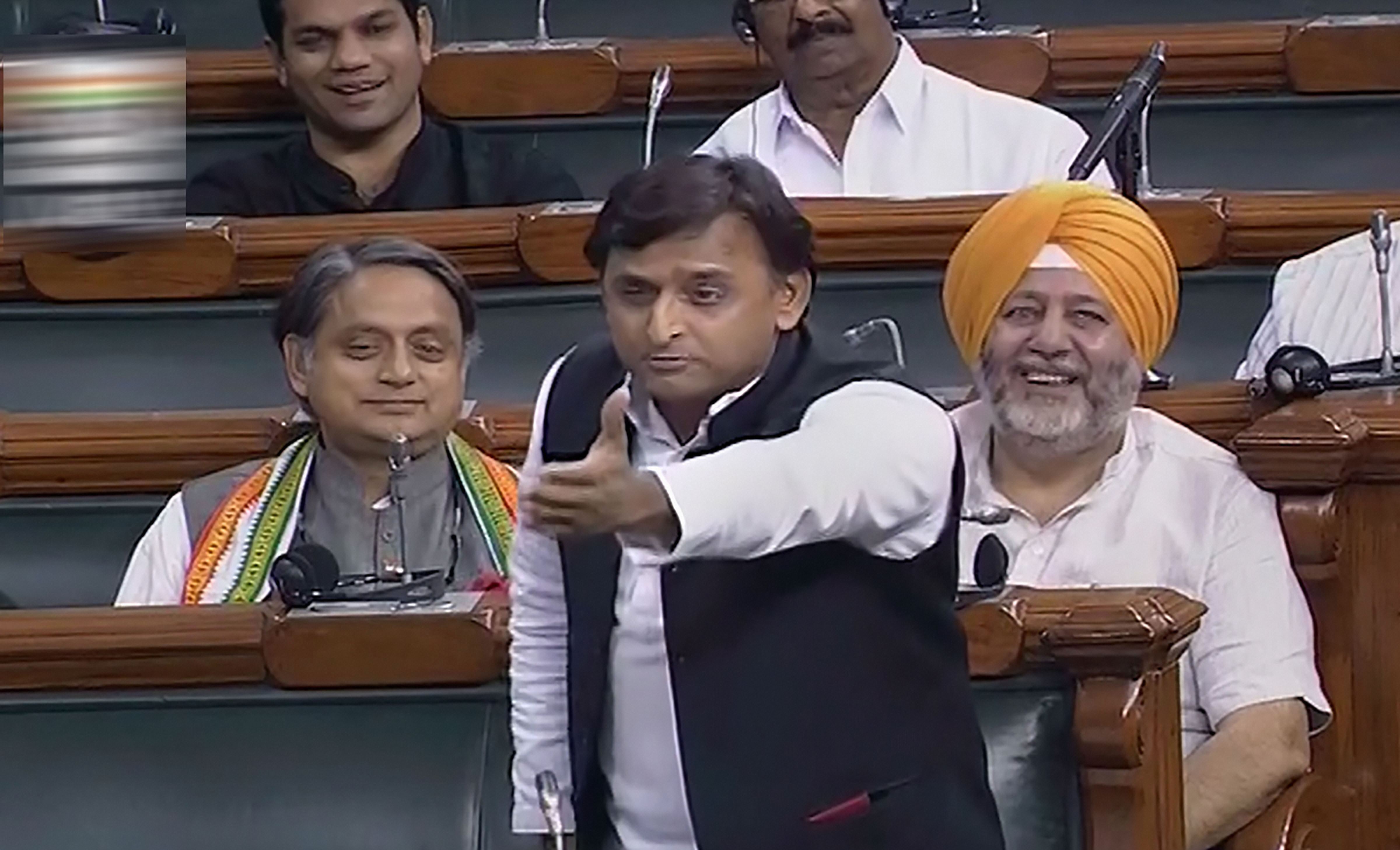 ---
---
Akhilesh Yadav today chose the brinjal to drive home the message on Jammu and Kashmir.
During the debate in the Lok Sabha on the Jammu and Kashmir Reorganisation Bill, 2019, the Samajwadi Party chief pointed out that only two days ago, governor Satya Pal Malik hd said he did not know what was going to happen. Malik had assured a delegation led by National Conference leader Omar Abdullah that there was nothing to worry about.
"And what happened after 48 hours, that the entire nation knows," Akhilesh said. Then he wanted to tell the Lok Sabha a qissa (story).

Once there was a badshah (king) who was feasting, accompanied by top ministers and advisors, Akhilesh began. "This is a qissa in which, if you listen, you might find an answer in it," Akhilesh told the BJP members who were making a din. "And the country will understand that yes, this what must have happened (regarding Jammu and Kashmir)."
Akhilesh said when the badshah started eating, he praised the baingan ki sabzi (brinjal curry). 'All his yes men, his advisors, started praising the sabzi. 'Aisi sabzi toh banhi nahin sakti (impossible to make such a curry)' they said.'
The ministers asked their best advisor Birbal. Birbal said, since the vegetable has a crown on its head it is indeed the king of vegetables, and there cannot be a better vegetable than this, Akhilesh narrated.
Next day, the badshah took sick. He summoned Birbal and asked him to explain why he praised the brinjal. Birbal said the vegetable wasn't too good. The badshah asked him why was he now criticising the brinjal.
Birbal bowed and said: 'Badshah! Main koi baingan ki naukri nahi kar raha hoon. Main badshah ki naukri kar raha hoon (I don't work for the brinjal. I work for the badshah). If the badshah likes something, I'll say it is good. If he doesn't like it, I'll say it is bad.'
Akhilesh said: "Toh, mananiye governor sahib ne wahi kiya (so, the honourable Governor did the same thing). He took the same decision, a decision that you wanted. That isn't a decision taken by the Constituent Assembly. It is a decision that you wanted. This decision went from the top to the bottom."