Backlash after royal kiss-and-tell
Royal-family friends cry 'betrayal', tabloid focuses on Taseer's marriage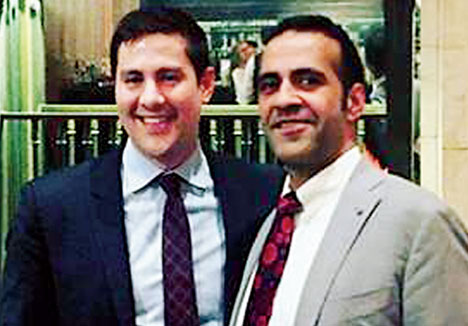 ---
London
|
Published 30.04.18, 12:00 AM
|
---
London: Indian author Aatish Taseer has been condemned for writing about his past relationship with Lady Gabriella Windsor of the British royal family, with her friends and his own half-brother calling him a backstabber and a "cad", the Mail on Sunday has reported.
The newspaper underscored that Taseer, 38, once tipped to marry the daughter of Prince and Princess Michael of Kent, is now living in America as a gay man "happily married" to a white husband, 32-year-old lawyer Ryan Davis.
No stigma attaches these days to same-sex couples in the West. But the tabloid newspaper, whose Eton-educated editor Geordie Greig has excellent royal contacts, implied that Gabriella may have started having doubts about her boyfriend's sexuality.
The suggestion has always been that Gabriella's mother, Princess Michael of Kent, blocked the marriage because she did not want an Asian son-in-law.
To be fair to Taseer, he had himself written for Travel + Leisure on October 9, 2016, about his travels across the American south with Davis, "the tall white man from Tennessee I had married a few weeks earlier in New York".
Taseer recently wrote in the US magazine Vanity Fair about how he had dated "Ella" (Gabriella) for three years after meeting her in America in 2003 as a student.
But he has caused widespread offence - in royal circles especially - by claiming he and Gabriella swam naked in a Buckingham Palace pool and shared drugs while staying in royal residences.
The Mail on Sunday quoted a source close to the royal family as saying: "What he has done is appalling and unnecessarily cruel, especially when he has only ever been shown kindness by her family."
Another friend added: "How pathetic and needy to capitalise on a romance that ended 12 years ago with a treacherous cocktail of innuendo, invention, indiscretion and something akin to sour revenge. What on earth for? He enjoyed the privileges of Palace life and now chooses to spit it back in his ex-girlfriend's face."
The newspaper said the Vanity Fair article "may seem all the more of a betrayal given that Taseer was taken into the very heart of the Kent family. Indeed, Princess Michael once described him as 'one of the most handsome men I have ever met'."
Gabriella's "family and friends rallied to her defence last night, with some of the younger members of the royal family sending her messages of support", the newspaper added.
"Before the relationship fizzled out in 2006, his charm worked on the Kents, who travelled to Bombay to meet his mother. She arranged lavish dinners and fireworks for Princess Michael on her birthday," the newspaper said.
It added: "Ella, meanwhile, has been happily dating rugby ace Tom Kingston since 2015. She leads a quiet life, shunning royal privileges, and is 'happiest in the British Library', according to friends."
Taseer, son of the late Pakistani politician Salman Taseer and Delhi journalist Tavleen Singh, has also been condemned by Shehryar Taseer, 42, one of his half-brothers in Pakistan.
Shehryar has been quoted by the Mail on Sunday as saying: "I find it quite sickening that he has written this article weeks before the royal wedding (between Harry and Meghan). It's purely an attention-seeking piece from somebody who has been cut out of high society.
"It is a despicable, cad thing to do, to reveal secrets in a kiss and tell. A gentleman would never do such a thing."
Shehryar said he did not know whether the claims made in the Vanity Fair article were true but added: "When people do things in their private life, they don't expect them to be revealed ten years later in an article a few weeks before her cousin's wedding. It's exactly his character. It's exactly what I would have expected him to do.
"The timing could not be more pathetic. Why is he speaking about it now? His is a dying name nobody remembers any more. He's desperate to come back to the limelight."
The Telegraph has been trying to get a comment from Aatish Taseer via his publishers but there has been no response so far.
The Mail on Sunday said: "He has also written extensively about gay rights and is an advocate of legalising gay marriage in India and Pakistan, where it is still illegal for same-sex couples to wed."#
Gay marriage became legal across America in 2015 after a historic vote by the US Supreme Court.
Taseer's Instagram page is full of pictures of him and his husband, "who share a love of fine food and travel", the Mail on Sunday said.
"There are numerous shots of their wedding day on August 8, 2015, which was attended by The Satanic Verses novelist Salman Rushdie. The couple live in a £1.2-million flat in Manhattan's Upper West Side with their dog Zinc."
Taseer has written of his nerves at meeting his mother-in-law: "Like many southerners, Mrs Davis had not totally adjusted to the Supreme Court's decision to uphold our right to marry."