Azad to take on Modi in Varanasi
I am going to Varanasi because Modi is anti-Dalit, the Ambedkarite said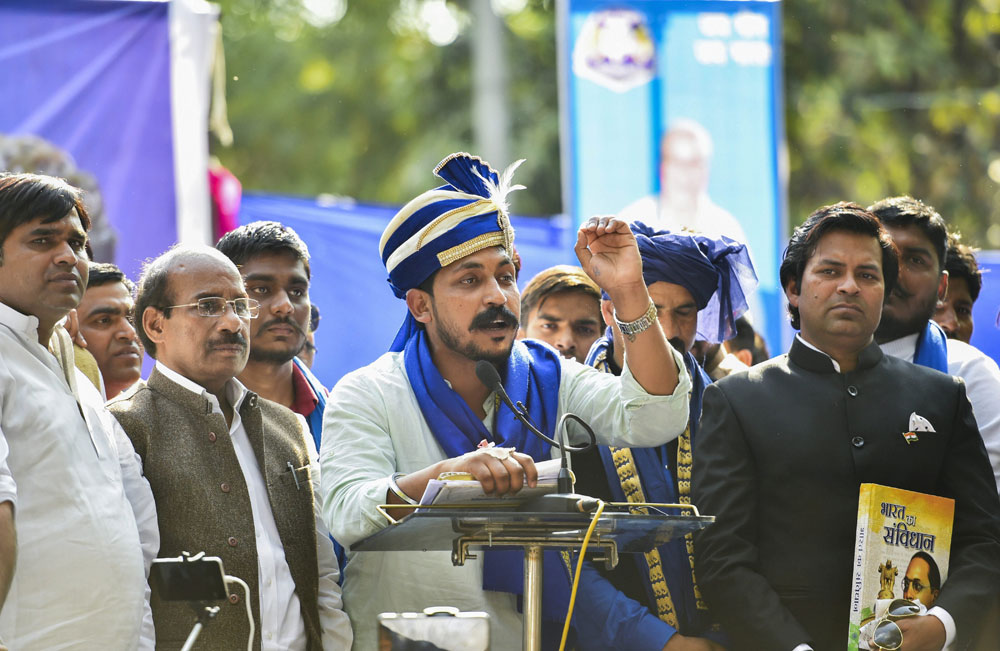 ---
New Delhi
|
Published 16.03.19, 09:21 AM
|
---
Dalit leader Chandrashekhar Azad alias Raavan on Friday announced he would contest against Prime Minister Narendra Modi from Varanasi in the coming general election.
Addressing the Bahujan Hunkar rally here, Azad said: "We are supporting the alliance (BSP-Samajwadi Party-Rashtriya Lok Dal) in 79 seats. One seat is the land of Sant Ravidas ji, that is Kashi or Benares. Do you want me to let Modi win from there? Do you want me to go there and defeat him? Do you want Modi to not go (back) to Parliament? Will you come to help?"
Kashi and Benaras are old names for Varanasi.
Azad, who calls himself Raavan — the antagonist in the Ramayana who is revered by many South Indian and tribal communities, leads the Bhim Army Bharat Ekta Mission that is based in Saharanpur. He enjoys considerable influence among Dalits in west Uttar Pradesh.
The Ambedkarite spent more than a year behind bars, facing trial under the National Security Act for alleged involvement in violence between Rajputs and Dalits in Saharanpur in 2017.
Friday's rally was held to mark the 85th birth anniversary of BSP founder Kanshi Ram.
"If I had to (merely) become an MP, I would've fought from a reserved seat… I don't want to become a leader. I want to be the son of a labourer and I want to tell Modi that there is someone… There is someone who will not let you live in peace. There is someone who will spoil your sleep… who will send you back to your sasural (in-laws home)," Azad said.
His four-day march from Saharanpur was stopped by police in Deoband earlier this week, and he was admitted to a Meerut hospital after fainting during an altercation with the cops. Congress leader Priyanka Gandhi Vadra visited him hospital. Both have said no politics was discussed.
Azad claimed he was "frisked like a terrorist" when he went to the Parliament lawns to observe B.R. Ambedkar's 62nd death anniversary on December 6 last year.
"That's why I am going to Varanasi. Will you come to help me? Will you help oust Modi from Parliament… I am going to Varanasi because Modi is anti-Dalit. He must know that he must suffer the punishment for being anti-Dalit in this country," he said.