Ayodhya: The poor collect mustard oil from diyas for cooking at homes
The state government had organised a Diwali-eve celebration on November 3 and lit 9 lakh lamps, with Adityanath inaugurating the programme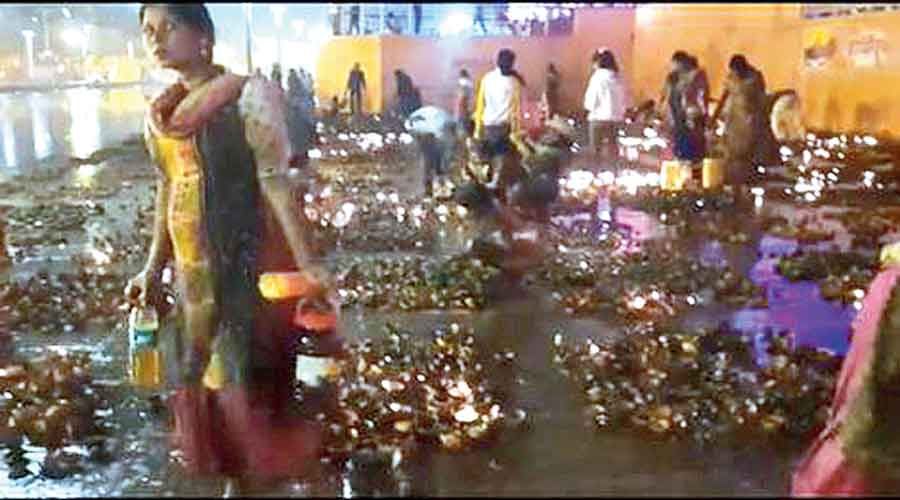 Footage shows women and children collecting mustard oil from diyas in Ayodhya on the eve of Diwali.
The Telegraph
---
Lucknow
|
Published 07.11.21, 01:52 AM
|
---
On Friday, Prime Minister Narendra Modi had praised the way the Uttar Pradesh government had marked Diwali in Ayodhya by lighting hundreds of thousands of diyas, saying "Ayodhya is getting back its glory".
On Saturday, a widely circulating video showed children collecting mustard oil from some of these diyas — presumably for cooking at their homes at a time mustard oil has gone beyond the poor's reach — prompting several citizens to call it a "shame".
A retired Uttar Pradesh bureaucrat, who tweeted the video, said the Yogi Adityanath government had "mocked" the poor by lighting "12 lakh diyas" in Ayodhya during Diwali.
"The government used 36,000 litres of mustard oil to light 12 lakh diyas. Thirty per cent people of this state don't get roti every day. The government has mocked the state's poor," Surya Pratap Singh, who retired in 2015 as principal secretary, state education department, told reporters on Saturday.
The video showed children picking up lamps at Har Ki Paudi on the Saryu's banks in Ayodhya and pouring the oil into cans and pots that they had brought along.
A strong wind had blown out most of the lamps; the children threw away the burning wicks of the rest with their bare hands. The price of mustard oil, used widely as cooking oil in Uttar Pradesh, has skyrocketed to between Rs 200 and Rs 265 a litre from Rs 70 a litre in 2017 when Adityanath became chief minister.
Singh warned people against recklessly consuming the oil collected from the diyas, saying it may be adulterated given the levels of corruption in government.
"This oil may be adulterated. I request (people) to consume it only after checking it. Who knows what level of corruption is involved in it (purchase of the oil)?" he said in a tweet.
On the government extravagance behind the diyas in Ayodhya, he tweeted: "Half the (state's) children don't get milk and 30 per cent people don't get roti twice a day."
The state government had organised a Diwali-eve celebration in Ayodhya on November 3 and lit 9 lakh diyas, with Adityanath inaugurating the programme. The government lit an unspecified number of diyas the next day.
In Kedarnath on Friday, Modi had said: "The entire world saw the dipotsav (festival of lamps) in Ayodhya. We can imagine how our ancient culture would have been…. A magnificent Ram temple is under construction there and Ayodhya is getting back its glory."
A Twitter user, Sunil Kumar Bhartiya, called it a "shame" for the "Modi-Yogi government" that "poor children are collecting mustard oil till late night from diyas along the Saryu".
"When will you wake up, my countrymen, and remove the government?" he wrote.
Sandeep Viz tweeted: "Had Yogiji given half a litre of oil to each poor family in Ayodhya, they would have been cooking nice food at home on Diwali and blessing you (Adityanath). Otherwise, too, the government has broken the poor by selling mustard oil at Rs 265 a litre."