Ayodhya case verdict: On judgment day, a familiar sound is missing
The call to prayer of Zuhr, Asr, and Maghrib was not heard from most of the mosques of the city on Saturday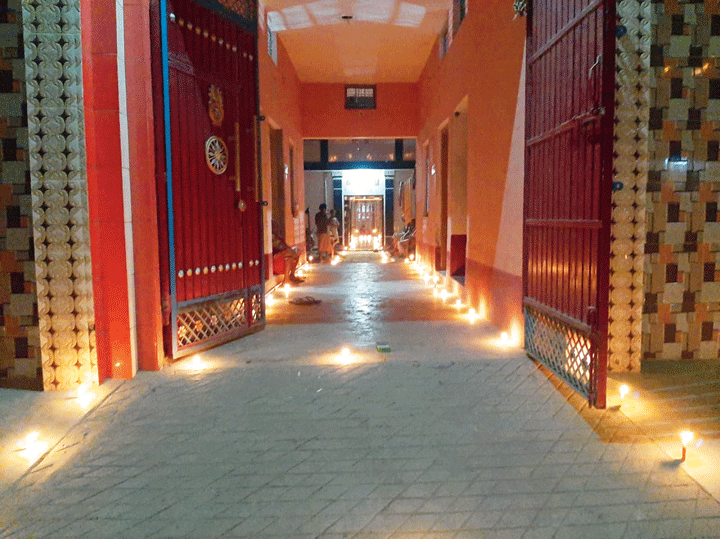 ---
|
Ayodhya
|
Published 09.11.19, 08:28 PM
---
Ayodhya stirred to life on Saturday with Fajar ki Azaan in the masjids at 5am and the ringing of bells in the temples at 5.50am.
Then silence descended and stayed put — until 11.11am as most people of both faiths converged before television sets.
At 11.11am, when news channels flashed the Supreme Court order in the title case, the sound of bells rang out again at Hanuman Garhi temple, about 100 metres from the makeshift temple of baby Lord Ram.
The sliver of land was a disputed site before the apex court ruled that it belonged to Ram Lala Virajman (baby Ram installed), a petitioner in the seven-decade-old case.
Other temples followed Hanuman Garhi in cheering the victory of Lord Ram, who was represented in the court by Triloki Nath Pandey, a Vishwa Hindu Parishad leader based in Ayodhya.
However, the call to prayer of Zohar at 1pm, Asar at 5pm and Maghrib at 6.30pm was not heard from most of the mosques of the city on Saturday.
"We don't want to irritate our Hindu brothers," said a cleric, requesting anonymity.
The Hindu sweet sellers at Ram Janmabhoomi Marg distributed laddoos and lit firecrackers to celebrate the day. The Muslims in the city either stayed indoors or they were seen sitting like statues on the benches of tea stalls and talking to nobody.
Asked why he was so happy with the verdict, Prakash Gaur, a 25-year-old who sells pooja items on Ram Janmabhoomi Marg, said: "Ek to ab hamara mandir ban jaega aur hamari bikri badh jaegi. Aur doosri baat ki Musalmano ko unka rasta dikha diya gaya (First thing is that out temple would be constructed and our sell would increase. The second thing is that the Muslims have been shown their way)."
Zafar Alam, a resident of Chawk area, later said: "Baat to sahi kahi. Ab yeh bhi bata dete wah ki hum Pakistan jayen ki zahanoom me (Whatever he said was true. He should also tell us whether we should go to Pakistan or to hell.)"
Alam added: "I sell flowers near the temples in Ayodhya but didn't open the shop on Saturday in fear that a certain kind of court order would annoy the majority community and they would harm me. The order finally came against our expectations and now I don't have strength at least today to go to any masjid to offer prayers."
Akash Gupta, a resident of Ayodhya, said: "Brother, it is a wonderful judgment. Both Hindus and Muslims are happy. They can build a mosque somewhere else."
Mohammad Ismail, a resident of the temple town, said asking to build a mosque somewhere else was like forcing them out. "Those who are trying to drive us out of Ayodhya may expel us tomorrow from the country," he added.
O.P. Singh, the director-general of police in Uttar Pradesh, said in Lucknow that the central and the state governments had sent more than 4,000 additional security personnel to the city over and above the 2,000 who have been camping there on any given day.
The force was mostly concentrated near Hanuman Garhi, the makeshift temple of Lord Ram and the barriers erected at over 10 entry points. Four-wheelers were stopped outside the city from 1am on Saturday.
Satyendra Das, the chief priest of the makeshift temple, said: "As Section 144 of the CrPC is imposed to prevent the assembly of more than four people at a place, only about 400 people visited the temple on Saturday. Usually, 5,000 to 10,000 devotees pay obeisance here."
Before the court order came, a bureaucrat, accompanied by a senior police officer, told this newspaper: "People are busy with their routine work. Only the media and a certain kind of people look agitated and are trying to create excitement unnecessarily. Tell me if you see any shortcoming in our arrangement here."
Chetram Das, priest of Amawan Ram temple, located adjacent to the boundary of Ram Lala's temporary temple, said: "There are many shortcomings. These power-drunk officers cannot see it. The forces have stopped us from going out to buy daily items. By forcing people out of the streets, they can claim that Ayodhya is peaceful but the fact remains that we are not allowed to go out to buy even vegetables."
Haji Mahboob, a plaintiff in the title suit, said: "The Muslims are disillusioned with the SC order. There is restlessness in the community. Hindus are cheering it but now we want to see how the BJP continues to emotionally blackmail the people in the name of religion as the Ram temple issue is over."