Avalanches kill 9 in Kashmir
The upper reaches of Kupwara in the north and Ganderbal in the south have been affected the most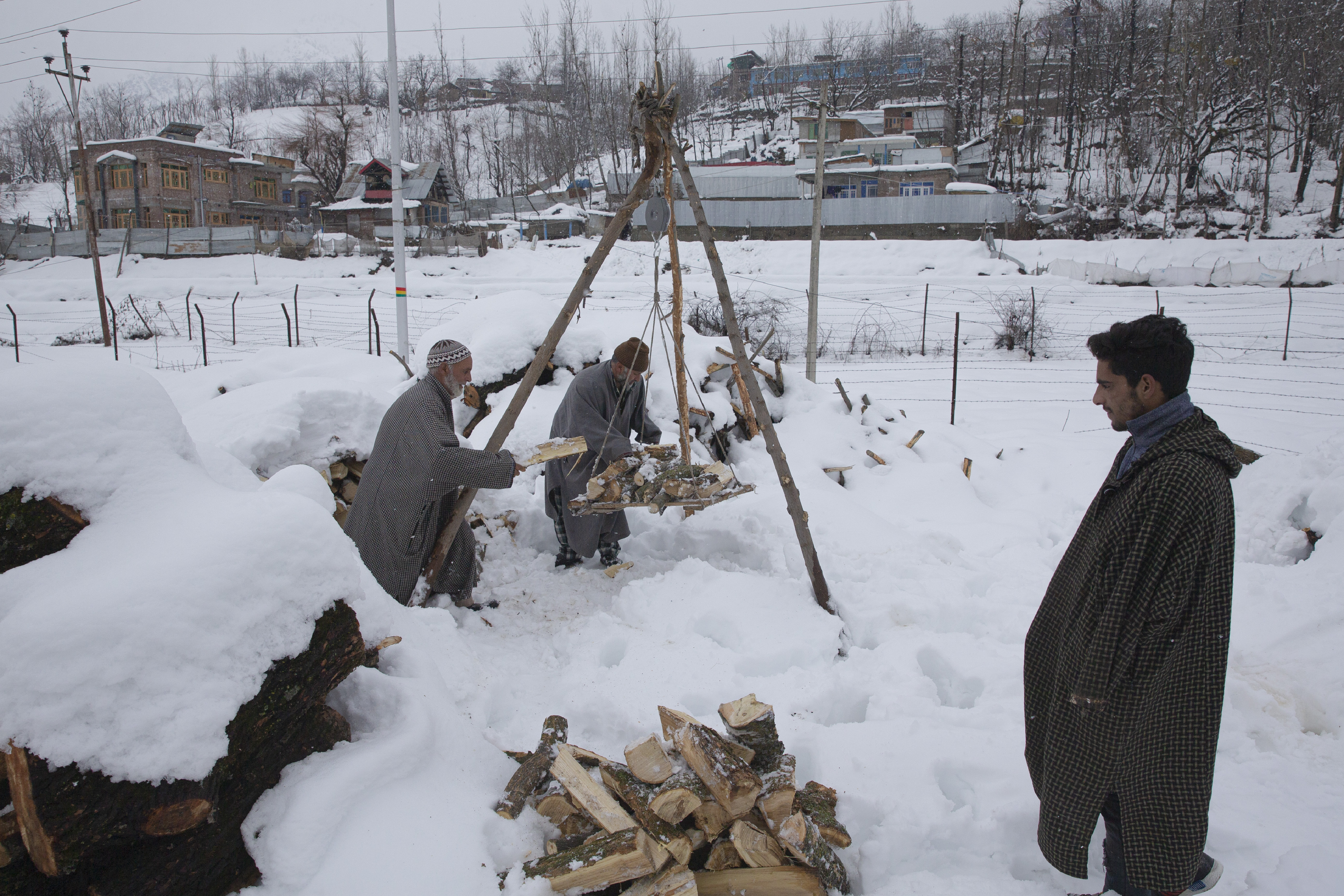 Kashmiri villagers load firewood buried under snow on a traditional weighing balance before selling it near Kangan village, north of Srinagar, Kashmir on Tuesday
(AP)
---
Srinagar
|
Published 14.01.20, 08:06 PM
|
---
Four security force personnel, including a BSF jawan from Bengal, and five civilians have died since Monday evening as heavy snowfall across Kashmir triggered multiple avalanches that left people trapped under tonnes of ice.
Rescuers pulled out many from under the snow but one soldier is still missing.
Officials said five civilians, three army personnel and a BSF jawan lost their lives in the series of avalanches in north and central Kashmir.
The upper reaches of Kupwara in the north and Ganderbal in the south have been affected the most.
The officials said an avalanche hit a forward post along the LoC in the Machhil sector in the frontier Kupwara district on Tuesday, trapping five soldiers and killing three of them. One is missing.
"The injured jawan is being treated and the rescue operation is under way to trace the missing jawan," an official said.
A BSF post came under another avalanche in the Nowgam sector of Kupwara district, killing a jawan. Six others were pulled out alive.
An official identified the slain jawan as Ganga Bara of the BSF's 77 battalion. The 29-year-old was from Alipurduar in Bengal.
Ganga was patrolling the area with the others around 8pm on Monday when a heap of ice fell upon them. While rescuers helped the others come out from under the snow, Ganga couldn't. By the time he was pulled out around 2am, he was dead.
A police official said five civilians died in Monday's avalanche in Gund Kullan village in Ganderbal. Two bodies were recovered on Monday and three on Tuesday. The dead included a man, Sadiq Tikri, and his sons Showkat and Ishtiyaq, sources said.
The Snow and Avalanche Study Establishment (SASE) issued a low-level avalanche warning for Wednesday evening for various areas, including Leh.
The Valley had received heavy snowfall on Saturday and Sunday.
The Srinagar-Jammu highway, blocked because of the snowfall and landslides, remained suspended for traffic for the fourth consecutive day.
Srinagar recorded a low of minus 2.7°C while ski resort Gulmarg settled at minus 9.5°C. Pahalgam recorded minus 7.6°C. Leh town in Ladakh settled at minus 5.5°C.
Additional reporting by Anirban Choudhury in Alipurduar