Case fatality rate up from 0.6% to 0.9%
Audit raises Kerala's Covid-19 mortality rate: Health experts
The state's expert advisers assert that the earlier lower counts were not deliberate but the outcome of a lack of clear definition of Covid-19 deaths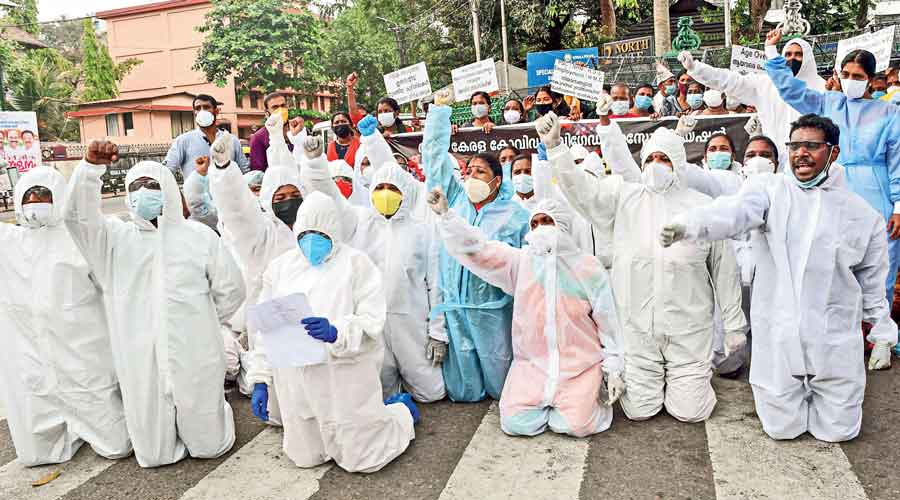 Health workers under the aegis of the Covid Brigade Association stage a protest in Thiruvananthapuram on Saturday.
PTI Photo
---
Bangalore, New Delhi
|
Published 25.01.22, 02:27 AM
|
---
A paradoxical rise in Kerala's Covid-19 mortality rate despite a shrinking epidemic ahead of omicron's emergence reflects diligent death auditing under political pressure, public demand and good record-keeping lacking in other states, health experts have said.
The auditing efforts had till Monday added over 16,900 "extra deaths" to Kerala's Covid-19 toll, raising its case fatality rate (CFR) from 0.6 per cent in August last year to 0.9 per cent at present — lower yet closer to the national average of 1.3 per cent.
Kerala's auditing exercise and its outcomes make the lack of similar large-scale efforts in other states both conspicuous and puzzling against the backdrop of multiple studies suggesting India has vastly undercounted its Covid-19 deaths.
But health experts believe a mix of strong Opposition pressure, public sensitivity, and efficient health record-keeping has nudged Kerala into re-examining health records to make up for undercounting of deaths with greater efficiency than other states.
The CFR — the proportion of deaths among those diagnosed as positive — at various times during the pandemic has been 1.3 per cent in Karnataka, 1.6 per cent in Gujarat, 2.5 per cent in Maharashtra, and above 3 per cent in Punjab and Uttar Pradesh.
But Kerala's CFR has always remained below 0.6 per cent, among the lowest in the country, until the auditing exercise began to release counts of extra deaths near daily since October 22 last year.
"The state government initially tried to manipulate counts for political gains," said S.S. Lal, a doctor and public health expert and member of the Congress who had contested the 2021 Assembly elections from Kazhakkoottam, a constituency near Thiruvananthapuram.
"It was an attempt to portray successful Covid management before the elections," he said.
But the state's expert advisers assert that the earlier lower counts were not deliberate but the outcome of a lack of clear definition of Covid-19 deaths.
"To begin with, there was no clear-cut definition on what is a Covid-19 death," said T.S. Aneesh, associate professor of community medicine, Government Medical College, Thiruvananthapuram, and member of the state's Covid-19 expert panel.
"What we initially thought was Covid-19 death was death due to Covid-19 pneumonia because we did not know about the complications and post-Covid issues such as heart attacks," Aneesh said.
Several studies by researchers outside India had last year suggested that the country's actual Covid-19 deaths would range between 1.2 million and 3.4 million by July 2021, when the official recorded counts were less than 430,000.
The Union health ministry has consistently challenged such studies, questioning their methodologies and asserting that it has "always advised states to conduct death audits in their hospitals and report any cases or deaths that could have been missed."
The Supreme Court had on October 4 last year directed states and Union territories to pay Rs 50,000 as ex gratia to relatives of patients who had died of Covid-19 if they are able to furnish supporting evidence even if death certificates do not mention Covid-19.
The Supreme Court defined that any death within one month of testing positive should be treated as Covid-19 death — the only exclusions being suicide, homicide and accidents.
"Now, all we had to establish was that a person died a month after testing positive — so the Kerala government revisited the earlier deaths to maximise the ex gratia to dependents," Aneesh said.
While Kerala began to release its counts of extra deaths on a near-daily basis since October 22, experts say, a similar sustained effort isn't visible in other states.
"Some states have reconciled earlier deaths but done so in tranches — thousands in one go," said Rijo John, a health economist and adjunct professor at the Rajagiri School of Social Sciences in Kochi.
For instance, Bihar added 3,971 deaths on June 10 last year and 2,426 deaths on December 5. Through that period, the state's seven-day average of daily deaths remained below 10.
Haryana has also added extra deaths in tranches — 121 on September 13, 64 on September 28, and 174 on October 14. The seven-day average of daily deaths during those months was below 3.
"We can ask the question — why didn't the factors that got authorities in Kerala to reexamine the death records work in other states?" said John. One possible explanation could be Kerala has a stronger Opposition and people are more "politically aware" of their rights.
Some experts view the lack of rigorous auditing in other states as an outcome of both the reluctance to admit more deaths and poor record keeping.
"There may be this underlying feeling that more deaths would imply poor government performance," said Dileep Mavlankar, director of the Indian Institute of Public Health, Ahmedabad.
Gujarat has paid the Supreme Court-directed ex-gratia to over 16,000 people, but the state's Covid-19 death toll remains around 10,100.
But Kerala's superior health documentation systems have also facilitated the audit exercise.
"Kerala has for years had strong health data, long before Covid," Lal said. "When records are maintained, they can be analysed, mistakes corrected. If such records do not exist in other states, mistakes cannot be detected."