If convicted, comedian could be in jail for 6 months
Attorney-general gives consent for criminal contempt proceedings against Kamra
It's now up to CJI S.A. Bobde to constitute a bench to deal with the multiple contempt petitions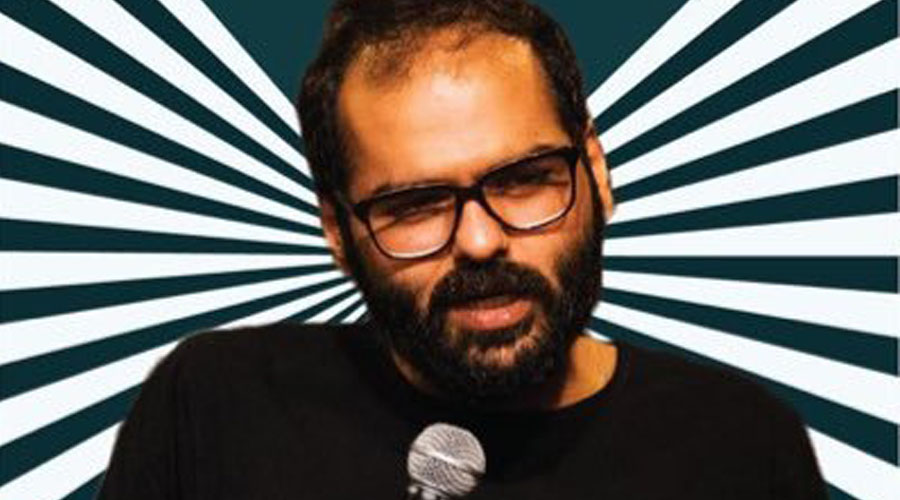 ---
---
The attorney-general, the principal law officer of the Union government, has granted consent for initiating criminal contempt proceedings against stand-up comedian Kunal Kamra over his tweets on the Supreme Court on Wednesday when it granted interim bail to Republic TV managing director Arnab Goswami.
Kamra's social media posts were "not only in bad taste but clearly cross the line between humour and contempt of the court", attorney-general K.K. Venugopal said in response to requests for consent to initiate contempt proceedings.
It's now up to Chief Justice of India S.A. Bobde to constitute a bench to deal with the multiple contempt petitions against the hugely popular comedian who rarely minces his words. The matter is expected to come up for hearing next week. If proceedings are pursued and he is convicted, Kamra faces a maximum jail term of six months, besides a fine.
In his response, Venugopal cited two tweets by Kamra: "Honour has left the building (Supreme Court) long back" and "the Supreme Court of this country is the most Supreme joke of this country".
Venugopal added: "Apart from this, (there) is a picture of the Supreme Court building dressed in saffron colour with a flag of the ruling political party, namely the BJP, having replaced the Tricolour. This is a gross insinuation against the entirety of the Supreme Court of India that the Supreme Court of India is not an independent and impartial institution and so too its judges, but on the other hand is a court of the ruling party, the BJP, existing for the BJP's benefit. All this in my opinion constitutes criminal contempt."
If the Supreme Court initiates proceedings against Kamra, it will mark an uncommon arena of friction straddling popular culture and the highest judiciary of the land.
On Wednesday, Justice D.Y. Chandrachud, part of the two-judge bench that granted the interim bail to Goswami, had given a personal insight into how he deals with sections of the media and social media posts.
"I don't even watch his channel, never turn it on," Justice Chandrachud had said. The judge had observed that courts were being attacked for judgments delivered by them and, "I often ask my law clerk and they say that 'Sir, please don't look at tweets'."
Earlier this year, senior advocate Prashant Bhushan had been convicted of criminal contempt of court for tweets on the CJI and the judiciary. Bhushan had refused to apologise and the court had let him off with a Re 1 fine.
The consent of the attorney-general is mandatory for initiating criminal contempt proceedings. On Thursday, Venugopal gave his consent to criminal contempt proceedings against Kamra in response to separate pleas by Aurangabad-based law student Shrirang Katneshwarkar and Pune-based advocate Abhishek Sharad Raskar.
Referring to a few other tweets, which the AG did not quote in his letter, Venugopal said they were "highly objectionable and it would perhaps be for the court to decide the question as to whether these tweets also would constitute criminal contempt of the Supreme Court of India".
He said: "I find that today people believe that they can boldly and brazenly condemn the Supreme Court of India and its judges by exercising what they believe is their freedom of speech. But under the Constitution, the freedom of speech is subject to the law of contempt and I believe that it is time that people understand that attacking the Supreme Court of India unjustifiedly and brazenly will attract punishment under the Contempt of Courts Act, 1972.
"I therefore grant consent to proceed by way of initiating contempt proceedings against Sh. Kunal Kamra."
In January, Kamra had confronted Goswami in a flight over the suicide of University of Hyderabad scholar Rohith Vemula. Subsequently, several private airlines had imposed a six-month travel ban on the comedian.