What it means to be a Muslim in lynch-era Manipur
Visuals of 26-year-old Farooque Khan being beaten up by a mob went viral. But the social fracture this has engineered, didn't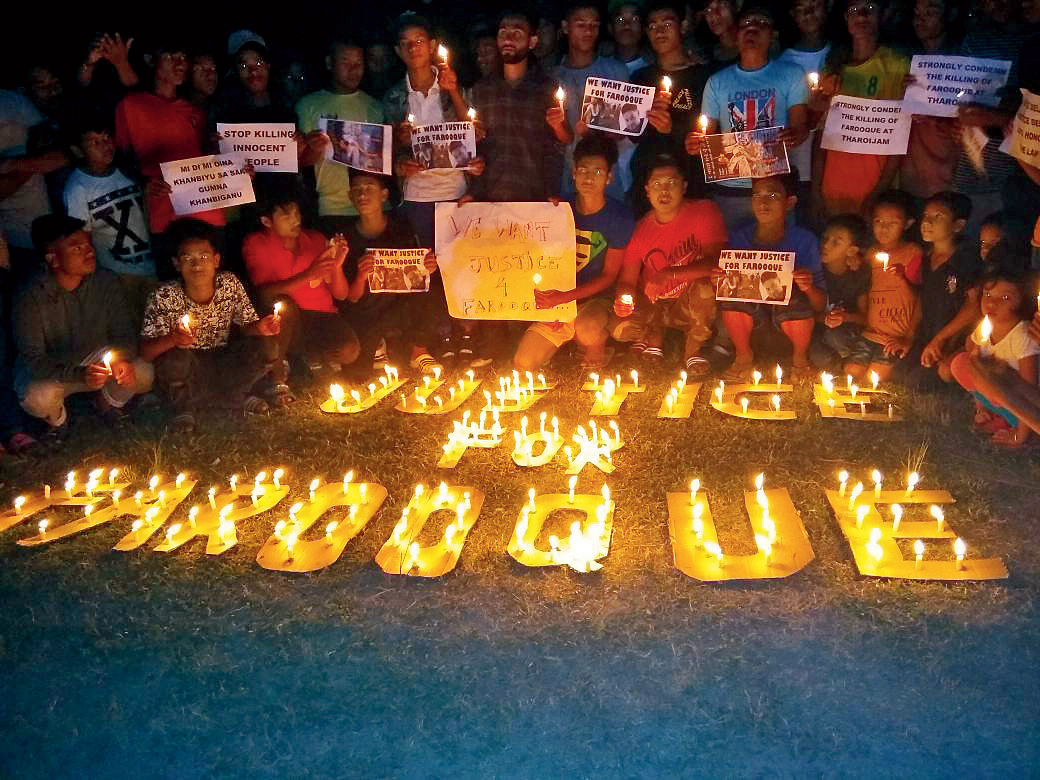 Dark times: A candle-light vigil in remembrance of Farooque Khan
File Picture
---
Published 22.09.18, 07:31 PM
|
---
Farooque Khan, a promising entrepreneur of Lilong Haoreibi Mayai Leikai in Manipur's Thoubal district, was lynched last week. The visuals of the 26-year-old being beaten up by the mob with thick bamboo sticks, in the presence of armed policemen, for alleged vehicle theft, have since gone viral. Soon after his death, all visible action was taken — a special investigation team formed, five men arrested, a torch rally organised by the locals condemning the incident. What is not visible, however, is the fracture this incident has engineered in the relationship between Meiteis (largely animist Hindus) and Meitei Pangals, the Muslims of Manipur.

It was a group of Meiteis that lynched Farooque, a middle-class, educated Pangal. "For years, Hindus and Muslims have lived together. But after the way Farooque was lynched, we have started to realise that Muslims in Manipur too have to be careful," says Farooque's uncle, Mohammed Mujibur Rahman.
At 21, Abid Hussain is way younger than Mujibur, who is a lecturer in Manipur's directorate of education. He is a Pangal of the Chirai Muslim area of Imphal West. He says, "When we were growing up, the only advisory for us was to be careful of the underground groups. Now, when we step out, our parents tell us to avoid Meitei-populated areas at night."
Locals say lynching has been the in-thing in Manipur for a while now. It has typically been used to punish, but in the past four years it has acquired a communal purpose. Three months after Mohammed Akhlaque was lynched in Dadri for allegedly storing beef in August 2015, a madrasa headmaster in Imphal East was lynched. It was alleged that he was stealing cattle. In 2016, two students were lynched at Mayang Imphal Yangbi Garden. They were reportedly mistaken for bike-lifters. That same year, during Holi, six Muslim schoolboys were beaten up in Imphal. They were suspected of indulging in anti-social activities.
Muslim social activists of the region talk about how things have worsened since the BJP came to power in the state in 2017.
Last year, on Id-ul-Zuha, which Muslims celebrate with animal sacrifice, Yumnam Devjit, son of deputy chief minister Yumnam Joykumar Singh, commented in a Facebook post that the qurbani was nothing but training for Muslims to kill. President of the Manipur Muslim Welfare Organisation, Abdullah Pathan, says, "Devjit's post had tried to instigate communal sentiments just as the BJP is doing elsewhere in the country."
In time, Devjit did apologise — there were angry demands — and his sister, Leikei Yumnam, too rapped him on social media. But the damage was done. Says Hussain, an undergraduate student at Manipur University, "The reactions of Meiteis to it were shocking. I never thought they harboured such anti-Muslim sentiments."
Devjit's post and Farooque's lynching have reopened old wounds. In 1993, more than 140 Muslims were killed and their homes torched, allegedly by Meiteis. One version says it began after a Muslim arms smuggler rebuffed Hindu rebels when they went to him for weapons. The other and more popular narrative is that trouble started when Hindu extortionists harassed inhabitants of a Muslim neighbourhood near Imphal. There were also reports that Meitei youth spread a rumour about people from their community being found dead inside a college in a Muslim-dominated area.
To date, Muslim human rights organisations have been rallying with the government for compensation for the families of the dead.
To avenge this violence, various Islamist militant groups — People's United Liberation Front, Islamic Revolutionary Front, United Islamic Revolutionary Army and United Islamic Liberation Army — were formed. Barring People's United Liberation Front, all other groups are inactive now.
Over 2.39 lakh Muslims live primarily in Imphal East and West, Thoubal and Bishnupur districts. From time to time they have said they feel alienated. Not long ago, there were protests demanding the implementation of the Inner Line Permit — the official document required for non-locals to travel and work in the state — to control the influx of Mayangs or outsiders. Says an Imphal-based Muslim advocate who did not want to be named, "The bill defining the 'original' settlers of Manipur did not clearly define our case. It was not clear if this bill targeted only Muslims who came from Bengal, Bihar and Assam. As of now, it looks like even indigenous Pangals are being targeted."
Muslims here claim they have remained backward as compared to the Meiteis. "The welfare schemes barely reach Muslim students. The Kasturba Gandhi Balika Vidyalaya scheme has been implemented in the hills where mostly Nagas and Kukis live. It should be extended to Muslim-dominated areas," says a former state secretary of the State Minorities Commission. He adds, "The four per cent reservation in government jobs is not implemented fully."
Political representation of Muslims has not been so significant, notwithstanding the three seats won by them in the Assembly. Mohammed Alimuddin was the first and only Muslim CM of Manipur and that too way back in the 1970s.
Says Raees Ahmed, president of NGO Manipuri Muslim Online Forum, "Lower middle class Muslims are seen as a community of vehicle thieves and anti-socials."
But for now dominating all socio-political images is that one image — a young man in a half-torn vest and jeans, lying on the ground, moving his head from side to side, as if waiting for some help.
Past forward
Muslims have been living in Manipur since 1606 AD
1,000 plus Muslim soldiers from Sylhet, now in Bangladesh, led by General Muhammad Shani were captured by Meitei King Khagemba
These skilled men were encouraged to settle down here
Later, they were appointed to key administrative posts
Historians say Muslim men were inducted into the royal military
Muslim women participated in the second Nupi Lan (women's movement) against the British in 1939